Almost two weeks ago, the frenchies went for their very first scottish winter trip. Conditions looked tricky, with a lot of fresh snow blown by the wind, and a thaw. But flexibility of the van and the fact that discovering prevailed on seeking hard routes made it a memorable trip.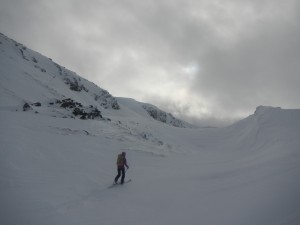 We left York afterworks on Friday, and drove till we got too exhausted (meaning slightly after Loch Lomond). On Saturday, we decided to go for skitouring in Glen Shiel on the way: relatively high pass meant no ski carrying, and the weather was fine ! Druim Shionnach from Cluanie Inn: a nice view for our very first Munro!
Sunday was spent with Lucile's
sister, with a walk around Fairy Pools. Deteriorating wheather did not allow to reach Sgurr an Fheadain, neither via waterpipe gully (not furnished) nor via the NE ridge.


Monday was a day with low clouds, so we aimed to Trotternish to enjoy Quiraing and Storr, heading to wonderfull "The Lookout" bothy for lunch.
Tuesday weather improved significantly, and we went for the Marsco traverse for amazing views on snowy Cuillins.
Good forecast for the next day made us stay one more day, spending the night at panoramic glen roy parking. It was worth it, with a nice sunrise on the Ben Nevis area, with black grouse battle few hundreds meters away from the van. The price to pay was a fight with some ice on the road. But we could make it safely to East Ridge of Beinn a Chaorainn. Clear blue sky, just great day out. But then long way back to York ... until the next scottish winter excursion !