Angela must have placed a phone call with Walter Wall. He spread his sunshine continuously across a clear blue sky as we drove 12 km or so up the tiny road into Glen Affric, and then walked another 7km from the roadhead up a side valley and up to the high Garbh Bealach ("Rough col") at 1020 metres. Now we were on the main mountain ridge between Glen Affric and Glen Mullardoch. Above the rocky Sron Garbh (Rough Nose) a path weaves around rock pinnacles for another 3km or so, all above 1000 m, to finally achieve the summit of Carn Eighe 1193 metres. From here, there is a huge panorama.. Is that Skye out west ? Inverness to the distant east ?
Onwards to the twin summit of Mam Sodhail. 1191 metres. (As there is only 140 metres re-ascent, (= about 440 feet) J R Corbett might have come to blows with Sir Hugh about "separate mountains".).
These highest mountains north of the Great Glen are part of a ring of 12 Munros which encircle the 13km long Loch Mullardoch (roughly similar length to Windermere). But these are no roadside hills like the Buachaille or Beinn a'Ghlo. The long glens west of Inverness are difficult of access, and the mountains remote.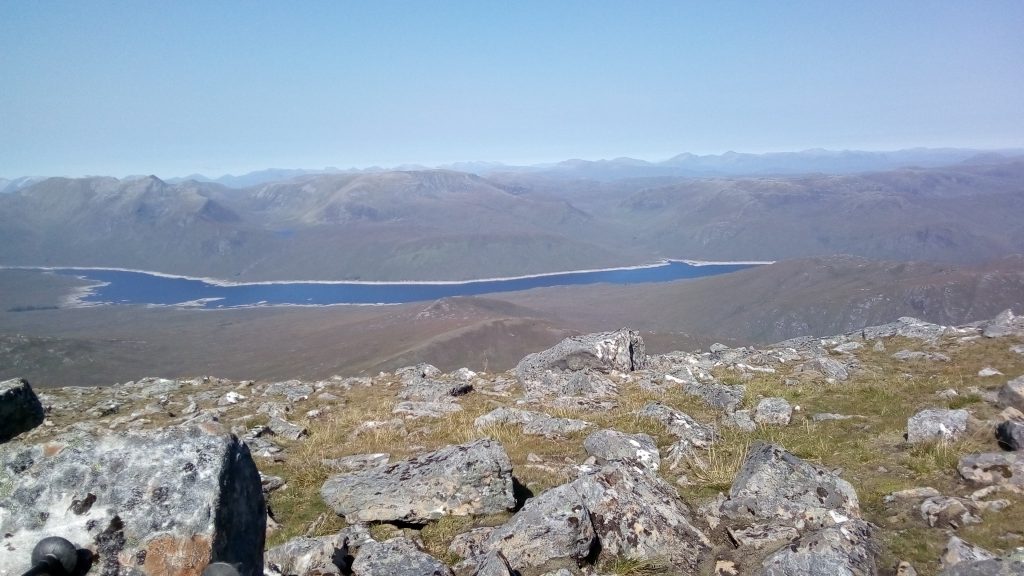 It is possible to traverse all the summits in succession – "The Round of Loch Mullardoch" – but this involves humping tents and kit for three big days each one averaging 1600 metres (5000 feet) ….. or up to 2100 m (6500 feet) for myself and Steve G on the York MC trip in 2005. https://www.yorkmc.org.uk/archive/reports/mullardoch/
Siege tactics would describe the alternative option of picking off these summits in single-day walks. That avoids the big carry, but of course entails several more hill days and multiple uphill approaches.
After our 10.5 hour day from Affric, we next went to Mullardoch dam itself for a "standard" ascent of Carn Gobhar. More Walter Wall Sunshine as early mist burned away.
The climb from the lochside is unpleasantly steep, with a few million too many flying insects, and some awkward rock-strewn terrain. We came back down Glen an t-Sith more easily.
Our finale, was Sgurr na Lapaich from Glen Strathfarrar. A most delightful day !!
I had read of the possibility of doing this mountain from the north, but the terrain was all new to me. After a pull up from Innis an Loichel the northern slopes of the mountain are not too steep for steady progress, but steep enough to keep the altimeter moving on.
Scottish hillwalking at its best. There are no paths. So instead of following an eroded trod of thousands of boot-prints, we chose our own route working to the landscape. Stags watched us from about 200m in the dissolving mist. More perfect weather. Higher up, the mountain sports some dramatic architecture and more wide-ranging views.
We made a descent due north to cross the stream above the end of the landrover track, to reach the path on which Lord Lovat was got away in April 1746. So the glen has history too.
All good reasons to be out. The Siege has some quality days.
ANDREW