For three hundred and fifty years that I know of, and probably more besides, ancestors of mine lived within sight of Pendle, or not too many miles from the River Ribble. So I can claim a sort of "home turf" around Ribblesdale and its hills, but further north beyond the Viaduct, there's a lot of terra incognita. I first climbed Pendle in 1964:- but had never visited Great Shunner Fell. It is the third highest summit in the Yorkshire Dales (716 metres) after Whernside (736) and Ingleborough (723).

Great Shunner Fell provided a quiet day. We saw only one couple on the way up, and 3 familiy groups on our way down. Having parked just near Hawes Creamery, our ascent took just over 3 hours. (Total day about 21 km).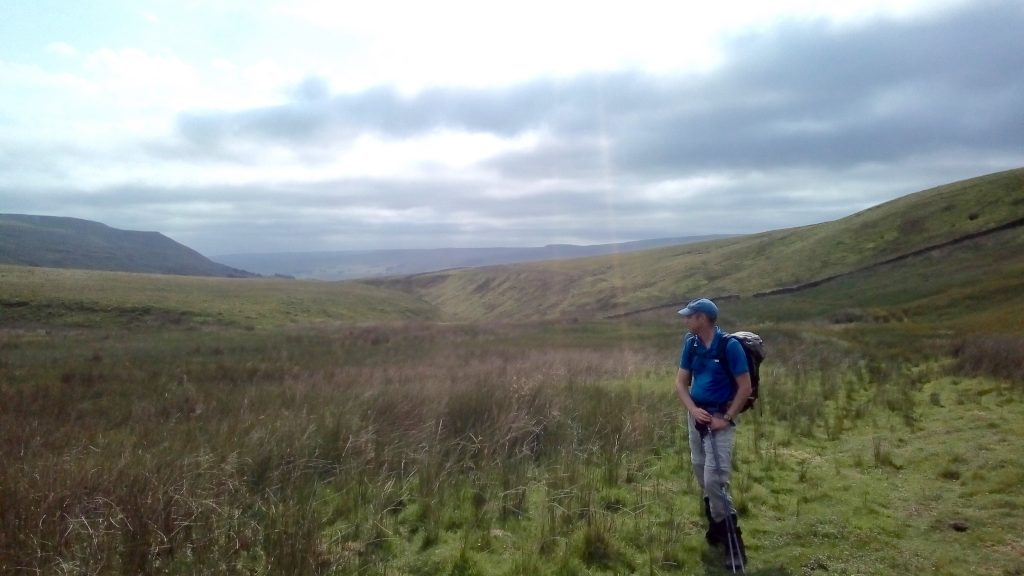 The Fell is a vast sprawling place with little relative elevation. Two ridges run south towards Hardraw, and between them we followed the valley of Hearne Beck which leads almost to the summit. Mostly straightforward going on grass, and dry under foot.
There are extensive views from the summit:- the "3 Peaks" one way and Cross Fell another--- albeit rather hazy for us. Certainly a place for a clear day, though. In thick mist it's rounded featureless slopes would demand competent navigation.
The Pennine Way led us back down the main ridge line. Great Shunner Fell used to have a bad reputation, I think, as generations of Pennine Way hikers trudged across the boggy, muddy, featureless terrain. Nowadays, however, gritstone slabs have been provided almost all the way, and so the descent is clear, rapid, straightforward.
The only obstacle was the School House tea room in Hardraw, which we were unable to pass.
ANDREW