During lockdown as all the trips that we had planned were getting cancelled and my disappointment and frustration was increasing, Erin mentioned to me that she'd seen a run online called Abraham's Tea Round.
Intrigued by the tea aspect, I thought it sounded like quite a jolly laid back affair and quickly lined my cousin Tom up for a day out. Further research revealed that on completion you get a free cup of tea from Abraham's Cafe in Keswick. All sounding pretty civilised so far.
The intimidating element of the Tea Round is described on George Fisher's website as:
A 30 mile route with 12,000+ feet of ascent that starts and finishes at the doors of George Fisher in Keswick.
The tops you need to 'touch' are.. Catbells, Robinson, High Stile, Grisedale Pike, Hopegill Head (AKA Hobgarton), Eel Crag, Sail, Causey Pike, Rowling End and Barrow. You can do them in any order/sequence that you like.
Apparently the fell tops listed above are all visible from the upstairs window of Abraham's Cafe, which is above the George Fisher shop.
Given the stats above I quickly decided we needed a young gun to join Tom and I. So mentioned it to fellow club member Nathan, who jumped at the opportunity for a little jog around the Western Fells.
So this took us to 7am last Saturday morning as Tom, Nathan and I lined up outside George Fisher to complete our run. Owing to the lack of hill time during lockdown I was feeling pretty sceptical about my chances of completing the run. Nathan didn't help this by turning up in a running vest and casually mentioning that he'd lost nearly 10kg during lockdown and had given up alcohol and caffeine.
It was cool and cloudy on the tops as we jogged from Keswick, through Portinscale and began the ascent of Cat Bells. We felt quite smug to beat the crowds to the top of surely one of the most popular Wainwrights.
From Cat Bells we descended to Little Town and with only a small navigational error jogged through the Newlands Valley and started the ascent of Robinson. It was heading up Robinson that we made our most significant but fortunately last navigational error of the day. Maybe owing to poor visibility, or the slightly overgrown nature of the Lake District paths at the moment, we missed the path up through Blea Crags and ended up heather bashing our way up the East side of Robinson to make the summit in thick cloud and rain. If this was going to be the weather for the day it was going to be a tough one, fingers crossed the MWIS got it right and we would have cloud free summits from late morning!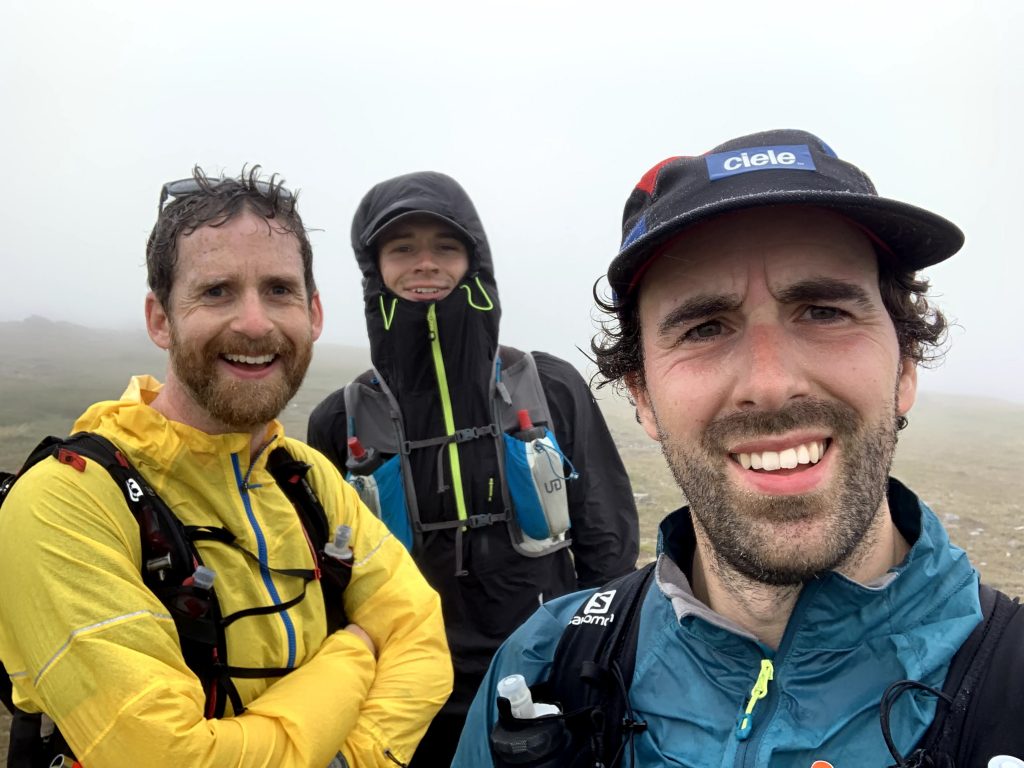 The run down from Robinson to the East end of Buttermere was enjoyable and before we knew it we were hiking up our next fell, and what in our minds felt like the crux of the day, High Stile. It was at this point that Nathan and Tom showed their fitness and I struggled to keep up with them on the ascent. Their mid-climb snack stop was thoughtfully timed! Towards the top of High Stile a local lady cruised past us, from a brief chat we discovered that she was recceing this part of the Tea Round ready for attempt later in the month. She was surprised that we were navigating as we went and hadn't ran any of the route before. If I'd had breath in my lungs I would have said that we are a traditional, bottom up ascent sort of club that values the onsight, and certainly wouldn't agree with red-pointing a run. However I just smiled and thought how nice it must be to have these hills in your backyard.
Running down High Stile was a painful affair for all of us, we were also dodging the crowds on the way up now. As we crossed the bridge over Buttermere Dubs we dipped our heads in to cool off. MWIS was right, it was warming up!
A re-fuel in Buttermere and we were off to tackle the second half of the route. I was conscious that this was my last bail out point, and once the seed of doubt was planted it (along with my cramps) continued to grow as we made our way North and up Whiteless Pike. At this point I mentioned to Tom that I didn't think I had it in me to get around and maybe I should head back to Buttermere so Tom and Nathan could crack on. Having completed his fair share of long runs, Tom had seen this weak minded behaviour before and wasn't standing for any of it. Playing the role of older cousin very well, he concluded I was dehydrated and hungry! After paracetamol, salts, water, some food and a leg massage I was back in business. Nathan continued his diet of malt loaf and cashews which were powering him round without a problem.
Before we knew it we were topping out on Hopegill Head (originally in the Tea Round, this has now been removed as it is thought you can see Hobcarton Crag from the cafe window and not Hopegill Head. However I didn't want to do Nathan and Tom out of a Wainwright!)
From there it was a lovely run over to Grisedale Pike, then back down to Coledale Hause for a water bottle top up. We enjoyed the change of pace afforded by the scramble up the North side of Eel Crag to gain the summit of Crag Hill then Sail. From Sail we cracked on to Causey Pike before the soul destroying out and back to Rowling End.
After Rowling End we needed to get down the North side of Causey Pike to reach Barrow. The local lady we had met on High Stile had recceed this section earlier in the week and advised it was pretty impossible to find a path down, therefore we went for a bit more heather bashing!
The climb up Barrow was great fun, no doubt because we knew it was the last hill of the day! From Barrow we made our way back down, through Portinscale and on to Keswick.
As we jogged towards George Fisher to stop the clock, Erin was waiting for us. Unfortunately Abraham's Cafe was shut, so no free cup of tea, but Erin sat us down with a pint outside the Wainwright pub and went to get us some celebratory fish and chips. Making sure she'd earned her fish and chips, Erin clocked up 12 miles in the fells around Derwent Water earlier in the day, taking in Walla Crag and Cat Bells, a pretty good effort at 32 weeks pregnant!
The stats on the watch for the day were 54km with 3,500m of elevation in a total elapsed time of 12 hours. We also ticked off 10 Wainwrights.
A great day out with Nathan and Tom, when our legs have recovered I'm sure we'll be planning another one!