THE NOTCH AND THE CASTLE
Neptune's staircase.
Two miles out of Fort Bill on the Road to the Isles, its the last (or first) link in the Caledonian Canal
Here, King Neptune's watery kingdom climbs up eight steps, to rise 64 feet out of the sea to Loch Lochy...... the longest rise in Britain. As well as the canal locks, there's a decent pub. So fom a sunny table Amanda, Lizzie, Dave and I could get views back to The Ben whilst a good meal rounded off two grand days out.
We'd seized some rare Scottish summer sunshine to get onto the Aonach Eagach -- The Notched Ridge of Glen Coe - on Friday.
Am Bodach is Gaelic for "Old Man"........ quite right, I thought, as I sweat pints into my thin cotton shirt that hot morning. Just over an hour from the glen, brought us to its 943-metre summit and views of the ridge snaking westwards.
The clamber down the exposed ledges off Am Bodach has its claim to be considered the crux of the whole matter.

After that, some easy sauntering on grass eventually leads to the interesting pinnacly section. In ideal weather, this gave an hour's entertaining scrambling up and over, down and round.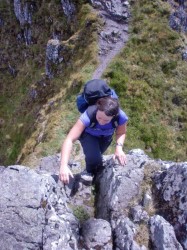 As the Clachaig path down is now discouraged, we swung northwards to finish on that superb viewpoint, the Pap of Glencoe.
Beers at the Clachaig ? Us ??
And my hitching thumb still works (eventually).
So we moved north, and Saturday morning gave us an easier start up the much-improved Allt a'Mhuilinn path towards The Ben.
Castle Ridge is the gentlest sister of the Ben's four classic ridge climbs. Starting just below the CIC Hut, it rises from left to right, a 1000 foot sweep of rock though finishing some 2km from the summit, overlooking the Halfway Lochan.
At the beginning, its a pretty simple scramble - although the views are getting awesome.

500 feet up, the rope comes out, and the route quite quickly toughens up to stake its claim as being definitely a rock climb.
Dave led the crux chimney, which is not short of holds, but has some big-time exposure down to the right side. ("Thanks Dave..... but don't take the photo just yet....... not until I'm........" )
A classic route on an excellent day, straddling the boundary of the hardest scrambling and the easiest climbing. Although it does end "in the middle of nowhere' leaving acres of loose stony waste to be negotiated (with various slips and slides) down down down down to the Halfway.
However it was from the stony heights that Neptune was first sighted, and basking with a pint in the sun gazing back at Castle Ridge was definitely the right place at the right time.
ANDREW