The first whiff of passable winter conditions enticed Messrs Ferguson Dixon Carrier and Diggle up to Braemar on a Friday night with high hopes of doing a nice easy Grade II / III route on the magnificent Lochnagar, and ticking off the first route of the year.
We enjoyed the luxury of an indulgent lie-in until 05.30 and didn't bother setting off from the car park at Glen Muick till 07.10. The walk in was fine, if a bit cold and windy:


The descent into the coire sheltered us out of the wind,


and snow conditions looked pretty hopeful as we geared up and set off up the gully, as two ropes of two, swinging leads...


Didn't find too much gear as we picked our way up, so when a decent spot cropped up it was wise to tie in. And share whatever gear placements we could find...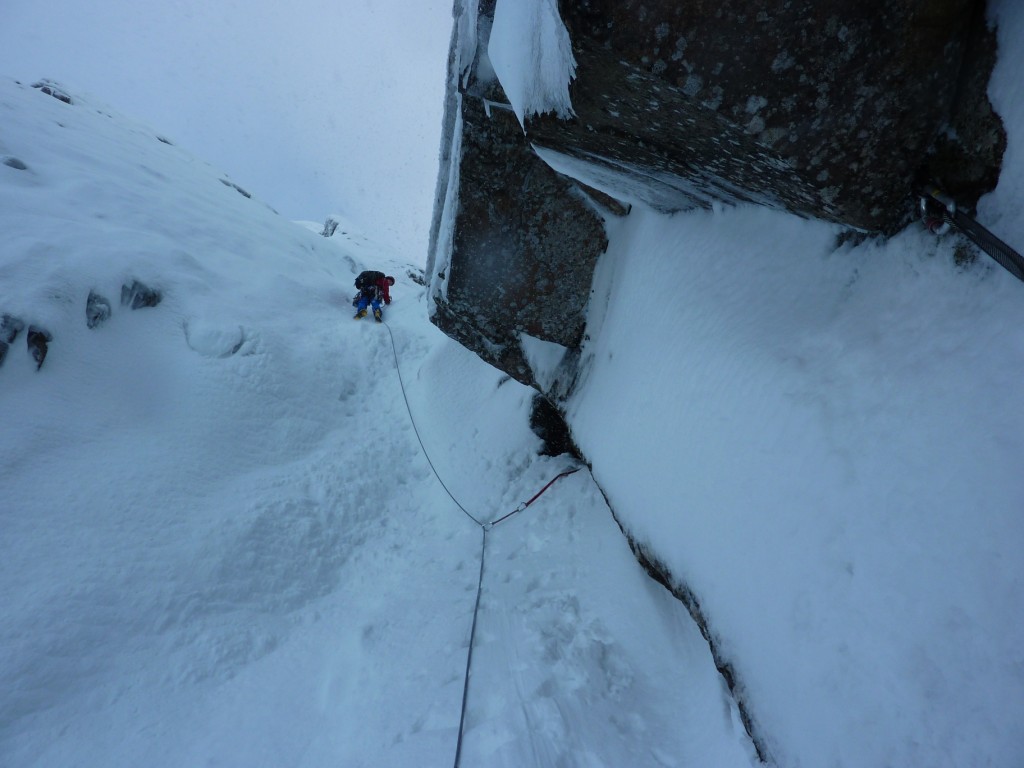 Penultimate pitch, having run out about 40 metres of rope with absolutely no gear, I spied a useful slot for a hex. Tied into this, I brought Dave up and off he went to look for a way up through an ominous looking cornice, disappearing up and round a corner. Meanwhile Mike and Maria joined me on my crumbly belay (the hex was very secure having been hammered into place.... and we waited). Another pair of climbers passed me and followed Dave up around the corner out of sight; and then the rope stopped moving....  Progress was clearly slow as the snow was sugary and unconsolidated. Mike decided to strike off up a possible looking line left out of the gully. Maria and I waited and waited. Four climbers... one hex... In a virtuoso display of skill, Mike managed to surmount a crumbling and steep snow slope and get some gear into a vertical crack after some ferocious digging. He then launched himself up and over the cornice! He hacked out a snow bollard, and Maria followed him up.
Meanwhile, Dave was excavating a couple of tonnes of snow (all over me) and forging a steep direct line up to an outcrop where he successfully rammed in an ice hook and a peg. He then forged a cunning line along a crumbling pile of snow across  to an indentation in the cornice where it was only overhanging by about a metre. Up and over. Success! Trying to force the circulation through my chilled limbs I followed Dave's line up an impossibly vertical pile of snow, then along the crumbly ridge. Two goes at getting over the cornice and I was up! Several other teams appeared to be topping out around the same time. Looks like everyone had a few challenges with the cornice.
It was now dark, and without too much ceremony (quick swig of lukewarm coffee, and a jelly baby) we headed back down the easy slopes of the hill (thankfully accompanied by a bright moon and a good path) back to the car by ten past 8; and enjoying beer and a fine curry in the Lochnagar Tandoori in Ballater by 9! 13 hours of Scottish winter climbing fun.
Funnily enough on Sunday morning we didn't fancy a walk... so we went for breakfast in Ballinluig instead. Good move!