Rowan and I spent 11 days exploring Sicily including hiking on the Aeolian Islands of Stromboli, Vulcano, Panarea, Lipari and Salina (as well as sampling lots of delicious Sicilian wine and food!)
We were told by the guide from Magmatrek that activity on Stromboli was much higher than normal when we were there. It was fantastic to watch the lava display but we clearly had a lucky escape as the massive eruption took place 8 days later.  The evening descent was brilliant (despite having to wear dust masks, helmet and head torch.) It must have been our fastest descent ever, gliding down soft back sand and very easy on the joints!
On Vulcano island the hike to the crater was interesting, despite the strong smell of sulphur which overpowered the whole island.  This is not a place we would recommend as a base unless you enjoy the smell of rotten eggs!
We were surprised by how different each of the 5 islands were, especially given how close they are to each other. The terrain on Panarea for example was very dry and desert like whereas Salina was very green and full of pine trees.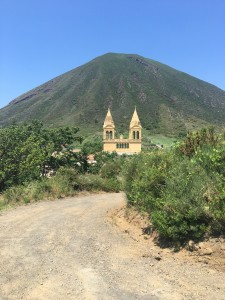 Apart from the heat, the main challenge we faced was navigation as some of the paths were overgrown, especially at the start of the hike in Lipari.  We came to realise that this is not uncommon in the area.   I'll admit there was a lot of swearing as we were attacked by nettles etc!
Despite the sulphur, nettles and dangerous volcanic activity we had a brilliant time and would do it all over again!