Would you book a winter mountaineering course twelve days before Christmas ?
Nah !  Shortest days, weather probably naff,  often no snow anyway.
And so it was, that on one of the finest winter days in recent years, and after a cool minus 6 or so at the A9 bothy, we strolled into Coire an t'Sneachda, to find it largely empty.
Here's to none-booked courses and Christmas shopping trips !  A few teams were out playing, but the trade route of Aladdins Couloir - so often a spiders web of ropes -was utterly deserted. Totally ours.
On this brilliant morning of windless blues skies, freezing and clear, hard frozen snow covered the coire floor and all the face was white.  No hurries, no worries, then.
We took a little time to try some self-arrest with the axes:- a brief reprise for Carlos and Helen, but an essential intro for Brian on his first technical winter day.
We put the rope on to move together up the snow apron below Aladdin Buttress, the snow being so hard you could hardly kick a step.
I set off up the Couloir with Adam and Brian on a pair of 9mils:- followed by Paul who led Helen and Carlos. The six of us made leisurely progress up hard frozen snow, but completely uninterrupted by any other climbers at all !!
At the top of the Couloir proper, the usual finish is the rising traverse across the top of Aladdins Mirror, with a bit of gear half way. This looked exposed given the hardness of the snow, so I was tempted by small steps made a day or two earlier, going more steeply left to the plateau.
Hmm ! After a nut and a peg, this option reared up for a final 3 or 4 metres of high angle, too hard today to sink the shafts in, yet not strong enough to bear the picks. Oh dear. After a wee teeter, I made sure of a bomber sling on a big boulder for a top anchor !!
Shortly, we were all on the plateau, gazing awestruck at the views as the sky turned orange over Ben McDhui.
Hats off to Brian, upon completing his first winter climb at age 63. !! It was also first climb day for Helen too.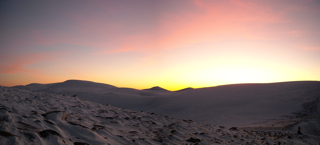 Headtorches got us finally down to the cars, the bar at the Monadliath Hotel, and a long road,  white with heavy frost,  to General Wade's bothy, where bags of firewood and coal fought back the minus 7 temperatures outside.
Sunday was a baggin' day for Paul. Geal Charn, on the doorstep of the bothy.   Another wonderful cold sunny morning.
A track up Glen Markie led into the eastern corrie (after an interesting bit of river crossing) and upwards onto easy snow slopes.
Finally, over the last rim to the summit .......... and WOW !!
Its not a big hill at 926 metres, but on this superb day, what marvellous views. Westwards, the Big Ben lurked behind Craig Megaidh's plateau, Ben Alder to the south, the Gorms all grouped to the east, and northwest, Fannaichs, Torridon, Fisherfield in row upon row of snow covered peaks.
This amazing sight kept us gazing for about 40 minutes.
Another Munro notched up for Paul....... and a First munro for Carlos. Hurrah !
Finally, tearing ourselves away, we had just time to walk down again before darkness gathered.
And so, to some Ballinluig Cafe nosh and tea, and away home again.
"hore zdar !" we all said........meaning "mountain success" (says Adam).
Andrew