I recently spent a week in Scotland, for a spot of walking and climbing, and was delighted to be joined by a number of companions along the way:
The drive up to Inverness is a fairly long one, but one thing I take heart from is the point when you pass this rather intriguing bit of art on the way up that bit of the M80.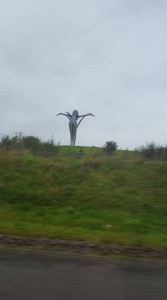 Linda and Carol travelled with me up North for the purposes of running the loch Ness Marathon. Carol having injured her knee recently had opted to only run the 10K but Linda was up for the full 26.2 Miles.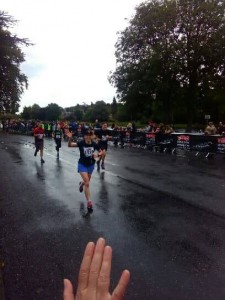 (I was simply the logistics provider, chauffeur  and occasional cook for this part of the trip)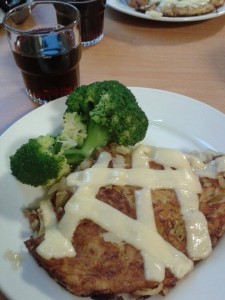 Anyhow, Linda successfully completed her Marathon in a personal best time, got to meet Nessie, was presented with a tin of soup, and was treated to my best attempt at an authentic Swiss Rosti (washed down with a nice bit of Chianti)
Monday saw Carol and Linda depart back to York and so I was left to my own devices until Wednesday when Dave was due to join me. I took the opportunity to have a "stroll" up Little Wyvis (Ben Wyvis' diminutive Corbett neighbour) on Tuesday. The weather wasn't ideal; strong winds, clag above 500m, and squally showers. The going underfoot was unpleasant to say the least. Steep slippery squelchy bog interspersed with clingy tufts of deep heather and ankle -breaker boulders now and again. I would therefore describe the ascent as not particularly inspiring. Additionally, I did at one stage have to actually break out the map and compass to ensure I successfully located the summit.
No photographic record exists of this ascent. Sadly, despite the fact that I would classify myself as a reasonably competent mountaineer, and a skilled and accurate navigator of mountain terrain, my competence as an operator of modern smart phones, and the storing and archiving of photographic records is perhaps not as well developed in my case ... I deleted them all by accident a couple of days ago... . But take my word for it: if you are heading up the Ben Wyvis path, don't deviate to visit the Corbett on the way. Just carry straight on up to the top.
Wednesday promised high winds (like really high winds) so I elected to have a drive up to Gruinard Bay to look at crashing waves, and then a stroll round Ullapool. Dave was due to meet me at Inverness station that evening. He arrived having attempted to kill off the remains of a bad cold by drinking a fairly substantial quantity of Marston's Old Empire IPA during his train journey. Dining in the Wetherspoons in Inverness washed down with a couple more beers didn't seem to do him any further damage though he did snore his head off later on while sleeping it off.
Thursday morning we headed across to Torridon to snatch a brief weather window that seemed to promise that a route on the Triple Buttress of Coire MhicFhearchair might be do-able. Confidently  setting off from the car, with ominous banks of cloud all around, we got about half an hour up the path and it proceeded to  rain heavily for the remainder of our walk in. Undeterred we carried on and upon arriving in the Coire we were greeted by the sight of the buttress completely wreathed in clag and dripping. The decision was made that we would climb the East Buttress that goes at Diff, with the option to climb just left of the crest at V Diff. (The Severe variations to the West could wait for another day)
The weather was turning though, and by the time we reached the traverse across the sandstone tier things were looking up. We decided to rope up and pitch the walk across to the start of the climb. The awkward exposed step across the little gap being ankle deep in water.
Mercifully, the climb itself was completed in fine weather and the top couple of pitches up some pretty spectacular quartzite were drying out.  We descended back through the coire and enjoyed the walk back around the flanks of Ben Eighe as the cloud started to build again and darkness descended. We arrived at the car just at that stage where you might consider putting on a head torch, and just as a fresh NW Highland deluge  was beginning.  Excellent timing, and a fine pint at the Beinn Eighe Bar in Kinlochewe on the way back to Inverness was our reward.
Late Thursday night brought rain wind gales and the arrival of John Mac and Andrew (Alabama) . A quick consideration of our climbing options over coffee and breakfast on Friday morning (with high ground thoroughly wet and clagged in) determined an excursion to Cummingston - a magnificent sea cliff a few miles east of Inverness.
There is a splendid array of wacky looking and interesting (if diminutive) sandstone cliffs, plus a little stack. In the course of the day we took on a variety of routes including :
Stogosaurus (VS 4c), Dierdre of Doubt (HVS 5a ) Dierdre of Double Doubt (E2 5b) Green Crack (VS 4c) and Flying Groove (VS 4c) - which was a superb Almscliff-style corner leading up the stack with a wicked crux high up. We did a bunch of others too, but not having a detailed guide book I can't be certain what they were. We also played on the slide and the other bits of the kids playground.
A dash down to Braemar  Youth Hostel and a big plate of pasta combined with a relatively early night saw us getting ready for a raid on Lochnagar which promised a possible weather window to have a crack at Eagle Ridge on Lochnagar. A promising walk in with racks and ropes was unfortunately scuppered by insistent cloud and rain right up till we reached the bottom of the route.
A  half hour wait in the damp and rain didn't seem to indicate that the promised dry sunny spell would materialise - much as it had previously done to me and Dave a couple of years ago- so we turned back.
About halfway back down the hill to the car park, the sky cleared and a gorgeous afternoon ensued.
But it was too late then. Our consolation prize was a couple of hours at the beautiful granite crags at the Pass of Ballater.  (We didn't have a guide book, but we definitely did Stinker (E1 5a) Razor's Edge (VS 4c) and Lucky Strike (VS 4c) - and of course I have no pictures ...)
A splendid pub dinner and a few ales rounded off a great little trip, with a wet drive home on the Sunday to finish things off.  Thanks to all who joined me over the week.