YORK MOUNTAINEERING CLUB : A SHORT HISTORY
These notes have been compiled from recollections of Members and former Members.
The Club will always be glad to receive any corrections or additional information.
The first York Mountaineering Club meet, Claude Walker (untangling the rope) had just led Dennis and Ray up Easy
Way on Low Man at Almscliff.
England after the second world war: bombed-out, battered and impoverished. For several more years, clothing, food and fuel could only be obtained with ration books. In such circumstances, it seems remarkable that a man from York was on the Matterhorn in 1948; but it was there that Fred Hedinburgh thought of the idea of a "York Mountaineering Club". He arranged the first meeting in October 1948 in St William's College.
Forming a Mountaineering Club was probably a bit more "cutting-edge" in 1948 than it might seem today. Legal rights of access onto privately owned wild country were still in the process of emerging. It was only 16 years after the mass trespass on Kinder Scout, when people had been put in prison for walking on the Moors. Just a generation before that - and still, closer in time to Fred Hedinburgh than we ourselves are in the early 21st century - ramblers at Winter Hill had been bankrupted by fines equivalent to ten years wages for walking on a moorland track.
It was also in 1948 that the National Parks and Access to the Countryside Act first recorded rights of way on England's hills and moors:  in the post-war world, working people first began to find time and take legal rights to visit the hills on a large scale.
Transport was an issue: - private cars were unknown to most people until the mid-Sixties. Rock climbing at Almscliffe was reached by train or bus, plus a walk up to the crag. In 1949, a 5-ton truck owned by Eddie Brown took 20 Members on a trip to the Lake District where Langdale was a popular venue - a 6-7 hour drive away from York. Over the succeeding 20 years there are numerous tales of crowding as many people as possible into an ex-military truck or an old van, not only for UK trips but even to drive to the Alps. Potholing was also on the agenda as a winter activity. In these first years, Members frequently climbed with the nationally-famous Arthur Dolphin (before his death aged 29 in 1953).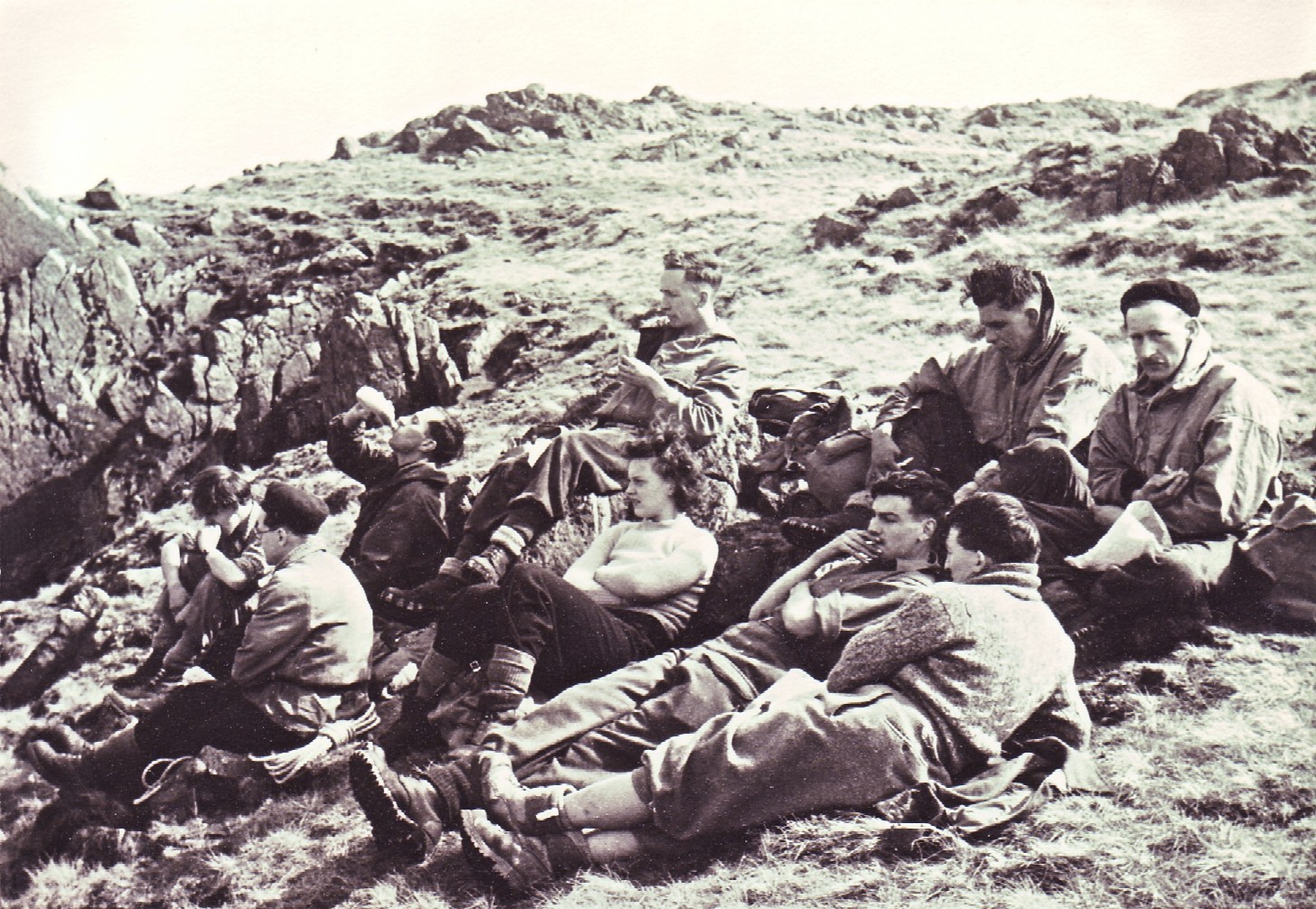 Possibly the clubs first Langdale meet, around a year later, showing the Founder Chairman, Fred Hedinburgh, leading Eddie
Martin* and Pat Grindrod up the Neckband on Bowfell. Irving Mail and John Walker were following them up, then Wally and Eddie behind them. Fred is in the
foreground with his back to the camera.
*A post by Eddie Martin, talking about some of his memories of the club at that time, can be found here.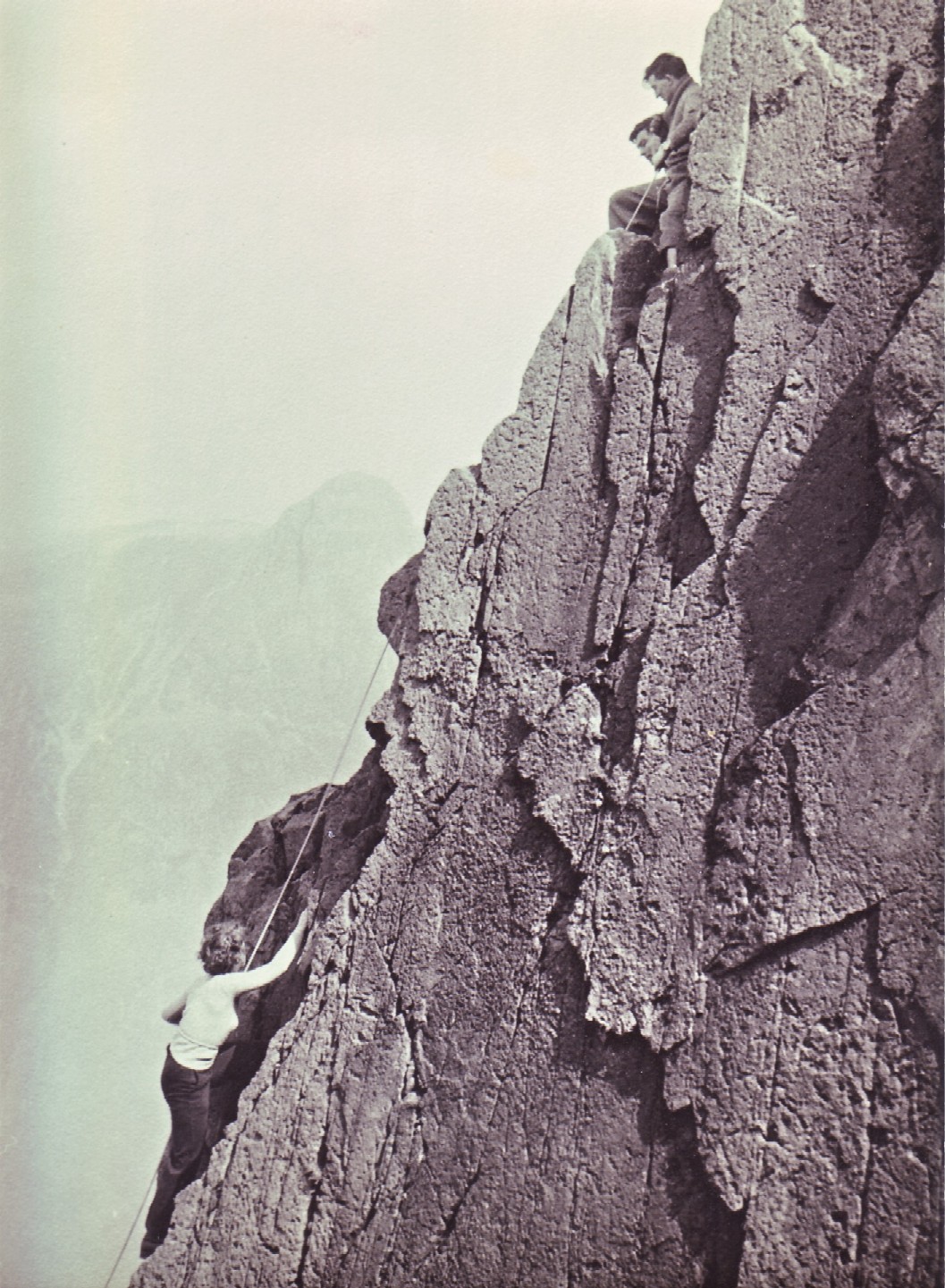 In 1950 the Club spread its wings still further when 20 members went skiing to Obergurgl in Austria. The club maintained a pattern of trips to the Alps during the Sixties Seventies and Eighties. Plus a group who spent several weeks in Morocco in the 1970's and one member who got to within 300 metres of Everest summit. Names from the early days include John Key and Dave Laughton, Tom and Claude Walker, Billy Herbert, Tony Everett, Doug (Mac) McCabe. Richard (Wally) Wardle, Irving Mail, David Humphries, 'Bill' (Ellen, but she wouldn't admit to it) Parsons, Pat(ricia) Grindrod, and Arthur Clayton.
Another connection of national significance comes from the 1950's, because York MC provided 8 Members who did the first crossing of the North York Moors from Osmotherley to Ravenscar with Bill Cowley on 1st October 1955; from which Bill went on to develop the Lyke Wake Walk.
Activities of course included summer and winter climbing - although the conditions in those days involved a much more basic level of equipment - and less of it! Typically, in the Sixties climbing might be with a nylon or occasionally hemp rope tied around the waist (no harness); crampons were a somewhat new-fangled invention, not always available, and long heavy axes were the norm, with little in the way of specialist clothing either. The Club climbers of the sixties and seventies were all self-taught and included Pete Brown, Mick Beard, Dave Garner, Hughey Laycock, Ian McAndrew, Stuart Holmes, Steve Fletcher, Winter conditions in the sixties and seventies were undoubtedly more prolonged and severe than they have become in the early 21st century. This would be a bonus in terms of longer-lasting and more reliable conditions on the mountains, but it was also more demanding in terms of the equipment then available, and the difficulties of travel over snowed-up roads.
A 1966-67 Programme shows that in those (pre-internet) days meetings were mostly in Yorkshire or the Lake District and had to be arranged months in advance. Scotland could be reached at Christmas, Easter, and Whitsuntide.
It is also made clear at Note 5 that "when possible, ski-ing takes precedence......" which probably gives a clue as to the snowy winters in those times.
Vic Scott ran the YMC for 15 years as Chairman and Secretary. Christmas was regularly spent in Scotland (eg Glencoe or Aviemore) with a group of around 20 and there was a very active, often riotous social scene. Drinking, singing, dancing, and high jinks all round. Some very adventurous trips in those years included going to the Alps in an ex RAF Truck (western ridge of Falbitzien) and a group including Mick Beard, Vic, his wife Audrey and John Keane who spent six months in the Atlas Mountains in 1974.
Back in the UK, both hill-walking and rock-climbing were pursued, although a powerful climbing focus developed in the 1970s. Club Members were responsible for some new routes including a high level girdle at Peak Scar in 1968, and climbed upon weekend camping and drinking trips to places such as Gogarth in North Wales as well as the usual Yorkshire crags. An increase in climbing standards was helped when climbing walls were first introduced: - early rudimentary facilities were at Leeds University and Rothwell Sports Centre, followed by a basic wall at York University from 1982.
It was in the 1980's that the Club first became formally affiliated with the British Mountaineering Council. There was a subscription (£1 per year) and a (modest) degree of organisation by way of having a Chairman, Secretary and Treasurer. Meetings were supported by a programme of lectures and films at Tempest Anderson Hall, (with one lecture by Chris Bonnington) plus annual dinners at the Kilima Hotel on Holgate Road. The regular meeting place had moved from the Black Swan in Peasholme Green to the Coach and Horses. However the 1981 AGM recorded a "heated debate" about whether to move pubs, and following an Extraordinary General Meeting in April 1981, some members left to form a second York club. Subsequently YMC moved to the Bay Horse on Blossom Street in the later 80's when Dick Lockie was in the Chair.
With the widespread ownership of motorcars and the building of motorways in the seventies and eighties, the Lake District was no longer six hours away and even Scotland started to become feasible for trips of a weekend or just a few days. Winter climbing flourished in the hands of Dick Lockie, Nick Harper, Kevin Wilson, and Al Bristow; and there was use of the CIC Hut on Ben Nevis. Their ambitions could reach still further with Air Transport, and in 1988 Nick and Kev made a "reconnaissance" visit to the Hilalayas, where they climbed to over 6000 metres on the 20,300 feet summit of Kongde Ri, as the climax of a 5-week expedition.
They returned to announce that they had "booked" a summit - Ama Dablam in Nepal- for 1990. Some serious preparation was needed for this expedition, including training, sponsorship and fundraising. The total cost of the expedition was £18,000 (roughly £32,000 at 2009 values).
After a ten-day trek in to Base Camp, The team comprising Nick Harper, Kev Wilson, Steve Green, Geoff Allman, Al Bristow and Dick Lockie climbed the mountain of 6852 metres (over 23000 ) ft by siege technique, spending several weeks camped above 16000 ft and moving up and down the upper mountain running out fixed ropes, to establish Camp 1 at 18,800 ft and Camp 2 at 20,000 on the way to the summit. The climbing included rock pitches up to VS+, and ice at Scottish III/IV. This was the first British Team to successfully climb Ama Dhablam, and indeed only 50 people had ever reached the summit (compared with 500 -then-on Everest). The first ascent had been in 1961, and the only British climber to reach the summit previously, had been Martin Boysen, as part of a New Zealand team. The expedition employed approximately 30 porters, and other staff to reach the mountain.
The expedition was a major coup for the Club, and rightly saw widespread publicity although the 1990 AGM had to be cancelled because of poor attendance. The membership at this time was 31, but by 1993 membership had fallen to 22.
In 1995 another Himalayan expedition took place, this time to climb Guri Sankhar, 23,340 ft on the Nepal/Tibet border. This peak is protected by steep faces and long corniced ridges and few successful attempts on the summit have been recorded. There had only been 3 previous ascents of the west face route, and no British attempt. The mountain had been closed since 1986. This time the team included Nick Harper, Kevin Wilson, Richard Harrison, Geoff Allman and Andy Forsythe.
The Himalayan expeditions involved a major commitment of time and fund-raising, producing exceptional results but not without some stresses and strains. Afterwards, the Club scene was somewhat quieter in the mid-nineties with many of the firebrands of the sixties and seventies now becoming middle-age. Local cragging and winter sun climbing trips to Calpe in Spain occupied many of the 22 members. Kevin Wilson had bought a small bungalow in Fort William as a base for winter climbing. In particular his partnership with the younger Richard Harrison maintained a good standard of winter climbing for the club on Ben Nevis and Craig Megaidh. Jack Pezzey, although with many commitments at York University, was another very competent mountaineer in this period. John Mackenzie was a Member whilst living in York at this time:- he subsequently moved to Strathpeffer after inheriting an Earldom, and went on to write Scottish guide books and broker the important Letterewe Accord on access rights.
In January 1996 Kevin and Richard completed the "Pumpkin" route on Craig Megaidh and had stopped to rest in a snow hollow at the cliff top, when a shallow avalanche slid the snow away beneath them. Richard's slide was stopped by a protruding rock, but Kevin was carried over the edge to his death in the corrie 1500 ft below. Kev's ashes were subsequently scattered on Craig Megaidh in May 1997.
The shock and tragedy of this event cast a deep shadow in 1996 and many of the older members found their links with the Club were winding down.
However a new initiative had appeared in the form of Mike Spence:- Mike did not generally pursue roped climbing, but he was wildly enthusiastic about the Scottish Highlands, its bothies, wildernesses, whisky and Munros. Mike and Richard Harrison were joined at the end of 1996 by Andrew Eccles (whose own climbing partner had also been killed in August 1996) and began a series of Highland weekends. Mike wound down after 1998 and moved to Spain.
Andrew established a pattern of about 10 informal trips to Scotland each year, which has continued for over 20 years.
Steve Green also resumed regular Scotland trips and laughter and adventures gathered pace as they were joined by Richard Kendrick, Simon Weston, Mike Connell, Lesley King, and Angela Ryan. Trips to Scotland roughly every month for Mountaineering or winter climbing were supplemented by longer visits to (eg) Skye and Knoydart, Loch Mullardoch and Fisherfield.
Mike Spence 'Compleated' ascents of all the 284 Munros in 1999, with the logistical success of making his last mountain Ben Nevis on his 50th birthday ......accompanied by John Vaughan, Richard Harrison and Andrew Eccles. Subsequent compleations have been Brian Tucker (2008), Andrew Eccles (2009), Frank Adams (2011) and Matthew Diggle (2014). Steve Green became the Club's sixth Munroist in October 2019.
Members made various individual or non-club trips to the Alps around this time - eg Andrew took in the Zugspitze and the GrossGlockner with a team from Whitby in 1999. This led to a revival of foreign trips.
In 2001 there was a Club trip to the Dolomites, with 7 Members camping for a week at Cortina d'Ampezzo, and doing a mixture of via ferrata routes in the area. The last night was at the Nuvaulo hut where Geoff Allman was helicoptered down after an insulin fit. At the same time a smaller group were trekking over some remote and high Spanish mountains.
In 2002 Messrs Eccles, Kendrick, Green and Ryan visited the Swiss Alps trekking between huts on the 'walkers Haute Route" such as Dix and Aiguilles Rouges, and taking in a couple of straightforward snow and glacier peaks around 3500m.
A second visit in 2003 began by taking the EuropaWeg trail from Zermatt and summits above the Bordier Hut, was based in then moving to the Saas Fee valley, for the 4000-metre summits of Lagginhorn and Allalinhorn.
The maintenance of the club in the late nineties often revolved around the efforts of Richard Harrison as Secretary, and his development of a contact list for members, together with the support of John Hine as treasurer. The Club's first website was made in 1998 by Mike Connell. This pointed the way forwards as the membership of the Club was changing from long-term York-born men towards a more varied make-up of people whose careers had brought them to York where they looked for a club to join.
At this stage also, female members of the club began to be active in their own right (as opposed to the "wives and girlfriends" mentioned in the Eighties) as Lesley and Angela were followed by Tracey, Kirsty and others.
The "second generation" website under the chairmanship of Simon Weston in the new century, has made the club accessible to a wider and younger membership rising to about 60 in 2009, so that a large range of interests and abilities now flourishes, incorporating Mountaineering and climbing at all levels, other mountain pursuits such as ski touring and fell running, and the ever important social dimension.
Mike Ferguson and Maria (nee Dixon) joined the club early in 2011 and quickly became established as some of its most capable and enthusiastic Members. For almost 7 years they set standards in both summer and winter climbing, and through their own Alpine holidays each year, interest in the Alps was reinvigorated amongst other members. Matthew Diggle and Dave Carrier in particular made bi-annual trips. Mike and Maria were also pillars of support for the Club both in supplying Reports on the website and upon the social scene. Maria soon became Club Secretary, to great effect during her time in office.
The Club is not a training organisation: - however as a consequence of becoming open to younger and less experienced membership, we do now provide structured opportunities for members to develop their skills. This might be quite casual through activities with older members (some of whom hold various qualifications) or more formal through buying in instructors for a first aid course or a basic winter skills course.
The changes which separate the YMC of the early 21st century from Fred Hedinburgh and the men of 1948 are considerable. In terms of transport, equipment, clothing and money we are effectively in a different world. Like society generally, things are not quite so wild as they were in the sixties (but we are not without our moments...). The rough and ready "do it if you can,... if you can't, don't" ethic has given way to a clearer learning curve. But the underlying fascination of mountains, climbing, wild country and good times is still the glue that holds people together as a Club after sixty years. And the fact that YMC members come from increasingly diverse backgrounds is testimony to just what a powerful "glue" the mountains still remain.