(Posted on behalf of Eddie Martin)
After several years as a member of the York CHA & HF Rambling Club, I joined the York Mountaineering Club in 1949 after my army service which lasted from October 1946 to February 1949.
My early memories of outings with the club are of the clothing and equipment that we used.  We dressed and used ex-forces clothing.  Camouflaged gas capes were at a premium as they had a pocket at the back to cover your rucksack.  Ground  sheets worn poncho style were commonly used.  Framed ex-commando rucksacks were used for longer expeditions where camping was required.  I only  threw mine out a year ago when we moved from Aberdeen to Braemar!
Nailed boots were the norm with tricouni nails for winter use and muggers and clinkers when there was an absence of snow and ice.  There was also a Brigham nail which was similar to a tricouni but on a triangular plate.  Boots with a groove at the heel were used for cross country skiing.  Many boots used were ex-army but there was a London firm called Laurie which had made bespoke climbing boots for pre-war Himalayan  expeditions and was still in business.  They had a unique method of fixing nails to the welt of the boot.  To get the right size, you donned two pairs of socks, stood on a piece of paper on a table and got a friend to pencil round the foot.  You sent the template to Lauries and three weeks later the new boots came accompanied by a large bill!
Hemp climbing ropes were used before nylon was available.  The ropes came in 120 foot lengths and became very heavy when wet.
What did we do?  Many of us were also members of the Rambling club but were keen to progress to rock climbing.  With Fred Hedinburgh as our leader, Almscliff Crags were our favourite practice ground.  The photographs below show an early, and my first, climbing  trip to the Lake District.  We camped in Langdale within staggering distance of the Old Dungeon Gill.
Bowfell Buttress was our first climb and we then progressed to Gimmer Crags.  We went astray from the V Diff route and finished up doing a V Severe.  It was at this point of time that I decided that I was a walker and  not a climber.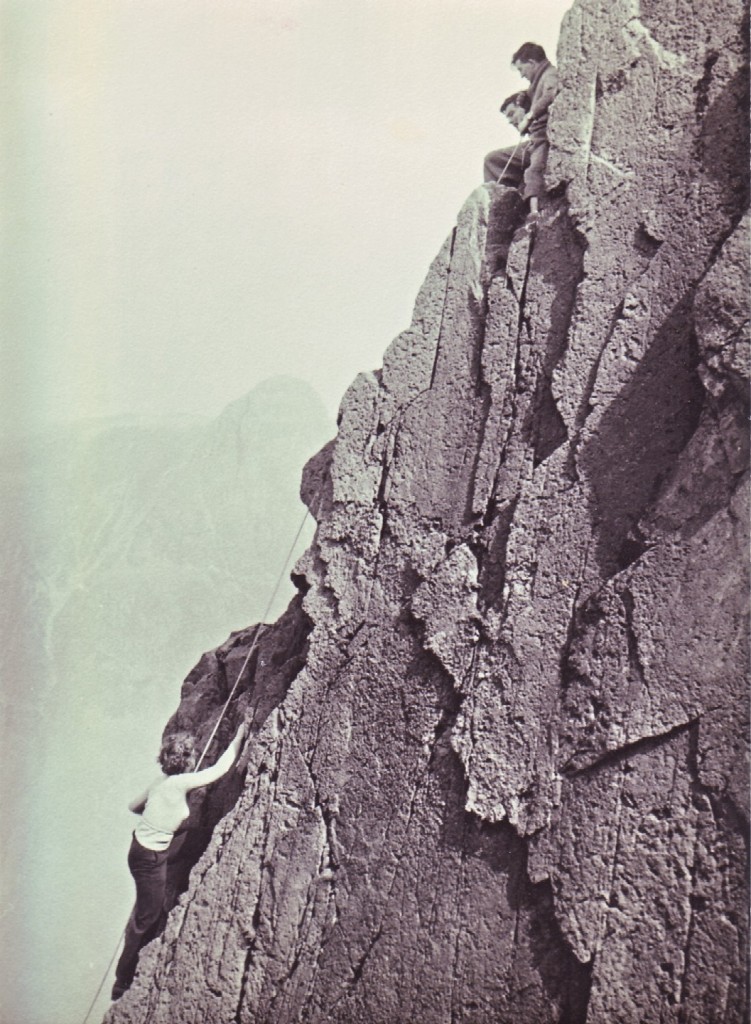 Another venture I had with YMC was the mad idea of  camping on the top of Scafell Pike on midsummer night to see the dawn rise.  It just got light with the mist level at the valley bottom!
My move to Aberdeen in 1955 saw the end of my connection and activities with York Mountaineering Club and few names remain in my memory.  Those that do are Derek Wilson and his wife Eileen Brewer, Tony Smith, Tony Lee and David Loughton.
My walking days continued and I joined The Cairngorm Club in 1961.  A very understanding wife and family allowed me to go away the first week of June  for many years and I completed the Munros in 1983.  I was Custodian of the Cairngorm Club hut at Inverey from 1980 to 1993 and President from 1988 to 1991. I still manage a walk each day around the village if the weather is fine but full day excursions are now a thing of the past.
I conclude with the last three verses of a Doric poem  "Farewell to the heights" by the Rev. Dr James S. Wood.  The hills are all within walking distance of Braemar.
Alas, my climbing days are done. I'll scale the heights no more  Only in dreams I'll stand again On Bynack and Ben Mhor.   So fare you well, old Ben a Bhuirdh And fare you well Ben A'an I leave you now to younger men My sunset is their dawn.   Hills of my youth I only hope That in that place above I'll find hills just as friendly As these dear hills I love.  
May I wish York Mountaineering Club a happy future and would be delighted  to meet up with current members should you decide to have a meet in Braemar.
Eddie Martin