The journey to Switzerland
The news during the latter part of July had terrible reports of nightmare journeys and day long queues on the approach to Dover. Well Dave and I missed this debacle it would appear by a matter of minutes (following a bold decision to hit the B roads a few miles outside Dover) and we sailed relatively event free to Dunkirk... only to be stuck in two impenetrable gridlocks within 30km of the Port, and ended up wild camping by the roadside next to a cornfield somewhere near Rheims.
Not an auspicious start, but we managed to get down to Saas Grund the following afternoon, get tent, gazebo and our basecamp luxuries pretty much organised just as the rain started to pour.
The first few days - acclimatising
First full day in the Alps, and we awoke to a deluge. Rather reminiscent of our previous trip to the Alps two years ago. Linda and her friend Adriane were due to travel from Basel and meet up with us for a couple of days. The forecast for the area looked dire (heavy rain, storms, and generally unsuitable conditions for Alpinism) and there we were, looking at options for other places to go, having only been there for a night! We donned full waterproofs to go downtown and meet Linda & co at the Bus Station - the bus arrived on time, (not early, not late) and as they stepped off the bus, quite literally at that moment, the rain stopped. By early afternoon we were doing a bit of tentative cragging on rapidly drying rock!
It seemed that Linda and co had brought some good weather with them, the updated forecasts began improving, and for the rest of the time we simply had to contend with a short sharp rain shower at about five o clock every afternoon. But as we had a gazebo, and excellent catering facilities this was a minor issue
Next day, we managed a pleasant scrambly ascent of the Jegihorn, (3206 m)
and at that point decided that the long slog up to the Almageller Hut would be the next objective.  In traditional Diggle  / Carrier style we hydrated "thoroughly" and cooked up a serious curry the night before for a bit of carbo-loading (top tip - tortilla wraps scorched in a frying pan with a small quantity of hot oil make excellent chapattis)
Weissmies Traverse
After a hot and humid climb out of the valley accompanied by Linda and Adriane (who then descended back to catch a bus and train back to Basel)
we trailed up to the Almageller Hut - a fabulous hut and well worth the effort to get to.
A 4.00 start the next morning, and we ascended the SSE ridge of the Weissmies; a superb route with a good 300 metres of engaging and interesting scrambling, followed by the most elegant snow arete to a magnificent summit (4017m)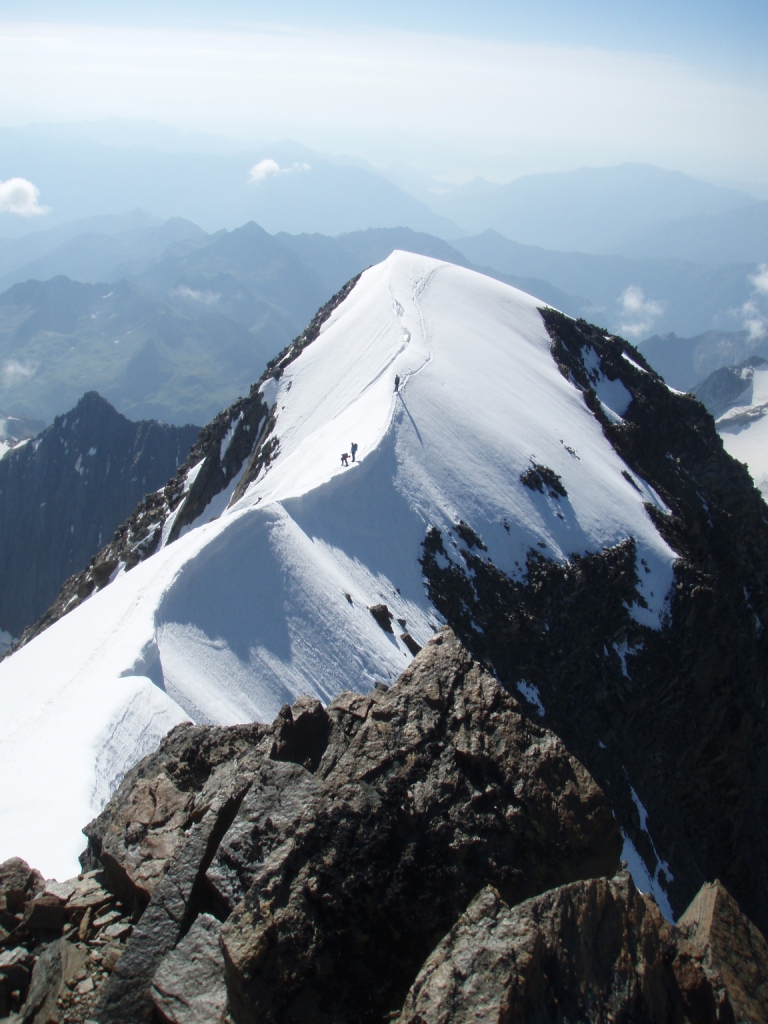 A descent across the glacier, to the Hohsaas Lift station rounded off a truly memorable climb - a route of quality. Having climbed right from the valley floor, jumping on a lift at 3000 m was quite a treat. The next day, I rested my legs and Dave had a play on a Monster Trotti (huge mutant scooter with knobbly tyres and very good brakes)
The retreat from Italy
Having recovered sufficiently from the Weissmies and with more good weather forecast, we then prepared ourselves for the challenge of the Strahlhorn which we had planned to access via its remote South Ridge via the Citta Di Luna Bivouac Hut. A bus ride up to Mattmark Dam and a stroll to the Monte Morro Pass and off we went along a ridge that according to the book should've been a simple walk. Several chossy, loose, and frankly scary boulder slopes, one very wet glacier and a few hours later we conceded defeat and decided to reverse while we still had daylight.
We estimated that we were still a couple of Km to traverse with no easy ground in sight, and were concerned about being benighted at 3500 metres with no hut in sight. So we turned back and had a long, long descent all the way back to the valley.
Cool Britannia - Hohlaubgrat
After the disappointment of the attempt on the Strahlhorn, we were keen to have a crack at another 4000'er with the weather holding out for us, and we selected the Hohlaubgrat traverse to the Allalinhorn as a consolation prize. So we headed on up to the Britannia Hut; another fine establishment with stunning views across to the Strahlhorn, the Rimpfischorn and the Northern Mischabel peaks. A close scrutiny of how far we had progressed towards the Strahlhorn on our previous escapade showed quite clearly that had we just crested one more mound of choss, we would have had easy snow fields all the way to the bivouac hut... (had we but known). Anyhow, undaunted we had another of those 3.45 am starts and descended onto the Hohlaub Glacier.
Dave narrowly avoided disappearing into a rather cheeky crevasse, and we succeeded (as we discovered later) in leaving our food bag on a boulder whilst roping up for the glacier! The ascent onto the ridge was hard work, but amply rewarded with superb views all round as the sun rose.
The added attraction of this route is that after a superb delicate ascending snow arete, a 50 metre rock step is encountered at just shy of 4000 m.
It was a bit loose and crumbly (especially in crampons) but straightforward enough with a short walk from the top leading to the magnificent little summit cross of the Allalinhorn - which gives phenominal views across to the Rimpfischorn Strahlhorn - and over to the Zermatt and Mischabel peaks.  An excellent route - and Dave found a carabiner.
We followed the  standard route down the mountain as far as the Mittel Allalin ski complex, but then eschewed the use of the expensive Metro Alpin Ski lift and continued down the Fee Glacier as far as the middle cable car. Now this sounds simple when put like that, but the long slog across wet snowfields, the constant alert for crevasses, the increasingly withering heat of the sunshine, the search for the route off the snout of the glacier, dehydration and the lack of lunch made for a fairly arduous afternoon. A few very expensive beers in Saas Fee, a huge feed when we got back to camp, and further rehydration under our excellent gazebo put things right.
Alsace - The Finale
The weather forecast started to look a little less promising, so we decided to spend a day clearing up and did a spot of slab climbing locally. Dave was suffering a bit from a back spasm after our partial encounter with the crevasse. Plan was to head into France to look for some nice easy rock climbing to round off our trip. Alsace and the Vosge hills took our fancy and we stayed in the gorgeous little town of Munster. A visit to the magnificent venue of Martinswand rounded off our trip. This is a spectacular granite crag, very intimidating looking,  and we managed just a couple of routes; one of which went by the rather unusual sobriquet of "La Clitoris" (clearly an unfortunate translation) - anyhow it went at 5a, was a good 40 metres high, had ground-fall potential from the second bolt, was steep and bold, and huge fun.
All that remained was to fill up the car with red wine, and fine French food and drive home. Thanks to Dave for being the most excellent dependable climbing partner, and to Linda and Adriane for bringing good weather and chocolate. We might only climb at AD - or thereabouts but we made sure that our quality of cuisine maintained at least a grade of TD+...