In praise of Glen Shiel
There's a pub at either end. Connected by a road and a bus service.
The north and south sides of the glen are chains of shapely mountain summits, connected by high, narrow ridges with occasional scrambly sections. These provide over 20 miles of high level ridge walking, continuous on either side.
There are about 25 Munros directly accessed from Glen Shiel, and of course yet more in close proximity. Dolly, Angela, Keith and I were assisting Mr Green on this visit, to add several of these Munros to his collection. And there are Corbetts too. And the Falls of Glomach, one of the tallest waterfalls in Britain, with a drop of 113 m.
At the lower end, stands The Saddle, whose Forcan Ridge is justly treasured either as a summer scramble (2) or a winter route (II) https://www.yorkmc.org.uk/forcan-ridge/ second only to Aonach Eagach on the mainland. Scramblers can also enjoy the north ridge of Aonach air Chrith and the west ridge of Beinn Fhada.
For history buffs, there was a small battle in 1719 when a Spanish force, mixed with local Jacobites, was dispersed. (pity the unnerved Spanish soldiery forced to flee uphill and remembered in the name Coireinn nan Spainteach.) Simon Fraser, Lord Lovat, was smuggled through these glens in April 1746 after Culloden.
And Boswell and Samuel Johnson walked through the glen on their "Journey to the Western Islands" in 1773.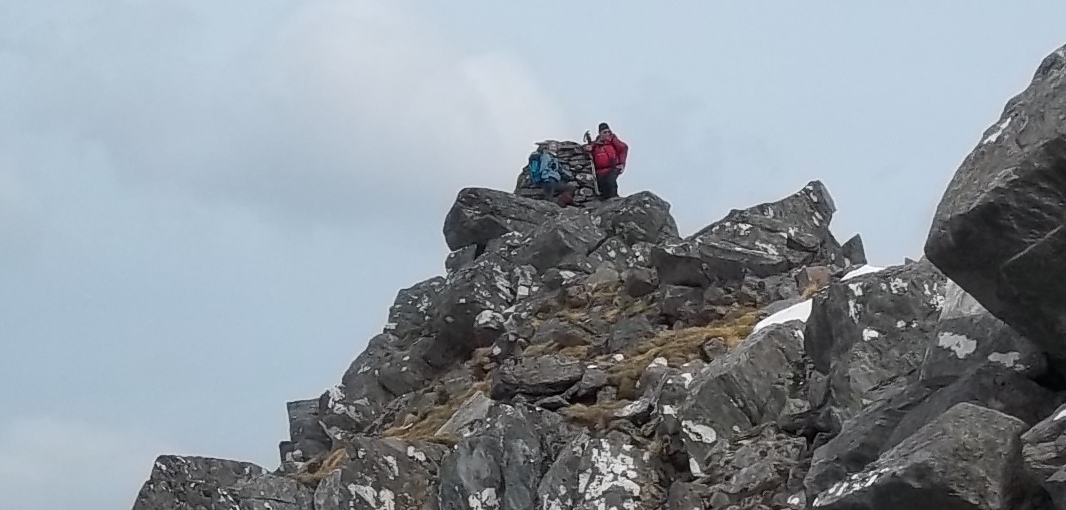 At some little distance lie a nice bothy (Sourdalan) and the most alpine-hut-like of Youth Hostels at Alltbeith
Roadside cragging is one element which seems to be missing. However the vast corries of Beinn Fhada – a huge sprawling mountain – hold well over a mile of cliffs. The rocky buttresses and interesting-looking gullies have probably been explored by those prepared to put in the effort to get there.
Last but by no means least, we felt very lucky on our Easter visit, to get beds at the hostel of Invergarry. This is a drive away from Glen Shiel, but deserves a mention as possibly the best Hostel in the Scottish Highlands (and therefore so often full).
ANDREW E