Dominating the head of Loch Etive in the west, Ben Starav has two ribs off its summit. We went up the northern (right hand) rib on hard-frozen snow. Then across the summit area to a long narrow east ridge which rises to the subsidiary top.
The first rib rears up about 200 metres from the grassy north ridge. The snow provided a narrow trod between steep rocky ground to the right and a cornice and sheer drop to the left.
Etive is a sea-loch. Westwards lie Connel, Oban, Mull, and all the Hebridean isles.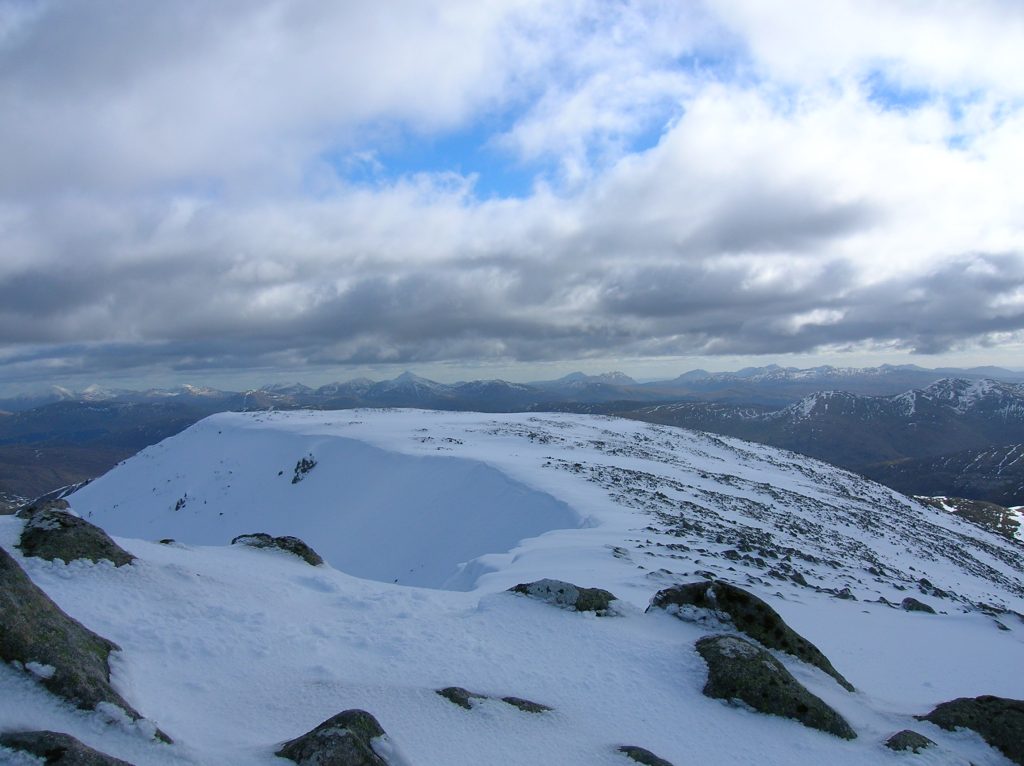 Around the curve of the summit, there began the drop to the east ridge. Very narrow, with big drops either side. Crouching down, careful cramponing. "You'll only ever fall off once..." as I was once told. No place to snag the front points whilst juggling a camera then. The east ridge continues a couple of feet wide, somewhat Striding-Edge-like, and then more steep frozen snow down to the bealach.
Actually my plan had really been to climb some interesting mountains which are NOT Munros...... but the western hills were very green (for the first weekend in March) and my 907-metre Corbett had hardly a shred of snow. Ah, well.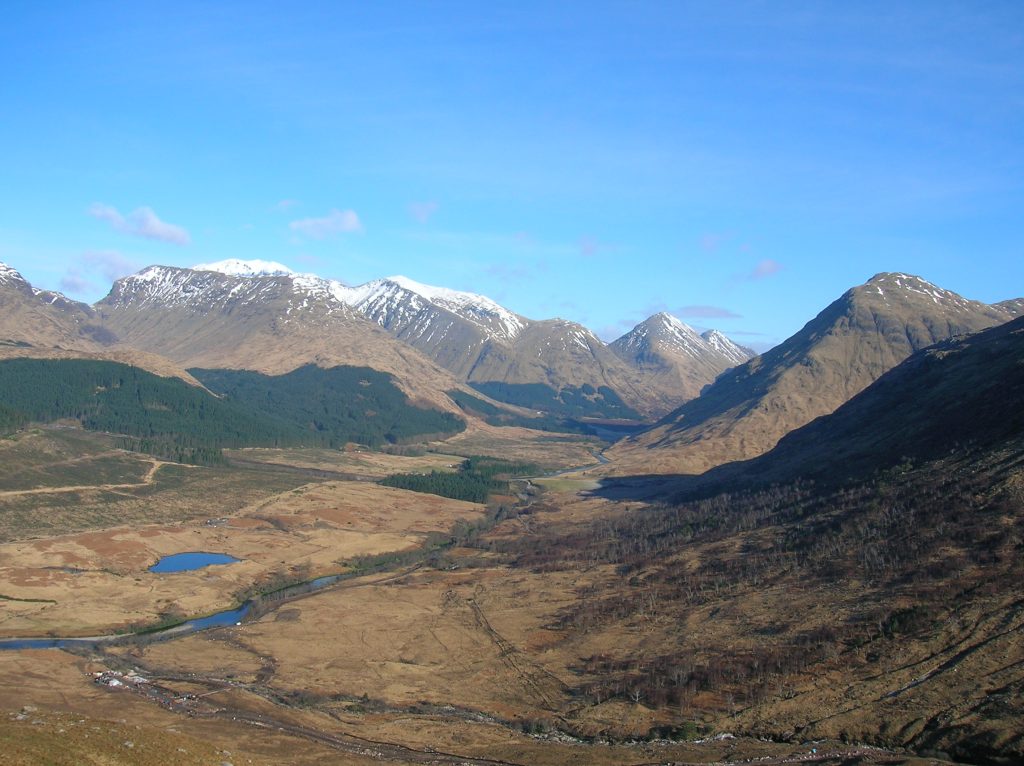 Next day, we headed east 25 miles or so to find larger areas of snow. Ben Lawers is the ninth-highest mountain in Britain at 1214 metres. We still had to get very high up to find the white crusty stuff, but there was an extensive stretch of it, albeit only inches thick. Delightful to crampon up the easy slopes, and dressed to impress in the bright sunshine.
In the years since I last stood there, I had forgotten how grandly Ben Lawers towers over its neighbours. Nearby Munros looked quite junior. No wonder the locals were upset when the Ordnance Survey came up with 3988 feet, and they soon built a 12-foot high cairn to bring Lawers up to 4000. (Not there now .. it lasted into the 1930's I believe).
Tea and buns in Killin, and train to England were next on the agenda.
But as we descend towards the road, I'll insist on a plug for that unsung mountaineering hero Percy Unna. All of us who have ever enjoyed ourselves in Glencoe, on the Five Sisters in Kintail, or on Ben Lawers, have been the beneficiaries of his generousity in buying these mountains, and giving them to us. (via NTS). We'd certainly enjoyed his gift this day.
ANDREW