The first aid course planned for the weekend of 15th and 16th of January was cancelled at late notice due to the instructor testing positive for covid. The weather forecast was good so 3 of the course members, Andrew, Adam and Dave M plus Charley made a spontaneous decision to head to the Dales for a local, not too strenuous circular walk.
The weather was cool with a slight westerly breeze but the last of the overnight rain cleared at the start time of 10am. The route began at Gollinglith Foot car park which is approximately half a mile east of the Slipstones parking area, to the west of Masham. We headed up Colsterdale via the coal road accessed via the ford (Andrew) or by the footbridge (everybody else). The coal road was in good condition, making for good progress.
The shooting House at the junction with Thorny Grane Gill was locked but it was too early to stop for a break. Charley had only just finished his breakfast. However, he did enjoy the outrageous English humour.
The track eventually became a moorland path cutting south across Masham Moor although, as before, the conditions underfoot were good. The Summit of Little (South) Haw was reached just before 12 so lunch was taken here at the highest point of the walk. Excellent views in all directions made it a pleasant vantage point to take our break.
After lunch the bridle path was followed east along the northern edge of Nidderdale where it met a footpath over Pott Moor towards Roundhill and Leighton Reservoirs. The Six Dales Trail route was then joined at a bend in the Pott Moor High Road and followed north to take us back towards Colsterdale. On the short section we walked, the Six Dales Trail was not necessarily the best way marked route, easy to follow in some places but requiring care elsewhere.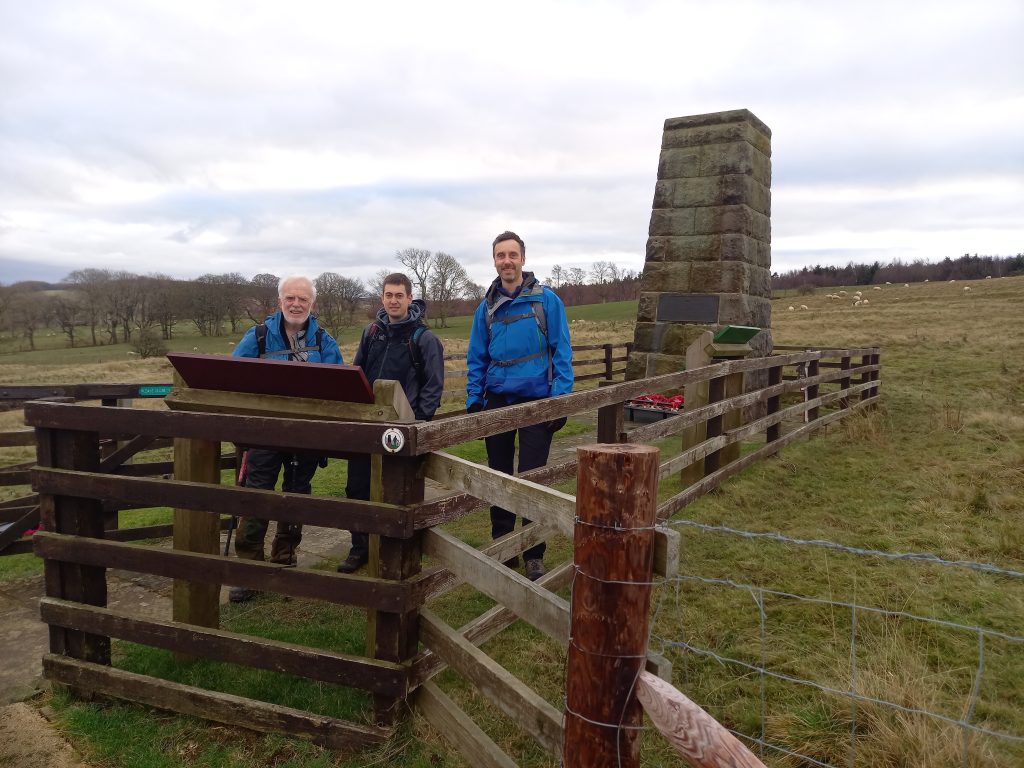 On our way downhill to Gollinglith Foot we detoured slightly to the east to take a look at the War Memorial dedicated to the Leeds Pals of WW1. The site was where the Battalion trained in 1914 but also where the Leeds Corporation had built a base camp for the dam and waterworks construction engineers. Evidence of the small township still exists in the fields to the north and south of the road.
After regaining the path we returned to the car, completing the route of 12.6 miles in less than 5 hours. The total ascent was 530m. Well done all, it was a most pleasant day out.
Despite the relatively leisurely day, we felt, owing to the fact that we should have been studying first aid all day, that we ought to partake of a medicinal beverage. The Freemasons Arms was chosen as our alternative to the classroom since it was conveniently located beside the road as we drove through the village of Nosterfield. Well recommended and likely to be revisited in future.