In Seville, they burnt alive two thousand people in one year.
On Pendle there blazed a beacon. One of a network to warn England of the coming Armada. Pendle is an ideal beacon: although only 1831 feet, it has a great relative elevation, and dominates perhaps a thousand square miles of surrounding landscape. It can be seen from Pen-y-ghent 25 miles away.
Before the time of scientific measurement, it was said
"Pendle, Ingleborough, Pen-y-ghent
Be the highest hills betwixt Mersey and Trent"
Our direct approach past Pendle Side Farm was surely the route used by our forefathers to bring wood for the beacon, in the fearful spring of 1588.
Next, the path climbs a steep diagonal up the "Big End", rising 600 feet or so. .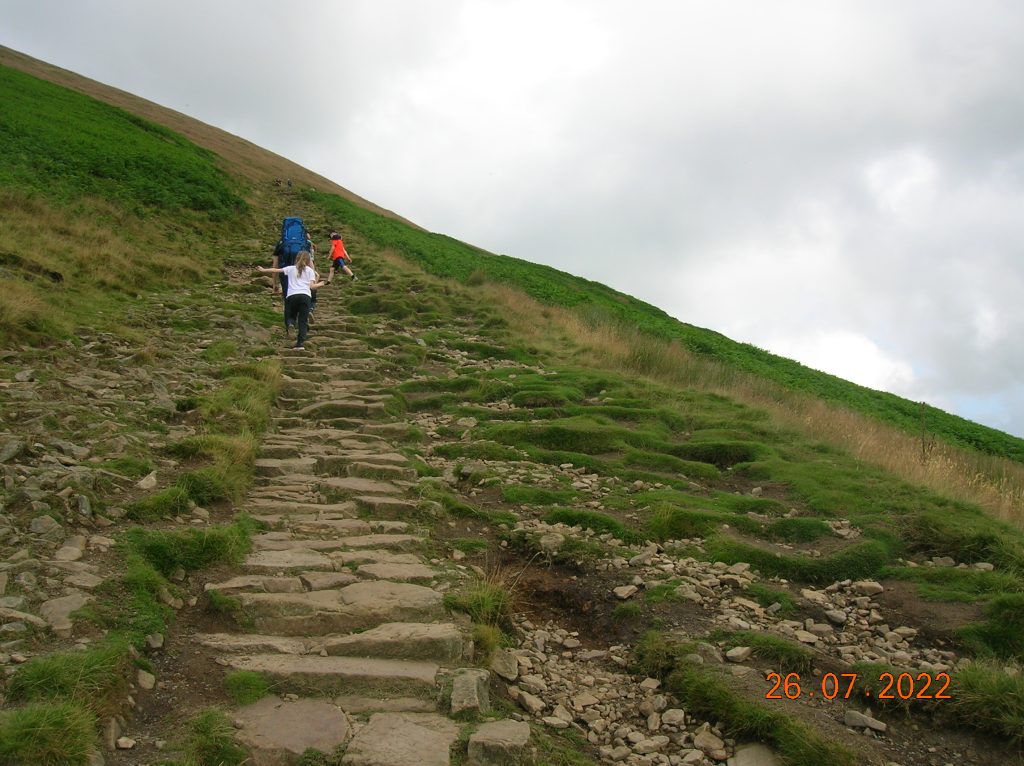 The views open out with height. A local folksong runs:
Pendle, old Pendle, thou standest alone.
Twixt Burnley and Clitheroe, Whalley and Colne,
Where Hodder and Ribble's fair waters do meet
With Barley and Downham content at thy feet.
Another village at the feet of Pendle is Roughlee. Here a well-off widow, Alice, was arrested for witchcraft. Although she was a literate, educated woman, she offered no defence to the charge. She was one of ten "Pendle Witches" hanged at Lancaster.
Finally, the steep track gains the summit plateau. Remarkably, and more so than many higher famous hills, the summit provides an uninterrupted 360-degree panorama. From Rossendale to Penyghent, from Widdop and the Pennine Way to the Irish sea.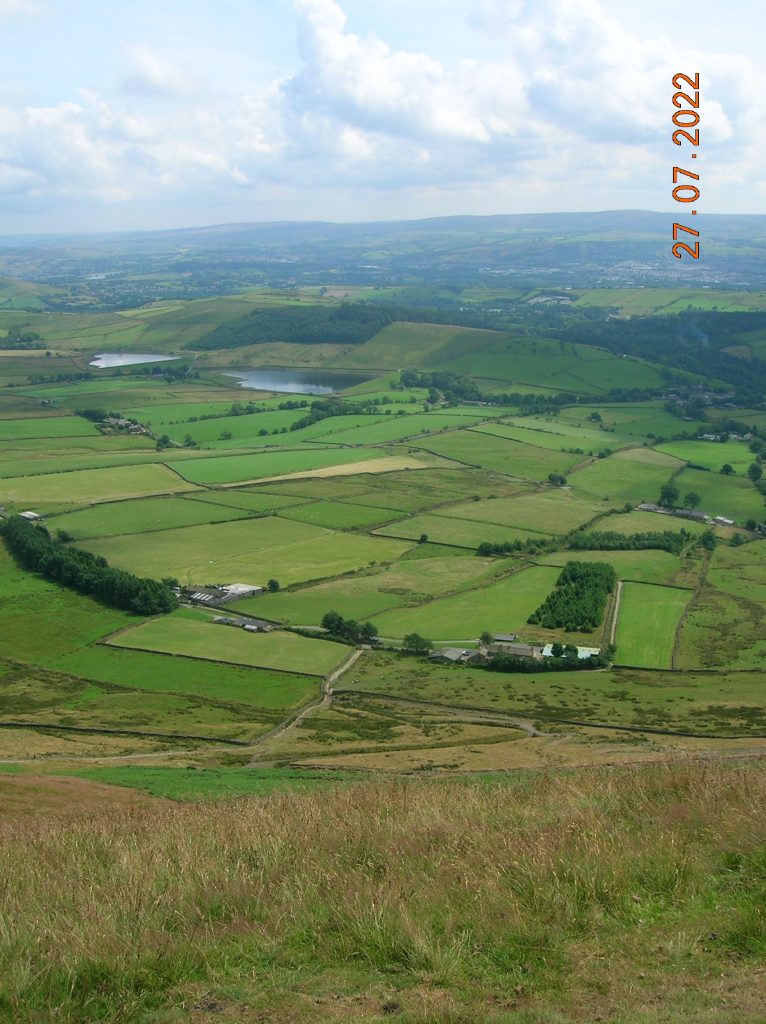 A special place for Quakers also. At this precise place, in 1652, George Fox had a vision, inspired by the extensive panorama, which triggered the birth of the Quaker movement.
Another old rhyme:
"Pendle stands,
Rownd cop, surveying all ye wilde moor lands"
For at least four hundred years, from the time of the Armada, my family lived within those lands "surveyed" by Pendle. Until I left.
I cannot decide how much regret I ought to feel.
Today, to this place of history and folklore, legend and boyhood memory, my little grandchildren have made their way up. They are old enough to express a sense of wonder at the views.
You may come to Pendle summit by various ways. The direct path up the Big End is short, but rather brutal.
Longer, more pleasant and interesting is a route from Barley village past the reservoir and following the stream up Ogden Clough --- about 6.5 km and 300m ascent to the top.
Or you can walk the length of the hill. It would be about 10 km to the summit along the moorland spine from the Cistercian Abbey at Whalley, (whose last Abbott was executed for treason) and past the prehistoric stone circle of Jeppe Knave Grave. .
In rough weather, Pendle can be as daunting as any high moorland. But it has no pretensions to "mountaineering". No need of any greater claims beyond the accolades it already earns.