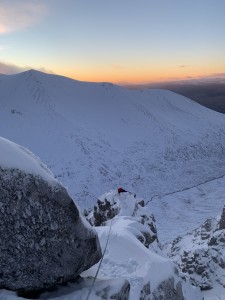 As ever the weather window for Scotland was dubious, but despite that Will and I headed North last weekend in the hope that we would find something in condition and the weather Gods would be kind and grant us at least one decent day. We were lucky, Saturday was dismal and after the traditional tour of the outdoor gear shops in Fort Bill we climbed indoors at Kinlochleven. But all the signs were good for Sunday and despite the snow conditions looking scoured and thin, a high route of some sort would probably be in. Guided by Simon Richardsons superb book, chasing the ephemeral, we decided to have a crack at West Rib on the long West face of Aonach Mor. This comes with the added bonus of a gondola to take the pain out of walking up the first few hundred metres. After that, by Scottish standards, the walk in is pleasant and largely level or gently rising.
The route itself starts steeply before gaining the ridge line, almost alpine in quality, which after some exposed points quickly steepens to the final rib and the summit snow slope.
Snow and ice conditions weren't great but I've had worse as they say. We started up a steeply stepped ice chimney, managing to place a couple of screws which may have held a small feather cushion in a dynamic fall but were otherwise there for fun. Good nut placements followed quickly however, which was good as the ice became slightly overhanging as large chunks fell away under our feet. The next pitch wasn't so, steep and was largely consolidated snow working its way through small rock outcrops. Not quite neve, it had a solid crust but a much softer underlayer. The 55 Metre pitch was only protected by three hexes, one of which I basically welded with my axe into the crack it was placed. We moved onto the ridgeline, which was frankly beautiful, some exposure either side but fantastic views back into the distant hills and reddening sunset and great movement between iced up blocks and spikes. The exit slope came quickly and then we faced the slog down past the closed ski lifts missing the final gondola down. We shared the route with a local MR team of three. Snapping at their heels on the way up and chatting with them on the return. We all met up again at the Fort Bill Maccy D's for pre long drive home sustenance. It had been a 12 hour day but the late journey back meant that traffic was light. It felt good to have made the effort and been rewarded with a quality mountain day.