Bitterly ironic is not how I normally think of Steve M. However he smiled as he photographed me sitting with his dog, and I must wonder whether he was thinking "Should've gone to Specsavers !". Alas, truth will out.

We were on the rim of the Monadliath, some 200 square miles of hills north and west of the valleys of Badenoch, around Kingussie, for the most part very little visited. However, at four points on the rim, the ground rises above 3000 feet and Sir Hugh has included these on his List.
Thus it was, that north of Newtonmore, Steve and I made a circuit around the head of the Allt a' Chaorainn which cuts into the massif. We visited the Old Woman (A'Cailleach -930m) the Hill of the Basket (Carn Sgulain – 920 m) and the Old Man (Am Bodach - 740m). Interesting that the two characters are joined (or separated ?) by the basket. Should we look for Ben Tesco ?


It was nice to see that the tin hut on the side of A'Cailleach is still there: no insulation though !!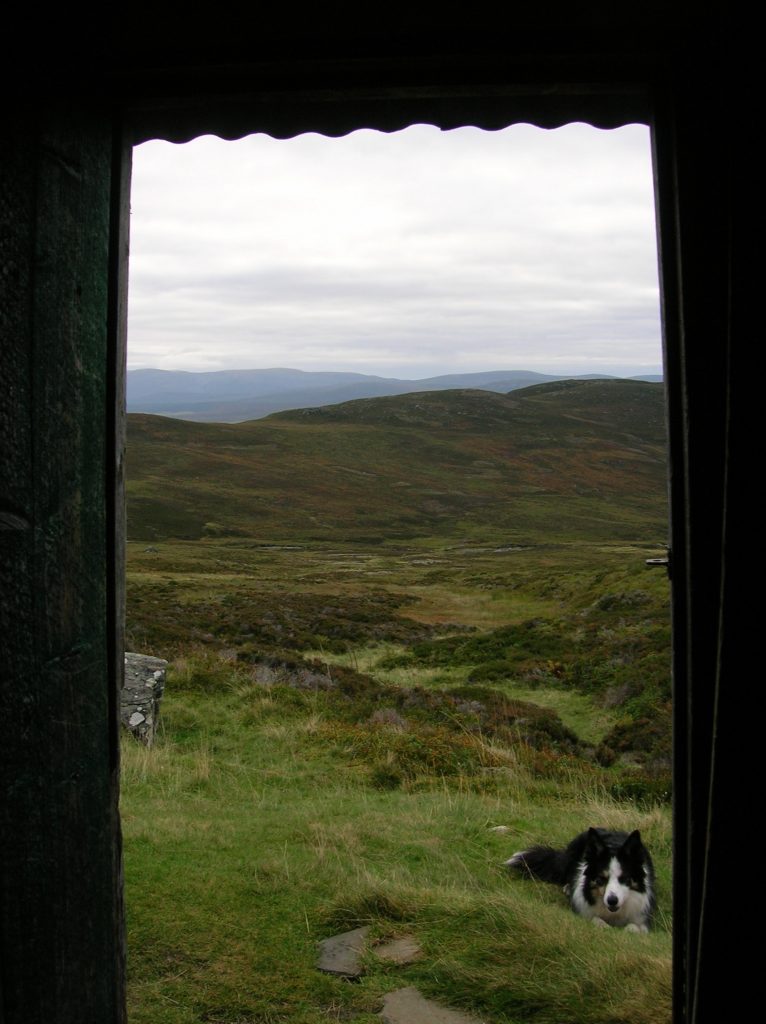 In Newtonmore, the Glen Hotel offered us a wait of almost 2 hours, and the Brieriach (frequented by York MC in days of yore) has closed and transmogrified into a budget hotel. In Kingussie, the Duke of Gordon Hotel was welcoming and comfortable. Recommended.

"Dawn was ever the hope of man" said Aragorn. After a rainy night up the glen, the weather looked as though it would brighten.
So off we went to the opposite side of Badenoch, where another vast and mostly featureless massif walls the valleys on the east side. A huge area east of the A9, and once again little frequented. East of Drumochter, Carn na Caim on the edge of the plateau is easy to approach by a landrover track.
I well recall seeing Ben Nevis from here, 45 miles away, on a brilliant winter day. Sadly the weather turned to a grey murk, and once on the 900m moor, we kept careful check of our whereabouts. The only things to go on being a faint rutted Argocat track, and a line of old fence posts, both of which peter out.
But we located the "summit", which turned out to be a milestone for Steve of 150 Munros now completed.
Hurrah. !
ANDREW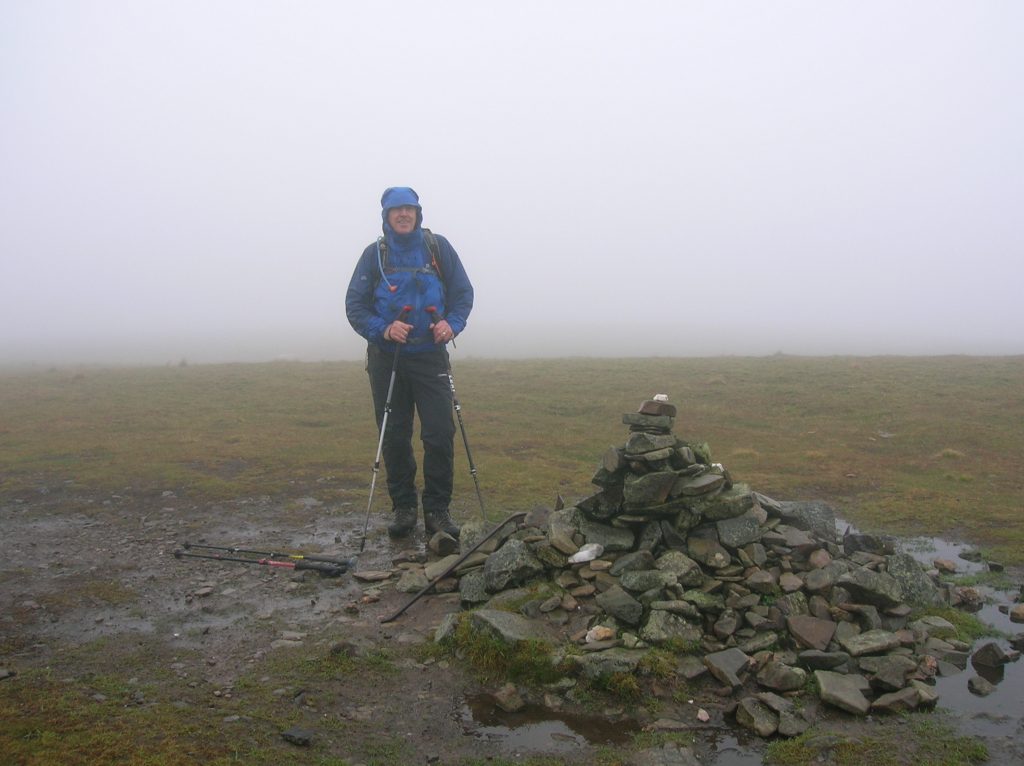 And PS, it was nice to chat to various folks. The local lady near A'Chailleach who swapped mountain tales; 3-year old Grace and her Gran in the coffee shop, the mountain guide who shared our camping spot, and the chatty waitress from Hemingbrough in Yorkshire who loves her job. !!