Mike, Maria and I decided that kicking off the new year with a jaunt up North was a good idea and based on an optimistic MWIS forecast we packed climbing gear, warm clothes and headtorches; and pottered up to Crianlarich YH – arriving in time for a quick look at the book and a glass of red juice before turning in.
Our objective for Saturday was Aonach Mor - one of the gullies on its North East facing crag overlooking Coire an Lochain. Recent UKC reports suggested that despite the lack of snow, and recent thaw conditions, that this venue (up at 1100 metres!) was in condition. We selected a route called Right twin: one of three routes (Left Twin, Right Twin and … Forgotten Twin that were first climbed in Jan 1989 all on the same day, by the same pair of climbers – S M Richardson and R D Everett) This particular route allegedly goes at grade II and was worthy of three stars.
Getting up to here did require a bit of organisation, and VERY early start (for me anyway) of 05.30 to drive up to the bottom of Aonach Mor. Once there we did have the luxury of the cable car to lift us up the first 600 metres and deposit us upon the icy remnants of the upper ski slopes. A gentle slog up over the 1200 metre summit plateau of Aonach Mor and we were there – sort of. Huddled behind a hut at the top of a ski lift, with several other hopeful climbing parties, up in the mist.
On the way up, we had been greeted with fleeting magnificent glimpses of the North Face of the Ben. Looking magnificent in its winter raiment.
Harnesses and crampons on, gear sorted and off we strode following the directions to the "easy gully" that we would need to descend, to get over our mountain and down to the start of the climb. What greeted us through the mist appeared to be a bottomless chasm, artfully decorated with a huge cornice. There was the remnant of a snow bollard there, and spurred on by the sight of another fearless team hacking out the bollard some more and abseiling off, we decided to follow suit.
Tying our two ropes together, Maria abseiled off first. I suggested to Mike, that being by far the weightiest member of our party that I would like to go second. "if that bollard starts to give way, please ram a couple of axes in there!" Of course it didn't. The snow was compacted, hard and icy, and once over the lip of the cornice – it was a simple slither down to the centre of the gully, and a straightforward down-climb to the bottom of the crags.
It was nice to be out of the breeze that had been chilling us on the summit plateau, and plastering us with rime-ice. And now it was just a question of finding our route back up!
The base of the Coire an Lochain Central Buttress has intimidating slopes running out to a small circular lochan some 300 metres below, and traversing around on bullet hard snow slopes required a certain amount of concentration. Identifying which route was our chosen route required some concentration too! But after a little bit of looking around, we hacked out a couple of steps and set up an interesting two-tiered belay and off went Mike up the first pitch.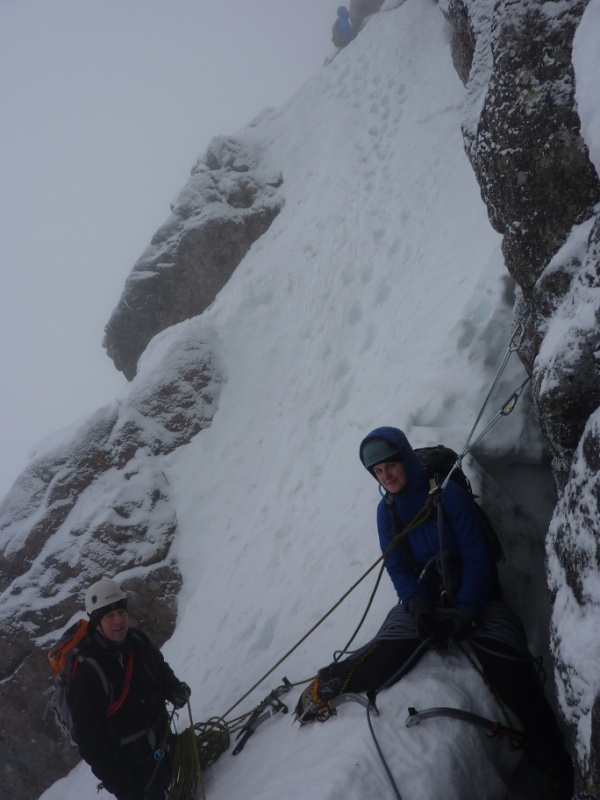 The going looked fairly straightforward, with a couple of icy steps (!) and Mike soon had a solid belay and was ready to bring us up. I followed without too much fuss (not that I will admit to anyway). Reaching Mike I noticed that he had somehow managed to give himself a cut on his forehead. He wasn't aware of how he'd done it though, and I had to point out to him that he was leaking blood... "tis but a scratch" he exclaimed
Maria was soon in sight – I had grabbed the camera, and from the safety of my perch was able to catch a shot of our Club Secretary's forearm, replete with axe, as she surmounted the steepest of the ice steps.
...and emerged grinning!
My turn to lead, and the gully narrowed to a claustrophobic slice down through the crag, with good hard snow and a wealth of gear placements. But it then started to turn icy, and steeper, and the walls either side got blanker and blanker. OK, where to put an ice screw?? First one didn't fill me with joy, as it bit deep and then just started to turn. I clipped into it anyway and carried on. It carried on getting steeper, and all I could think of was "wonder if that screw would take a fall?" I quickly put in another, as I reached a big bulging mass of water ice. This one seemed to gain a much better purchase and I did feel quite a sense of relief. A little further up and as I teetered up some rather crumbly ice steps, I spotted an aged looking peg in the left wall of the gully. Whilst rusty, it did give off an aura of solidness so I clipped into that aswell. I was getting concerned that the way up still looked pretty steep, so another four metres up, I spied a useful looking crack that would take a Hex. It was above the smallest of rather crumbly ice steps (just room for me to stand at an awkward angle, but bomber enough with an added sling to make good belay. So I tied on and brought Mike up. I suggested that given the tiny stance I was on, that he carry on. Off he went up the next pitch as if it was stroll in the park, and set up a more substantial belay another 20 metres above.
Maria then followed up my pitch, and tied into my rather cramped belay. It took a certain amount of delicate shuffling to swap places on such a small platform. Then up and over the next icy bulge...
...and tie myself in on a slightly more commodious stance above Mike.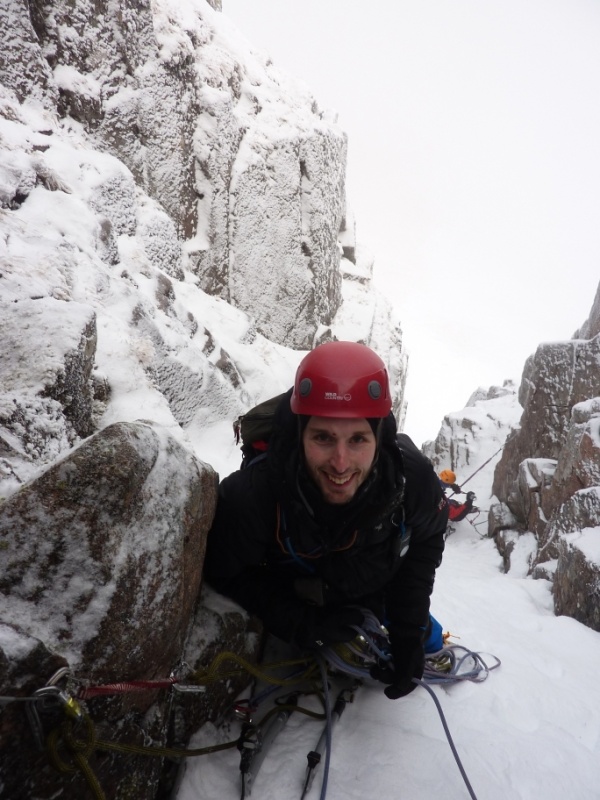 With a fabulous view:
Time was inevitably moving on; and whilst we had been climbing, another party had been moving up behind us. They took it quite well when Mike had released a salvo of ice chunks the size of small domestic appliances down the gully, and they informed us that they were getting a bit anxious about the time. Seems they had left their rucksacks (and headtorches) on the summit plateau (by the shed) and were worried about getting stuck (they had also retrieved a piece of gear for us that had got thoroughly stuck)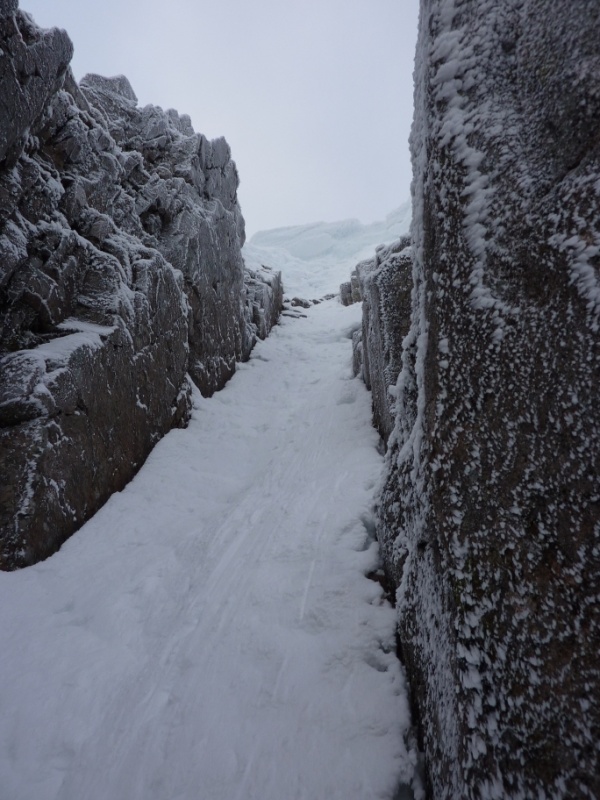 ... Maria volunteered to do the last pitch. Which from where we were perched, looked simple enough. And set off up the remains of the gully.
Now the guidebook says "exit left at the top". As Maria discovered, on this occasion, that advice was a little misleading! And after surmounting an evil and crumbling snow slope, came out onto a nice sheltered platform directly below an outrageously overhanging cornice, made of iron-hard compacted snow. She could however, spy from her vantage point, an alternative exit trending right from the top of the gully, with a small step and a possible escape route. I was sitting in the middle of two ropes, and so to avoid tangling us up too much I tied Maria's rope off, and belayed Mike as he took his end of the rope and set off up the alternative route. Meanwhile the other party (thankfully only two) had arrived and were now belayed to the same spot as me. One of them (rather inconveniently called Matt) set off and followed Mike's route up the gully and right. Now by this time, there were three ropes and five climbers in different positions at the top of the route. Some fairly careful rope management was needed if we weren't going to end up knitting an Arran sweater.
I managed to Follow Mike's route removing a couple of pieces of gear and executing a delicate untangling move, and a pirouette to keep the ropes in the right place. Up to the right and an undignified sprawl over the top of the cornice, and I was up. There was now just the small matter of getting Maria up from her cosy but rather isolated perch. Mike set up an axe belay a way back from the cornice and Maria gently traversed a few feet under the overhanging snow, and with a prussic loop around the rope for an extra tug over the lip of the overhang she was up!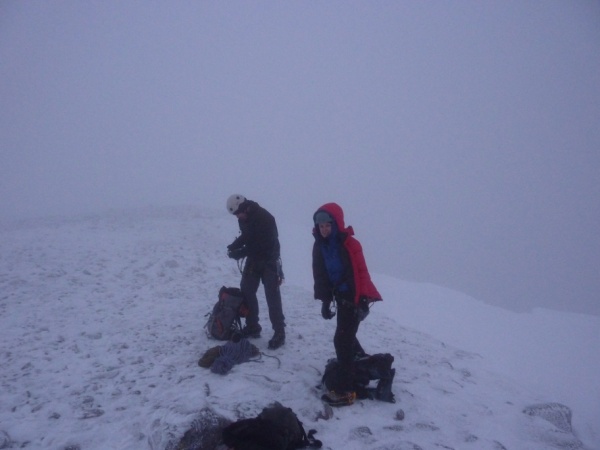 The light was rapidly fading now. Our torchless companions scooted off to retrieve their rucksacks (I would suggest leaving your gear at the top of Aonach Mor is not the greatest of ideas!). Any ideas of wandering about in the mist to locate the actual summit of the mountain – even if it was only a few hundred metres away were quickly dismissed, as we considered where we were, and how much daylight we had left: a few minutes. So we packed up quickly and using the last of the light set off down what remained of the ski runs (icy and slick) to see if we could catch a gondola down from the cable car station 600 metres below. The lights were still on but as we arrived (torches gleaming in the dark) we were informed that they were doing maintenance, and the last gondola was long gone...
So down the mountain bike track, in the dark. In places it was laced with verglas. So we took it in turns to fall on backsides as we teetered down the hill. (in the course of this descent Maria's climbing helmet got broken (thankfully her head wasn't in it at the time) and my new stainless steel flask took a mortal blow resulting in a spectacular dent. But finally we were down, and all that remained was to drive to the Kings House in Glencoe for a much deserved dinner, and then a quick jaunt back to Crianlarich.
Somewhat tired from our exertions, we opted to seek out a nice easy hillwalk for Sunday, but as the weather turned out rubbish, our attempt to climb a Corbett (the diminutive Meall nan Subh) ended with us turning back three quarters of the way up, and opting for a leisurely drive back home.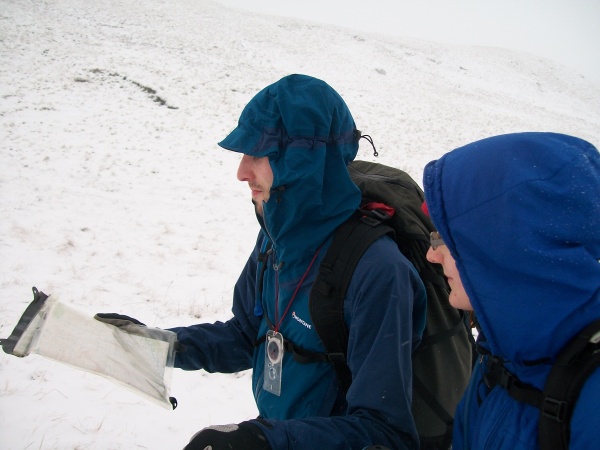 All in all a cracking weekend in the Highlands. No Munroes ticked off my list, who cares? A great start to 2013!