It was an early start on the Sunday morning after Valentine's Day and the second weekend of the Six Nations Rugby.  Matthew Diggle and Dave Mannion, well fed and bleary eyed from their respective candle-lit late night before set off anticipating few climbing options available on the hills due to the increasing temperature over the previous couple of days.  The decision was made to head for Red Tarn Cove at Helvellyn, aiming to climb V Corner (III) or similar, depending on the conditions we might find.  A clear drive to Glenridding car park combined with its high-tech pay as you leave ANPR system ensured a swift transition from car to foot, leaving the car park and heading up the hill by 0930.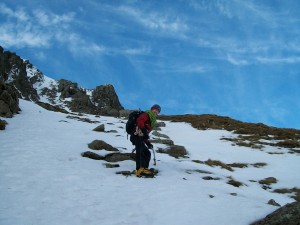 The weather was perfectly clear with only a slight south westerly breeze and during our steady progress up to Red Tarn only a few other pairs of climbers were seen.  Patches of hard, compressed snow and ice on the paths at the lower levels were melting and the temperature was notably mild.  However, as we gained height the snow became deeper but perfectly passable and consolidated with ice refrozen overnight.   Approaching Red Tarn we could see that the crag was still in reasonable condition with a decent amount of ice and snow remaining from the tarn up to the summit.  We moved anti-clockwise around the tarn to a small plateau immediately below the centre of the crag where we would gear up and make a final decision on which climb to attempt.
A pair of climbers arrived at the same point a few minutes before us and despite being very nice, polite, pleasant people were intending to climb V Corner.  The time was now approaching 1200 and the temperature was rising so rather than wait around we elected to climb Wall And Ramp (III) just to the left of our initial objective.   Identification of the climb was not too difficult.  We had established the general layout of the crag from the other side of Red Tarn and fine-tuning the exact start point was relatively straight forward in such good conditions.  Another group of four climbers arrived and overtook us while we were gearing up but fortunately went straight up towards Gully 2 (I) to our right.  The 100m snow slope up to the start point of our climb was in very good condition.  We solo climbed to a decent block belay just below and to the right of the 30m mixed climbing pitch.
Matthew led the pitch.  His first Grade III lead and he rightfully gave it all deserved respect.  The thick ice was hard and capable of supporting ice screw runners and the exposed rock gave good opportunities for placement of conventional protection.  Progress slowed on the upper part of the pitch which had less ice and what remained was melting.  The frozen turf in this area was not bonded to the surface.  It was here where the M Diggle school of neolithic climbing technique came to the fore.  Unconsolidated turf, ice, snow and all manner of rude words were rattling around the crag for several minutes as Matthew attempted to gain a hold above a pointed  arête of granite.  When straddled above the arête, the thick ice slab under his right foot gave way and that too went cascading down the snow slope in a thousand tiny pieces.  Drama in itself, however, not nearly so dramatic as his instinctive and reflex action buttock clenching grip on the top of the arête which prevented any damage to his nuts, or the rest of his rack for that matter.   I would have taken a photograph but was working so hard to stifle my laughter that I probably would have dropped my camera.  I don't know if Matthew saw the funny side of this unique climbing manoeuvre but it worked and after a few more rude words, flailing axes and careful bridging moves he made it over the crux.  Well done.
Matthew set up another solid belay just above this point and I climbed up without incident.  I noted my climbing partner's new 'agricutural' state of dress with his attire now accessorised with melting ice crystals, mud and freshly harvested turf (there are no protected fauna on this climb, but if there were, they could well be extinct by now).  I continued the climb up a straight forward 50m snow slope to another good, well protected belay point about 20m below the summit.  Matthew came up and continued over the top to the summit.  There was no cornice and it was a very simple finish to the climb after the exhilaration of the mixed ice pitch.
The time was now after 1300 and although the temperature continued to rise above freezing an expected weather front was approaching from the west and cloud was covering the summit.  The pair of climbers on V Corner met us at the top and told us that their climb was in good condition and well worth doing but we chose not to press on for another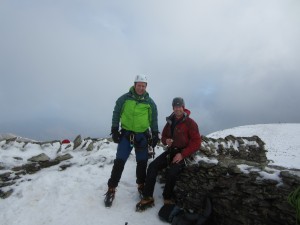 climb, deciding instead to save it for another day.  Swrirral Edge was our descent route.  It was covered in snow but easily passable in the right gear.  A bloke in shorts and walking his dog was considering the route for his descent but we expect he picked a more appropriate way to get down.
We made it back to Glenridding at about 1530 and the journey over the Pennines saw us arrive home shortly after 1800.  A most enjoyable, quick day out to Helvellyn and fingers crossed, there will be more suitable weather to come this winter season.  Finally, of course a big pat on the back to Matthew for leading his first grade III mixed climb.