Eight in October
The trees definitely were in their autumn beauty as we passed up Glen Nevis and beyond the mighty Steall waterfall.
Dolly Steve and I headed for Sgurr Coinnich Mor (1095 metres) which lies "back o' the Ben" and is the western outlier of the great Grey Corries ridge.
The outlier done, we were joined by Marjan, Rhianna, Brian H and Mr Murray for the main course of the Grey Corries Ridge itself. The approach is tricky involving a bit of Indiana Jones in front of a small dam, and forcing a way through a small wood.
At least the weather was improving...... which pleased me as my previous traverse in 2008 had been entirely in mist.
On this occasion, the mist often rolled back to give us excellent views between the two Munros of Stob Coire an Laoigh 1115 and Stob Coire Claurigh 1175 which guard either end of this massive ridge.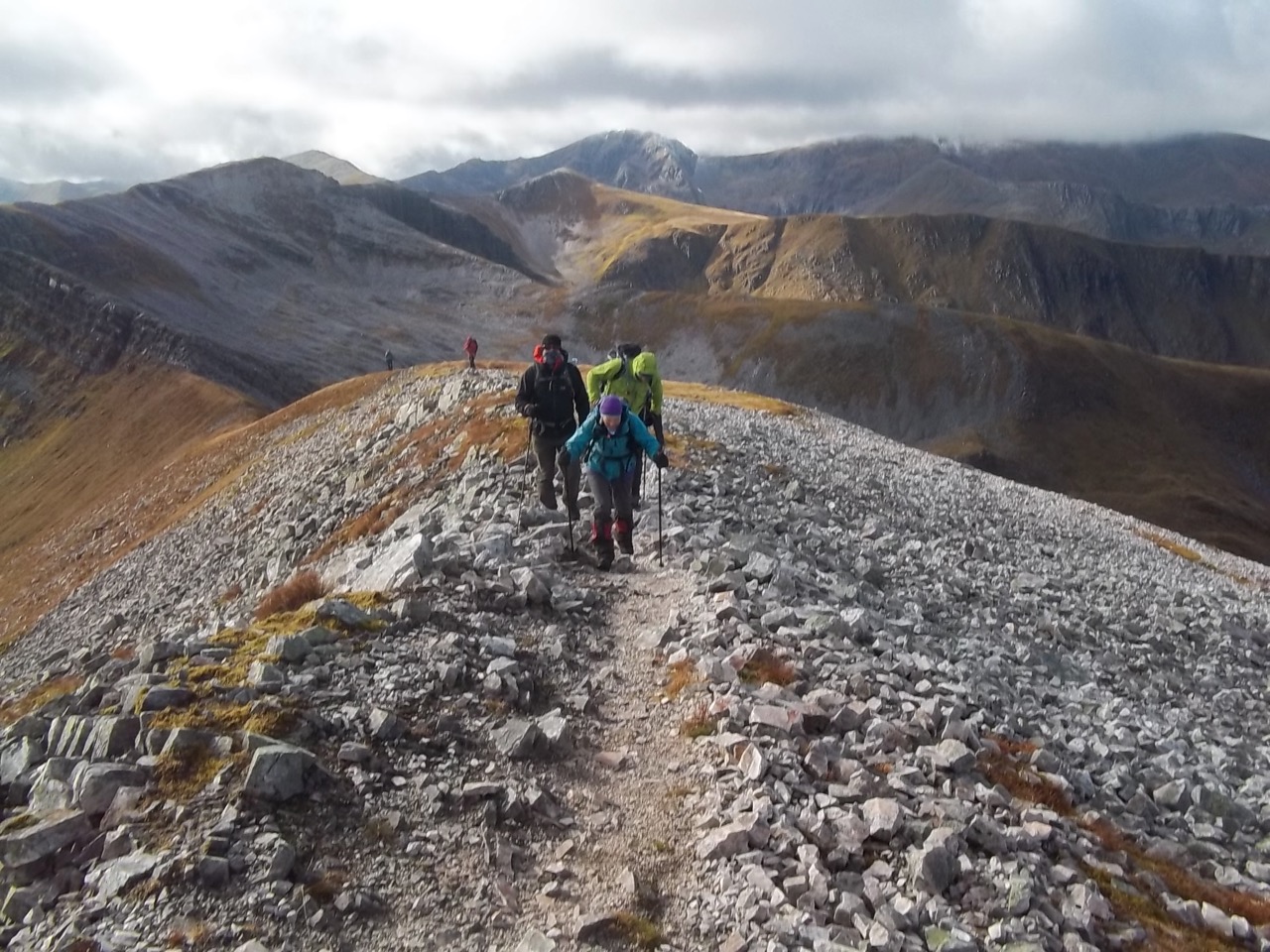 From this height, most of us had a double-take to look down southwards and confirm that the small summit really was Stob Ban 977. The Corbett of Cruach Innse looked even less significant. Anyway most of the team headed off in a brief snow shower to clamber steeply up Stob Ban, thus rounding off this entire range for Steve's List.
The long trudge back to the cars made up a 10-hour day, so we had just time to dress for dinner at Roy Bridge and nip across for plenty of wine and food at the Stronlossit. Rhianna celebrated her first Munros, and became Mistress of the Bunkhouse when it proved impossible to dislodge her during the silly game.
Three weeks later, cold winds were streaming down from the north, so Dolly, Steve M, Linda and I snuck into Crianlarich. The nearby Munros of Meall Ghlas and Sgiath Chuil gave us a bright and cold day in a heavy dusting of snow at upper levels.
At times, the wind was up to 35 mph and it became bitterly cold equivalent to minus 15 in the wind chill (we were told). Stalking on this Estate had just finished. Rutting stags roared amongst the craggy ground, and in the afternoon Linda got some decent views of the whole herd,
On the Sunday, the wind had ceased. A cloudless blue sky foretold a truly top drawer Highland day. Sunny, windless, clear and cold.
Straight out of the door we walked, and up the great bulk of Cruach Ardrain 1046 m
"Y" gulley on the "front" of this mountain was (apparently) a popular winter climb in the 1880's before the railway was built to Fort William. (Also climbed by A Eccles and M Connell in 2001)
Down the "back" we scuttled to get the Munro tickets stamped on Beinn Tulaichean 946.
The extremely steep path eastwards off Cruach Ardrain was obviously coated with thick ice, so we made an interesting off-piste traverse at 860 m to the eastern bealach and up up up onto Stob Garbh. 960 m. Sir Hugh's inconsistencies are in focus here: it is hard to say why Beinn Tulaichean is classed as an independent summit when Stob Garbh is not.
A pity, because Stob Garbh gives access to a very good ridge northwards to Creag na h-Iolaire just overlooking Crianlarich. Sadly, the finish is hemmed in by some most unsympathetic forestry, which seems to have got even more difficult in recent years. Despite the mild Indiana Jones practice at the Grey Corries dam, this forestry met with a less-than-enthusiastic reaction from the team, at the end of a longish day. I'd like a weekend there with a bulldozer.
Never mind. A top weather day to remember
ANDREW