A solitary young stag was standing guard over its herd of  camper vans when Dolly, Ang and Steve M. rendezvoused at the Beinn Eighe carpark on a murky Saturday morning.
First pfaff of the day - clockwise or anticlockwise - was eventually resolved in the time honoured fashion of following the group in front, so we set off clockwise, round the back of the mountain to the towering buttresses of Coire Mhic Fhearchar and its deep loch, home of the legendary Kraken (or so Steve would have us believe).
One large boulder field, a very steep scree slope and a fair bit of swearing  later and we were on top of our first summit, Ruadh-stac Mor, where Dolly quickly made herself at home  on a giant size sofa.
Moving-on along the ridge, we became aware of more and more people - the local Mountain Rescue were turning up in force as were race marshals, several hardy supporters, and the obligatory piper  - all awaiting the arrival of the first of the Celtmen and their minders. If you've ever thought Ironmen triathlons seemed a bit tame, why not give this a go: a 3.4km swim across Loch Shielding, followed by a 200km bike ride, all topped off with a 42km run over both summits of Beinn Eighe!!
Four runners passed as we neared Spidean Coire nan Clach, and in a brief lull before the main pack arrived, we were piped on our way up to the summit - a first for all three of us. The descent was slow as we kept stopping to cheer on the competitors (Ang's excuse), all of whom seemed remarkably chirpy and many of whom were coming back for a third or fourth time.
After a quick drink at the Ledgowan Hotel, Steve departed for his Five-Star des-res in Loch Carron, while Dolly and Ang discovered the quirks, eccentricities and amazing vinyl collection of Gerry's bunkhouse- definitely worth a visit!
Next morning dawned drizzly and claggy - the ideal day for a short sprint up Fionn Beinn, before the long drive home to York.
All in all a great weekend, and not a midge in sight.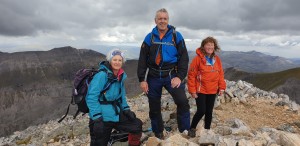 p.s Huge congratulations to Johan Hasselmark, Becky Hoare and Graeme Stewart (1st man, 1st woman and 1st vet) and the other 83 finishers who made it over the mountain.