"And the dawn comes up like thunder.......... " Not in Mandalay; .......but in Glen Shiel.
And as the light climbed into the sky, likewise we climbed to the airy ridge.
The ridge uncurls itself in front of your feet. A green serpent. Miles after mile after mile of it. Generally there are steep craggy drops to the north, where the ice age bit into the land, plus the recommended north ridge scramble of Aonach Air Crith...... and less steep slopes south. Sometimes the ridge is broader, sometimes narrowing to a thin rock crest.
And ever onwards. In total, the South Glenshiel Ridge itself at high level, runs for something like nine miles. (and 1350 metres of ascent). Behind us, the Big Ben brooded across forty miles of wild hills; ahead, glittered The Saddle, Eigg, Rum, and Skye.
Its about 21 years since I last walked the full length. A young man's lifetime. On such a day as this, there could hardly be a better place to be.
Finally our day drew to its end.... just in time to catch the bus in Glenshiel back to the start point. We had done the route in 9 hours, a time which pleased us.
Oh, and did I mention that there are seven places along this ridge which were called mountain summits by Sir Hugh Munro ? But set that aside. Whether you are counting or not, South Glenshiel is just a tremendous good day.
*************
Then for our next trick, after showers, pizza, wine sleep, etc, we set off on another bonny morning from Glenfinnan and under the Harry Potter viaduct. Chatting with Alastair the Estate Factor, (wearing his best tweeds as the boss was down from Aberdeen.)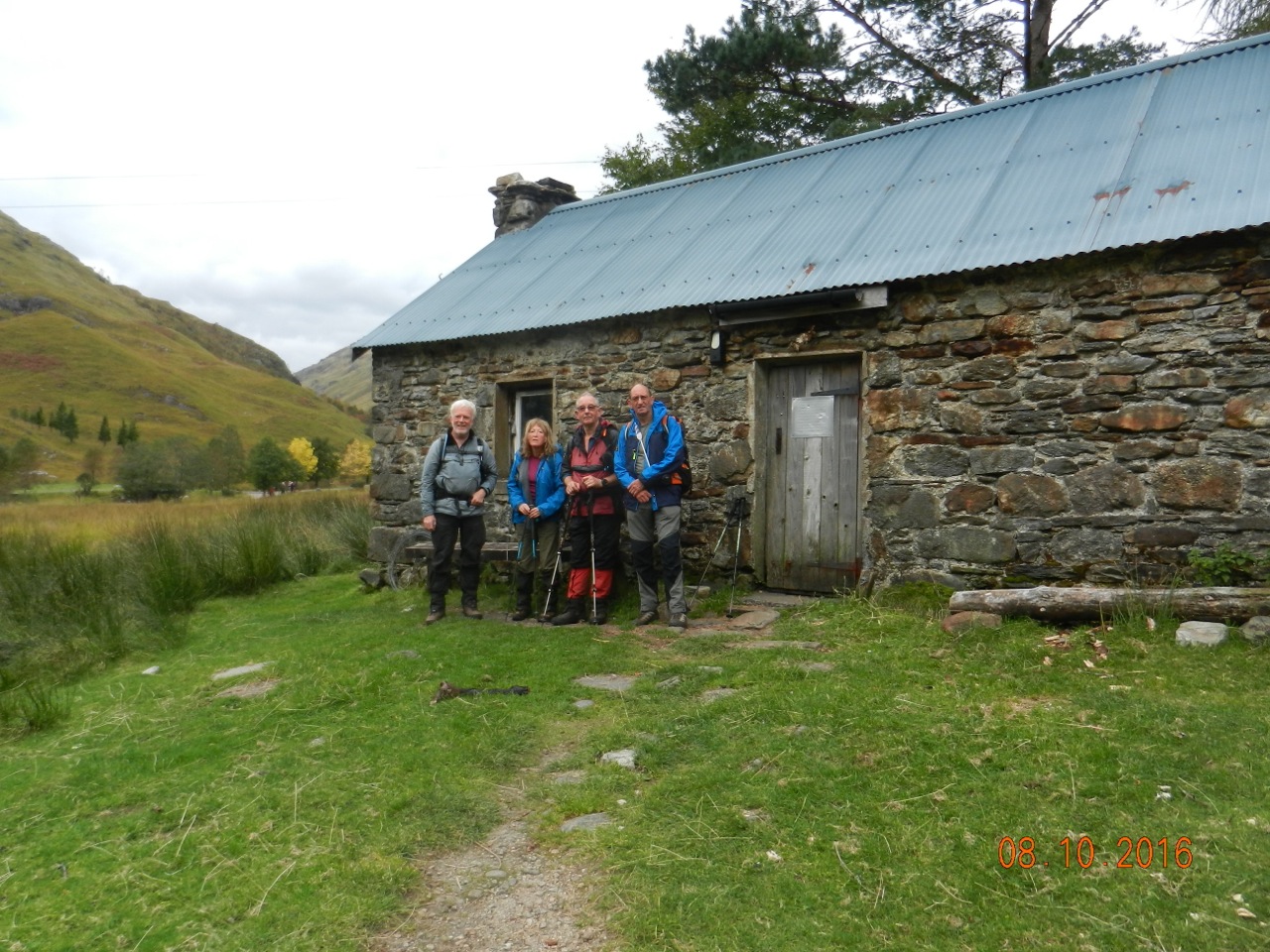 After an hour's walk down the estate road, we left kit, coal, and food all hanging in the bothy and set about the Corryhully Horseshoe. This is another 1350 -metre day. Somewhat shorter in miles, but made to feel a bit gruelling by the extreme steepness of the climb onto Sgurr nan Coireachan (the first Munro).
This hill shares the character of the Rough Bounds of Knoydart.....lots of exposed rock slabs, and some rough scrambling to reach the summit. My first impression of 2006 came strongly back..... nightmare terrain in poor visibility or difficult weather.

The connecting ridge across Beinn Gharbh (= "rough mountain") to Sgurr Thuilm (where they hid Charles Stewart overnight in 1746) gradually becomes less harsh. So in the afternoon, a steep grassy descent led us back to the valley.
Tea and firewood were our first jobs. Then as the bothy fire roared away, all the world was set to rights.
As we walked out on the morrow, the viaduct framed Sgurr Guischeachan in Ardgour. Another ridge for another day.
Our plans took us south, for an ascent of Ben Vorlich from the roadside by Loch Lomond on the way home. Another day of fantastic views, albeit a curtain is drawn over the details of the up and the down.
ANDREW