The Big Ben and the Wee Buachaille
14-15 January 2012
After the recent thaw, we didn't have very high hopes for winter climbing, but a forecast for a cold clear weekend, and reports that there was still plenty of ice and snow on Ben Nevis persuaded us that the drive north might be worthwhile.
We arrived at the Glen Nevis Youth Hostel very late on Friday evening, and collapsed straight into bed. Less than five hours later we were up again, making an early start to make the most of the short daylight hours. We walked up the Allt a'Mhuilinn path in darkness, with the first glimmers of daylight appearing just as we reached the north face. Although the lower buttresses were black, the rock was rimed higher up and a number of easy gullies and higher routes had retained enough snow and ice to be worthwhile.  We took a look at the Ledge Route and found, to our surprise, that the ledges and gullies in the lower sections had retained plenty of ice due to their sheltered position. Low cloud hung over the hill, but we hoped this would clear as forecasted.
Although the Ledge Route is reputed to be the best grade II on Ben Nevis, I'd never been up it before (in summer or winter). This omission clearly needed to b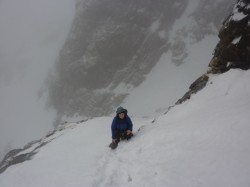 e rectified.
 We stopped for a bite to eat while we put crampons and harnesses on, and then set off up number five gully before branching right onto the Ledge Route. We romped up the easy snows on the lower section, with the rope staying in the pack. The snow was beautiful firm neve, which was fantastic to climb.  The excellent snow conditions continued when we reached the main ridge, which was high enough to have retained a reasonable amount of snow despite its exposed position.
We continued quickly up the ridge, enjoying the exposed position, and were lucky enough to get a glimpse of the Great Tower, at the top of Tower Ridge, when the clag parted briefly for the only time that day.  When we reached the summit of Carn Dearg, we were in a whiteout, so followed bearings to the summit. From the summit, we decided to descend via the Carn Mor Dearg arête, which we had only done in summer conditions before.
The promised sunshine still hadn't appeared and with the whiteout persisting it was more compass bearings to get us to the arête, down a steep, hard, icy slope which felt hairier than anything on Ledge Route!
Once established on the arête, the going became simpler again, and we scrambled easily along the narrow crest until we reached the summit of Carn Mor Dearg. The arête is given a grade I, but is at the lower end of the grade, albeit long.
From Carn Mor Dearg we opted to walk all the way along the ridge to the north, over Carn Dearg Meadhonach and Carn Beag Dearg before dropping back down beneath the cloud and joining the Allt a'Mhuilinn path. We were back at the car before it got dark, knackered but satisfied. 
The next day dawned bright and clear and we decided that a shorter day was needed to give our tired legs a rest. Neither of us had walked up Buachaille Etive Beag before, and the translation of its Gaelic name means "the small (wee) herdsman of Etive", so it would be a nice contrast to the big hill the day before!
A good path from Glencoe eased the ascent, although dodging the black ice proved entertaining! After a swift ascent to the col, we headed up towards the first Munro – Stob Coire Raineach, where we were treated to spectacular views of the remainder of our route, the Aonach Eagach and Ben Nevis to the north and the Bidean nam Bian massif to our west.
We retraced our steps to the col and started up the steep snow slope towards the second Munro – Stob Dubh. The ridge that extended to this peak was a lovely narrow snowy walk, with the views more than compensating for the previous day's murk. Once the second peak had been visited, we swiftly returned to the col for the second time before heading down to Glencoe and driving south.
Gales and Gullies in Glen Clova
Thursday night was perfect preparation for a weekend's climbing – several pints in the Fox, followed by whisky, mince pies and door frame climbing competitions in the early hours at John's flat… By Friday afternoon the hangovers were just starting to loosen their grip as Matt, Frank, Maria and I headed north to Glen Clova.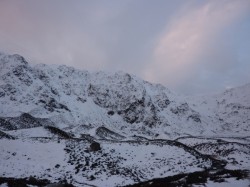 Arriving at the bunkhouse at 10:30ish we sampled the local ale in the Glen Clova hotel bar while making plans for Saturday. The beer wasn't great (unfortunately the end of a barrel that had been sat around for too long) but a decision was made – a grade I gully in Corrie Fee followed by Mayar and Driesh, which would be the first & second Munros on Frank's second round, and take Matt to within 113 of compleation.
Saturday morning dawned clear and cold, and we plodded up the icy forest track to find some amazing views into Corrie Fee as we left the woods.
We selected D Gully, donned crampons and set off uphill. Snow conditions were good and we shared the route with a couple of mountain hares who made it all look easy as they ran up and down the gully.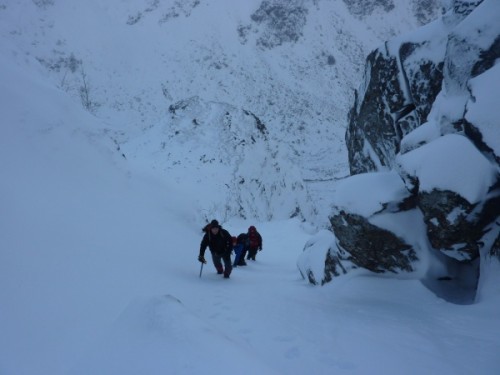 On reaching the top we were hit by ferocious winds that made it hard to stand up, but fuelled by jelly babies and hot drinks from our flasks we found our way onto Mayar without being blown away.
We didn't linger long on the summit before heading East towards Driesh. The constant spindrift being blown into our faces gave us the authentic Scottish winter experience, and I longed for my ski goggles which I'd helpfully left back at home in York.
The summit of Driesh was another very brief stop before we retraced our steps to the col and took the path down the Shank of Drumfollow.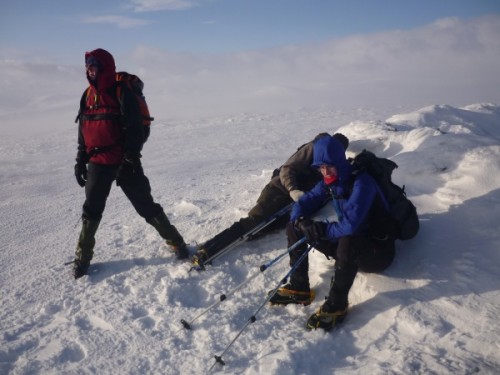 It was nice to get out of the wind as we reached Glendoll forest, and we entertained each other by slipping and sliding our way down the icy forest track back to the car. That evening we retired to the Glen Clova hotel for a few fine ales (fresh barrel this time!) and some generous portions of very tasty dinner. I recommend the venison casserole…
The plan for Sunday was for a slightly shorter day, climbing something a bit harder in Corrie Fee and then heading down so we could get back to York at a decent time. Unfortunately Matt's snoring left Frank less than keen on the idea, so he volunteered to stay down in the Glen and catch up on sleep while the 3 of us went off to climb B Gully.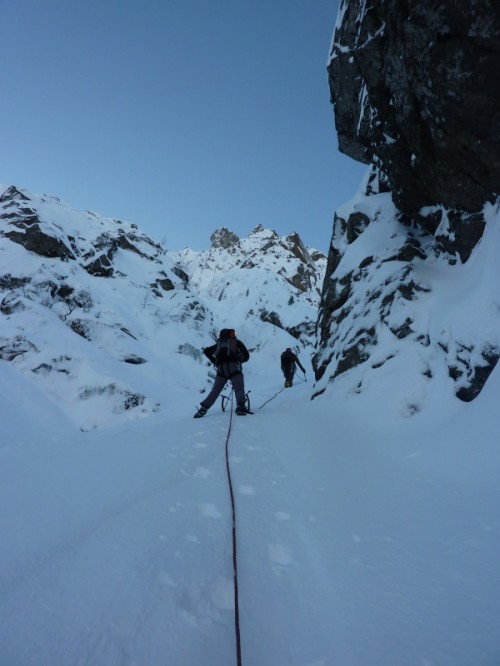 We roped up and moved together up the first 100m or so, before reaching a steeper bit of climbing above which I was able to get a good belay set up and bring the others up.
I was nominated to lead the ice pitch above, which looked a fair bit steeper than your average grade II, but good fun. I was glad when I got a good ice screw in 5 or 6 metres into the pitch, but above that the quality of the ice deteriorated and I heard the unnerving sound of running water underneath the ice. Bits of the icefall fell apart as I climbed it, leaving mossy rock exposed underneath, but there was nothing for it but to keep climbing upwards, and the angle was bound to ease off soon…
Sure enough it got easier above and I ran the rope out to a good spike belay at the side of the gully. Matt gave himself a good talking to while seconding the steep bit ('Pull yourself together Diggle!') but made it nonetheless. It seems he did knock some more of the crumbling ice down though, leaving even more tricky conditions for Maria as the third person on the rope! Once she'd made it up the mossy remnants of the icefall, we then just had an easy snow slope to climb before we were on the plateau. It was then time to wander back down to the car and head south to York.
All in all, a great weekend and hopefully the first of many Scottish trips this winter! Glen Clova is also definitely worth a return visit – a well appointed bunkhouse next door to a good pub, with plenty of winter climbs in Corrie Fee and Winter Corrie, as well as nice hill walking all around.
Geal Charn 3, Geal Charn 4
…….(kickstarting the Project ?)
SCOTTISH HIGHLANDS, 10-11 December 2011
The deer were everywhere. Several herds of them sprinkled across the lower moors, driven down from the Munros by snowstorms and midweek winds up to 100mph [with even a gust of 165 recorded on Cairn Gorm]. Great hares in their winter white, darted across our path. And ahead, a large fox slinked along, looked back, and sauntered into the snowdrifted heather.
After the week's weather, it was obvious we'd need to avoid the lee slopes where all the snow would be blown. And so it was, that Paul selected a Munro with a north and westerly approach, from the Laggan road down to Geal Charn at 1046 metres. Even this involved 3 hours of breaking trail through the fresh snow up to knee deep.
Fortunately we had a calm weather window between bouts of storms, so sunshine and blue skies egged us on. It's very apt that Geal Charn means "White Hill', because it certainly was. At the trig point (my third time of visiting this summit) I thought I'd better add a Santa hat in deference to the YMC Santa night which we were missing. (But in a good cause !).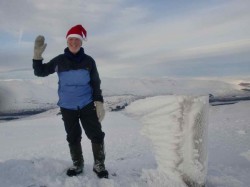 Back at the bar at Grandtully, (recommended) we swapped the craic with Robbie, a fisherman and passionate about the countryside as we all ought to be. The scandal of Scottish farmed salmon, mismanagement of the rivers. Also as Robbie put it, how many partridge and pheasant do you see ? Plenty of roadkill even. But why are there hardly any raptors, despite such a good food supply? Robbie says poisoning by gamekeepers is widespread slaughter.

For Sunday, the forecast was somewhat mixed. Paul said he hadn't done the northernmost of the Drumochter Munros, which is easy of access in poor conditions. Coincidentally, upon checking the map, its name was also once again ……..Geal Charn !! …. just 917 metres this one.
Off we set, with the summits visible but the sky threatening. From 700 metres the mist closed in and it began to snow a bit on a freshening wind. Beyond the cairn around 800 metres, visiblity was greatly reduced, and definiton faded away as the white ground met the white sky. We located the summit cairn, (the fourth time for me at this one……. small wonder I've got a Corbetts book !!!) and set the bearing back to Balsporran in the valley..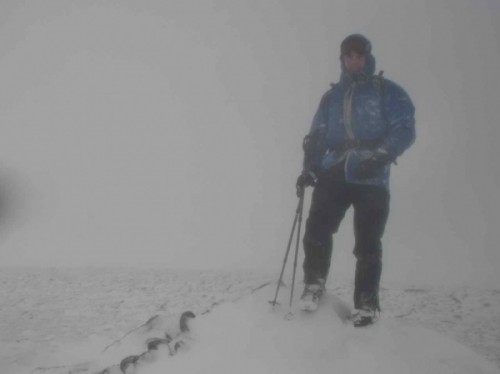 The world was reduced to a white balloon, inside which we kept our eyes steadily on the compass and marched east.
Eventually, the ground began to go downwards, and after almost half an hour on the bearing, (about 1.4 km) a grey land appeared like a telly on the blink, and hey, there's Balsporran below, dead on line !!.
As we were still up at about 670 metres, luncheon in a grouse butt was followed by a traversing line across a deep-cut stream and up onto the spur of Creagan Mor at 772 metres.
This lower spur has impressive views over Loch Ericht, north across Badenoch, and south into the jaws of Drumochter, well worth a look. Second Lunch in a rocky outcrop to take it all in.
Two white hills, both of which are called "White Hill" [Geal Charn], so 2 more Munros for Paul, and my 3rd and 4th ascents of them. So maybe the time has come for the "Project". Beginning as a joke 10 years ago in Meall Garbh bothy, its an idea to catalogue every hill called Geal Charn in the Scottish Highlands, about which nothing has been done 10 years after. But there are 4 Munros called Geal Charn, and a quick shuftie across OS 42 revealed Geal Charn 772 metres south of Kinloch Rannoch, which must have interesting views as it's 3km west of Shiehallion and 4km north of Carn Mairg. So watch this space…….. [but not too intently]……
ANDREW

November approached and with it thoughts on a hill in the west of Jockland that needed to be trodden on !!
The Bunkhouse at the Glencoe Independant Hostel was booked and filled with bodies from YMC and hillwalking friends of old, my kids decided they wanted to play as well, (would they make it to the top!)
Friday arrived and whilst driving north from Clydebank, I was in contact with Matt as we were deciding which hill we were going to play on as a warm up for the main event.
Matt's comments
I began to suspect that Andy had some kind of superhuman powers as we discussed where to go on Friday considering the rather mixed weather forecast (gales and showers), Andy suggested that we ascend Beinn a'Bheithir from Balachulish, and he managed to pick out a route that suggested we would be sheltered from the wind until we hit the col between it's two summits. Guiding us with an almost uncanny knowledge of the way he led us expertly to the col and then told us "I will leave you now, the way is clear for you. Go in peace" So onwards to the first summit (Sgorr Dearg) and the wind stayed off us and the rain didn't come. Then back down at the col, where Frank waited for me while I bagged Sgor Dhonuill. On the way down we began to discuss Andy's uncanny ability to find good weather, to know where to go, and be all seeing in all things. That with the white hair and beard, and we put two and two together and came to only one conclusion. We were in the presence of a Deity. 

Back at the bunkhouse folk were gradually beginning to arrive so I went back to the Clachaig, booked in, showered etc and waited in the bar for everyone else to arrive. Paul got in touch to say he would late, server problems at work, Jamie the porn star turned up with tales of woe and gale force winds on Ben Lomond (he wants to try Bealach Bernaise ) Marie, who invited herself, was there as well and wouldn't shut up

Tenk unfortunately couldn't make it but Brian H turned up out of the blue.
Needless to say copious quantities of local fruit juice were consumed
Especially after my kids arrived!!
Saturday morning dawned and the plan was to meet at the car park at Elleric at 9.00am, everyone turned up apart from a couple of jocks who had discovered the pleasures of Glenlivet 18 yo and Brian H. The Clachaig inmates however were rather peckish as they don't serve breakfast until 8.30
Off up the hill we set and after a slight detour via the local forest we started a slow climb up the ridge, soon we were spread out, snake like, across the hill and stops were required at frequent intervals to let everyone regroup. Ollie and Moui chasing each other all over the hill.
As we approached the summit I was asked by a couple of folk if I would like to be first to the summit or last – my answer being I don't really care as long as I get there – at this point though my 2 brain cells were beginning to develop a cunning plan.
It became obvious that other's also has a plan as I noticed that I was going to be presented with a guard of honour as I approached the summit.
So as I was half way through the guard of honour on the last 50m to the summit, I clutched my chest in pain and fell to the ground. I am not sure if anyone actually thought that I was in pain or not but I thought it may put a smile on some faces.
Andy and Matt brought the customary bottle of champagne to celebrate the event, Stuart & Gordy who had caught us up produced some of that malt stuff, needless to say lots of pics were taken, my kids going daft with my camera!!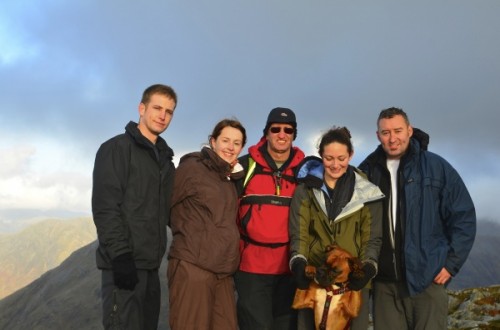 Matt's comments
This strange phenomenon of Andy's to forecast the weather etc was further demonstrated when on Saturday after he had effortlessly climbed Beinn Fionnlaidh on only one good leg, and as we drove back to Glencoe, what should be playing on the stereo, but "In the presence of the Lord" by Clapton (and as everyone knows: Clapton is God) 
The intention was to book the Snug bar in the Clachaig so that we could have an after dinner drink but the powers that be wouldn't let us book it. When I arrived the bar was full of Booties from 45 Commando but shortly after the arrival of Mr Eccles (God) they got up on mass and left us to it, obviously divine intervention again!!
Paul arrived (better late than never) Brian H unfortunately had to disappear early
Meals consumed, alcohol thrown down a few necks, and then I was surprised by Andy producing a birthday cake (thanks YMC) and kids with a rather large sharp implement with which to cut it up with!!
We eventually adjourned to the posh bar to escape the music and somehow managed to consume even more alcohol
Sunday dawned and I was surprised to find that god's mate had left the results of a bet in the Clachaig for me (thanks M). He then completed a few more Munro's, Criese etc along with Dolly and Gill, Marie wandered on to Starav and I wandered to my father's to do things with some venison, kids heading home.
Thanks folks for a fantastic weekend
4933
Hats Off to John and Jock; Grampians October 2011
Sir Hugh himself, and also Rev A E Robertson the first Compleationist, had the advantage of living in Scotland. But John Corbett lived in Bristol. Even so, he became the fourth Compleationist (and the first English one) in 1930, and then went further to tabulate and climb all the Scottish mountains between 2500 and 2999 feet. This must have been a significant travel achievement in those days……….he could hardly zoom to the Highlands in his 50mph Austin 7, for a swift weekend !!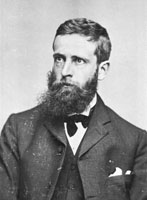 So if the higher mountains just happen to be sodden with heavy rain, mist, and high winds, it's rude not to take in the odd Corbett. In fact, Morven is hardly a tiddler, as it is only 5% below Munro status at 871 metres, and because it's located north and east of Braemar, it held the promise of rather better conditions when the fronts were sweeping in from the south-west.
A long wooded valley provides a pleasant approach, but it was still not hanging-about weather, so Brian, Paul and I tramped briskly on the breeze in well under the book time of 3 hours to the summit.
There were no views, although there was a summit book to write our names in; but at least we were dry, and a compass bearing brought us down below the cloud at 700 metres.
Yo-ho !! Landscape twisted with mist. Shafts of sunlight. Blue glimpses.
Hillwalking with J M W Turner ???
Here were better lunch spots, and we rounded off the afternoon by traversing the high grouse moors. Autumn is coming, with foliage on Royal Deeside to show it.
With a modest improvement (but not much) in conditions forecast for Sunday, Paul and Brian were anxious to perform their duties to Sir Hugh, and decided to do so in the White Mounth, on Tolmount and Tom Bhuidhe. The high sprawling plateau has great glacial gashes chopping into it…….. and "Jock" – or people like him- must have been in the habit of crossing the plateau at nearly 3000 feet to get from Glen Callater to Glen Doll. "Jocks Road" is an ancient packhorse route (although very steep for a pony). It must also have been a feat of travel for an eighteenth century packman to get across this desolate mountain, no maps and no waterproofs !! http://www.conneryscottishwalks.co.uk/jocksroadhistory.html
A woodland trail leads up and out of Glen Doll, passes a memorial to a woman who died here just a few years ago, and then rises steeply through the upper
crags towards the plateau.
A rough shelter made in 1966 – "Davy's Burrough" – presages another memorial to the 1959 tragedy of 5 deaths of members of a Glasgow Club "who were making their way from Braemar to Glen Doll on 1st January 1959. Coming out of the corrie and on to the plateau they were met by horrendous conditions, driving snow and windchill temperatures of up to -25 degrees. All five were experienced mountain men. All five men died in a winter so severe it was four months before all their bodies were recovered."
At length a small side stream led us to a misty bealach, from which 10 minutes by compass saw us on Tom Bhuidhe.
The mist briefly parted at this point, and a short drop and re-ascent saw us on Tolmount and ready for lunch, much improved by Brian with some whisky and tot glasses.
Slainthe.
ANDREW
TWO MEN OF KNOYDART
Twas down by the farm of Scottas
Lord Brocket walked one day
And he saw a sight that troubled him
Far more than he could say
For the two men of York
Were doing what they'd planned
They'd staked their claim, they were digging their drains
On Brocket's private land
(With apologies to Dick Gaughan)
With the Munro count ever increasing, Matt and I decided it was time to visit Knoydart and lay claim to the Munro's on the former Lord Brocket's land.
The Knoydart Foundation bunkhouse was booked, the venison ordered and off we set early on a Friday morning with the intention of catching the mid afternoon ferry to Inverie from Mallaig. We arrived with plenty of time to spare and indulged in the fare from the local chippie as well as sampling the local ale.
The ferry was rather crowded and included amongst it passengers were three families with kids, 15 in total, from Weegieland, (more about them later). After a pleasant cruise we docked at Inverie and wandered the mile or so to the bunkhouse where we were shown around by the warden, as there wasn't any pigeon holes for food we were told to just leave our non perishable food on a table in the dining room, needless to say the table was soon full of food bags as the tribe from Weegieland were also staying in the bunkhouse.
After sampling the local ale in the Old Forge, an exceedingly nice piece of venison sirloin was duly dispatched with some decent red plonk. We then discussed plans for the next couple of days while the Weegie kids attempted a jigsaw or 3. The initial plan was to do Larven on the Saturday and Loonie Bin and Meal Booie on the Sunday but the weather forecast had changed slightly and it looked like the Saturday was going to be the better day so we reversed our plans.
Saturday morning we were up and away early despite the herd of snoring elephants in our room that tried to keep us awake. The memorial to Lord Brocket was soon passed as we headed up the path to Mam Barisdale. From the coll we headed up a muddy track in the direction of Loonie Bin just as the heavens opened and the wind picked up. We soon reached the summit and shortly after descending the rain stopped and Matt put on his waterproofs!!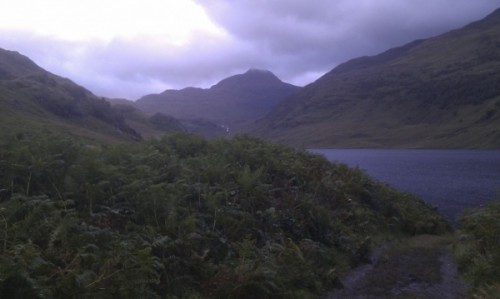 Two hours later after battling through showers and gale force winds we found ourselves on the top of Meal Booie and then began the long wet descent back to the bunkhouse via Lord Brockets memorial.
After rehydrating we discovered that the Weegies had taken over the kitchen, so food had to wait for a couple of hours until they had finished
The forecast for Sunday was for heavy rain coming in later so an early start was again on the cards, the good news was that we didn't have to put up with elephants for a second night.
The wander up through the woods to the ruin at Folach was pleasant in the morning sun but looking back we could see that we were in for some weather. The track up to Coire na Diollaide gradually steepened and as we climbed up the hill the rain started, Matt remembering to put on his waterproofs before it got to bad!! By the time we reached the Coire the cloud had dropped and the wind picked up, we reached the remains of the Trig point and carried on to the summit cairn. As the weather was so pleasant we decided not to hang about and headed down the way we had came, meeting two guys who were also staying at the bunkhouse, they had a ferry to catch so weren't hanging about.
A celebratory drink was called for, so we popped into the Forge to rehydrate where we met the adult Weegies who were having a last drink before catching the ferry back to Mallaig, they asked how we had got on with the Munro's etc.
Back at the bunkhouse I got the fire going while Matt had a shower and then went to put the kettle on, a few (lot) of anglo saxon expletives were then heard from Matt as he realised that the Weegies had taken our food bag, evening meal, breakfast and more importantly the wine all gone!!
The warden was informed but their was not a lot she could do, an hour later though she appeared and informed us that the Weegies had reaised their mistake, were most apologetic and insisted that we had a meal on them in the Forge – so we did!!
Monday morning ferry back to Mallaig, drive to Clydebank to drop some venison off for my father then home.
JOB DONE
Dornoch to Ullapool – a Highland
Coast to Coast
In the Churchyard, old tarpaulins had been strung between trees to make the most primitive shelter. The women tried to hang blankets to screen off sections for the 18 separate families. The men simply sat, expressionless, unable to come to terms with the event.
Most of the inhabitants of Glen Calvie had been turned out of their crofts. Some 92 people huddled under the tarpaulins, for several days they stayed there. Eventually, after receiving a payment for their animals and crops, they were turned out into the unknown wider world, men and women, children and the aged.
No trace of them remains from that day of Highland Clearances in June 1845, except their
names and comments scratched into the glass of Croick Church east window.
All the glens, and the church, stood quiet as we passed.
Steve Whitehead and I were following up last years traverse of Fisherfield with another long walk, this time to cross the Highlands "Coast to Coast" at the narrowest point between the salt water and seaweed of Dornoch Firth, and the western port of Ullapool – a distance of about 45 miles. Not rising to any great height, but it crosses some of the least-populated country in Britain.
We'd begun by passing Carbisdale Castle overlooking the Kyle of Sutherland, known as "The Castle of Spite". It was built in 1907 for the Duchess of Sutherland, as a settlement after the bitter contest of the Duke's will.
Just further, the hamlet of Culrain has a battle sign on the map. Turned out to be from 1650 – the final defeat of James Graham, Marquis of Montrose, claimed as one of Scotland's greatest ever soldiers.
Strange co-incidence, since the last time I camped out in Scotland was last April, and it had been at the ruin of Ardvreck Castle, where Montrose fled, only to be betrayed by its owner Neil MacLeod of Assynt. www.yorkmc.org.uk/suilven-and-friends-a-northwest-passage/
Montrose was taken to Edinburgh, where he was executed on 21 May 1650, using the traditional method for traitors: hanging, drawing and quartering.
Out of Culrain, a forestry track led up to a ridge of hills. Good views before we got thick mist and a heavy wetting, and were glad to drop down to Croick.

And then onwards up the long, deserted glen. After some 17 miles and 650 metres ascent, we pitched the tent and got a fire going, with the glen to ourselves.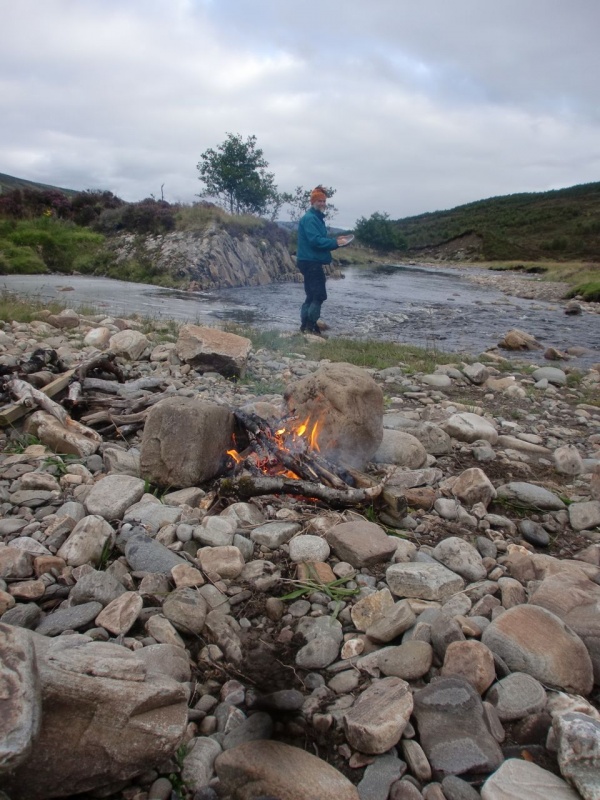 Day 2 was shorter at 12 miles, and began in the pathless upper reaches of Strath Cuilleannach, and a great empty saddle of moorland connecting to Strath Mulzie. Nothing seemed to move in the entire landscape; but at last the huge spire of Seanna Braigh (Creag an Duine) was to be seen about 6 miles off.
Under the cliffs of Seanna Braigh, lies Magoos Bothy.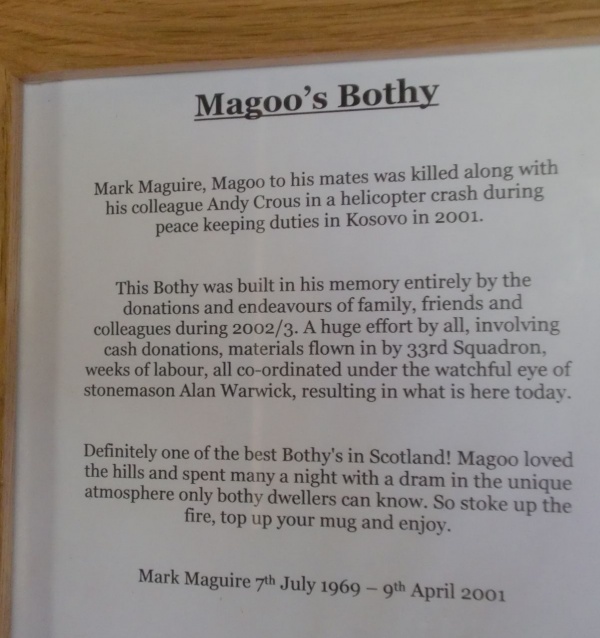 Supplies of both firewood and whisky were sufficient, so we made ourselves very comfortable until just after bedtime, when the rain began to hammer on the tin roof.
It looked like we were in for another wetting on the remaining 16 miles to Ullapool. (A day when yet again we saw hardly a single person). Fortunately, it didn't turn out so bad as that, as we made our way over the actual east/west watershed between Strath Mulzie and Glen Achall.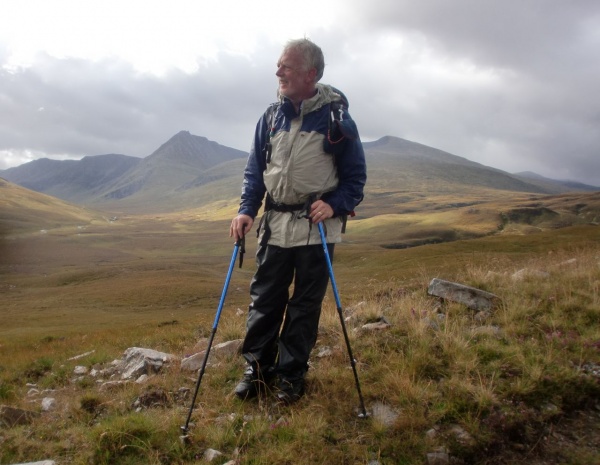 A remarkable gorge took us to the long glen westwards. Then came the typical structure of the glen:- shooting lodge / small farm / big house / fishing town. By late afternoon we were shopping in Ullapool for steaks and wine.
We'd crossed the northern Highlands from one sea to another; and in doing so we'd collected 4 stories which waymark most of the Highlands relevant history……. the disorder and brutality of earlier times / the collapse of the old ways and sadness of the Clearances / the fabulous fortunes sunk into the Highlands from industrial Britain to make the great Victorian estates / the modern Scottish serviceman, killed abroad, and commemorated by a bothy open to all with the Right to Roam. A crossing in both space and time, then.
ANDREW
THE NOTCH AND THE CASTLE
Neptune's staircase.
Two miles out of Fort Bill on the Road to the Isles, its the last (or first) link in the Caledonian Canal
Here, King Neptune's watery kingdom climbs up eight steps, to rise 64 feet out of the sea to Loch Lochy…… the longest rise in Britain. As well as the canal locks, there's a decent pub. So fom a sunny table Amanda, Lizzie, Dave and I could get views back to The Ben whilst a good meal rounded off two grand days out.
We'd seized some rare Scottish summer sunshine to get onto the Aonach Eagach — The Notched Ridge of Glen Coe – on Friday.
Am Bodach is Gaelic for "Old Man"…….. quite right, I thought, as I sweat pints into my thin cotton shirt that hot morning. Just over an hour from the glen, brought us to its 943-metre summit and views of the ridge snaking westwards.
The clamber down the exposed ledges off Am Bodach has its claim to be considered the crux of the whole matter.

After that, some easy sauntering on grass eventually leads to the interesting pinnacly section. In ideal weather, this gave an hour's entertaining scrambling up and over, down and round.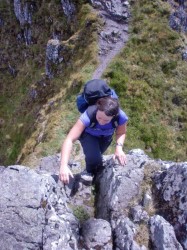 As the Clachaig path down is now discouraged, we swung northwards to finish on that superb viewpoint, the Pap of Glencoe.
Beers at the Clachaig ? Us ??
And my hitching thumb still works (eventually).
So we moved north, and Saturday morning gave us an easier start up the much-improved Allt a'Mhuilinn path towards The Ben.
Castle Ridge is the gentlest sister of the Ben's four classic ridge climbs. Starting just below the CIC Hut, it rises from left to right, a 1000 foot sweep of rock though finishing some 2km from the summit, overlooking the Halfway Lochan.
At the beginning, its a pretty simple scramble – although the views are getting awesome.

500 feet up, the rope comes out, and the route quite quickly toughens up to stake its claim as being definitely a rock climb.
Dave led the crux chimney, which is not short of holds, but has some big-time exposure down to the right side. ("Thanks Dave….. but don't take the photo just yet……. not until I'm…….." )
A classic route on an excellent day, straddling the boundary of the hardest scrambling and the easiest climbing. Although it does end "in the middle of nowhere' leaving acres of loose stony waste to be negotiated (with various slips and slides) down down down down to the Halfway.
However it was from the stony heights that Neptune was first sighted, and basking with a pint in the sun gazing back at Castle Ridge was definitely the right place at the right time.
ANDREW
Lucky Horseshoes…
Couple of weekends back I found myself with a free weekend and what appeared to be a perfect weather window for the West Highlands. Feeling that luck was on my side I headed up to Tyndrum with my trusty little tent, and on Saturday wandered round the superb Dalmally Horseshoe.
Stupendous views all around especially of nearby Ben Cruachan was my reward
I had been up Ben Cruachan a couple of weeks previously but it was such a treat to actually see where I had been in all its magnificence.
Still feeling lucky I headed out to Ben Lawers on the Sunday for another cloudless day whilst I traversed around another horseshoe…
Whichever way you looked the sky was clear.
Then I was left with the small job of getting down, walking a couple of miles up the road to my car and driving home… A fine weekend with memorable views from the top of 6 Munros, no midge bites (!) but a serious suntan.