The Torridonian Alps
Well, it may have been the NW of Scotland in February, but with blue skies, sunshine and snowy mountains, it felt more like the Alps…
Slioch
The week started with a great hillwalk, going clockwise round the horseshoe ridge of Slioch.
Lawson, Ling & Glover's route (II), Sail Mhor, Beinn Eighe
A great mountaineering route, 400m long, starting with an easy snow gully, then veering right up some steeper mixed ground (this would have been easier with more snow) before joining a rocky ridge (coated with a reasonable amount of ice) up to the summit of Sail Mhor.
We then walked round the ridge to Coinneach Mhor, enjoying a bit of scrambling on the way, as well as getting great views of a golden eagle. We had intended to visit both Munros on Beinn Eighe after doing the climb, but after heading out to Ruadh-stac Mor and back, our tired legs suggested a walk back down might be more appropriate than another couple of km of ridge walking round to Spidean Coire nan Clach.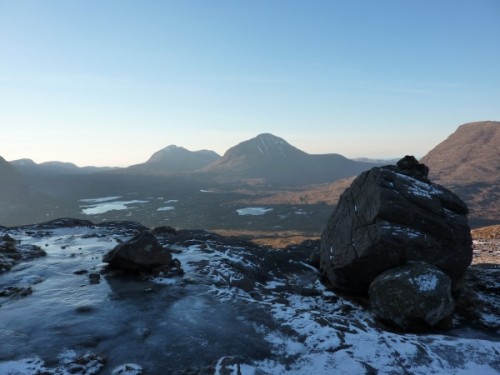 Post Box Gully (II), Sgorr Ruadh
It was pretty clear where this route got its name from, as the first pitch involved climbing into an icy cave below a large chockstone, up some ice, then pulling up through a narrow slot (the post box I assume) to emerge on top of the chockstone. Entertaining stuff!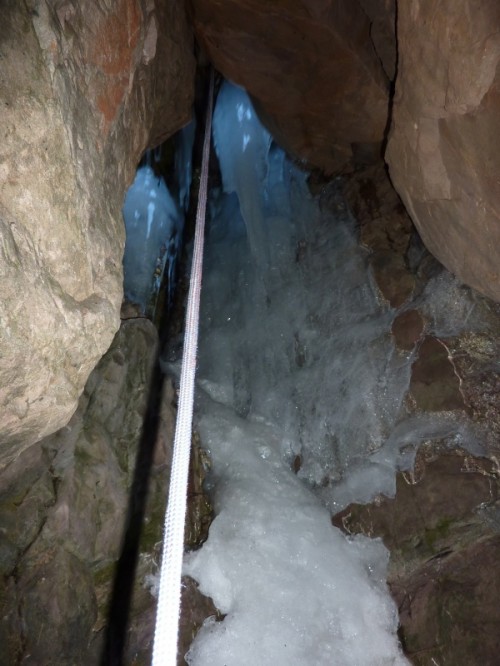 Thereafter it was a fairly typical grade II gully, with a couple of steep steps plus some easier angled snow. Sgorr Ruadh was a new summit for both me and Maria, and it's a great viewpoint north to the Torridon hills and south to Fuar Tholl and beyond.
Beag Pardon (III), Coire Dubh Beag, Liathach
The northern side of Liathach is home to a huge array of impressive ice climbs, and it had been on our list of places to climb for some time but conditions had always been against us on previous visits. It's a remote place though, so after 3 big days in a row we chose the coire with the shortest walk-in (only 2 hrs 30 mins according to the guidebook) and selected a route called Beag Pardon, the crux of which apparently involved chimneying on steep ice in a narrow cleft… The climb started with an easy snow slope, then went past 'The Snotter' (an insane-looking grade VI Andy Nisbet route) into a narrow gully, with some pretty steep ice on the back wall. This 20m high wall of ice provided some entertainment, and was followed by some easier ground that led on to join the second half of Hidden Gully (II).
As we topped out we were greeted by some brilliant views of the ridge up to Liathach's highest summit, Spidean a' Coire Leith. On the way down we saw our second golden eagle of the week – have a look on Maria's facebook page for a video.
With warmer & wetter weather forecast for the rest of the week, this was our last climb of the trip, and we spent the last couple of days hillwalking.
Spidean Coire nan Clach, Beinn Eighe
After a lie-in, a fry-up and several mugs of tea, we finally set off at about midday to walk up Spidean Coire nan Clach, on the opposite side of Beinn Eighe to Monday's climb on Sail Mhor. The weather wasn't great, but it was nice to stretch the legs and not to have to carry a big climbing rucksack.
Moruisg & Sgurr nan Ceannaichean
Our last day started with a relentless slog up the grassy slopes of Moruisg's NW flank, and then we had a nice ridge walk over to Sgurr nan Ceannaichean. Unfortunately the cloud started at about 800m, so we didn't really get any views from the tops, but it was a nice hillwalk anyway.
WANNA MEET MY SISTERS ?
On the summit of A' Ghlas Beinn, Paul and I suddenly swapped a gloomy misty morning for a glorious afternoon.
Two figures came up, and turned out to be girls from Dornoch (but not Sisters) ; whom we'd met for just 5 minutes on Geal Charn the previous winter.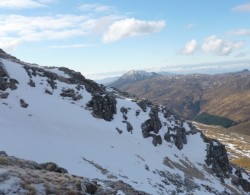 To enjoy the afternoon we headed north to an outlier. A long shoulder of steep ground, facing northwards, now took us on to rock-hard neve.
Out with the axe;- then facing in, then cutting steps;- finally crampons on, as it took us over an hour to get down and across the icy hard slopes.
A useful prelude to meeting the Five Sisters on Sunday. The south-facing slopes were grassy for 2000 feet from valley to ridge:- just as well because it's
extremely steep ground.
Although the snow cover is only a sliver in the whole view, it was again rock hard, and needed careful going. To our immediate right hand, the north face of the ridge was heavily coated, with some awesome drops.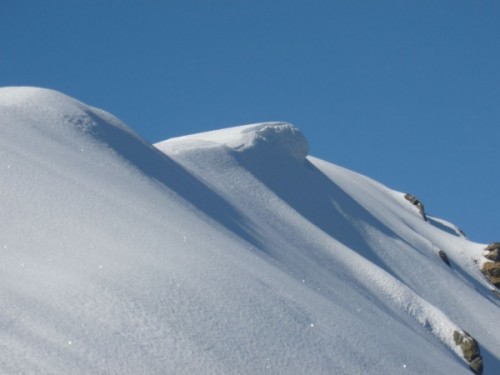 Crampons were quickly necessary, as was a short spell of downclimbing.
The ridge traverse across 4 snowy summits, adds up to 1500 metres of ascent. However going up can feel straightforward, but there was also 700 metres of descent on steep hard snow; Grade 1 ground, with some unthinkable runouts. The longest was the north side of Sgurr Fhuaran, about 300 metres of snow slope with a deep rock chasm waiting for any slip. After some 3 miles of this, we dropped back out of the snow line and down down down down to Shiel Bridge.
Fortunately the weather was pretty much ideal, sunny, cold, and windless. Five lovely Sisters indeed.
York MC Winter Weekend
31 January – 3 February 2013
In terms of numbers, this was the biggest winter weekend for a few years, with 19 York MC members travelling up to Newtonmore for some snowy fun. Not all were able to fit into the 'official' club accommodation, so Craigower Lodge was used for the overspill. Some people arrived a few days early, and some stayed for another day after the weekend was over, in order to maximise the opportunities to get out climbing and walking. Here's a summary of what was done, and a few photos of the action:
Thursday
Maria, Mike, Matt, Dave C - Meall a' Chrasgaidh, Sgurr nan Clach Geala & Sgurr nan Each, Fannaichs
Friday
Andrew, Frank – Streap
Loch, Dave M – Fiacaill Ridge, Coire an t-Sneachda (I/II)
Maria, Mike - Western Rib, Aonach Mor (III)
Matt, Dave C - Golden Oldie, Aonach Mor (II)
Claire, John – Central Gully, , Coire an t-Sneachda (II)
Guy, Will – Patey's Route, Coire an t-Sneachda (IV)
Saturday
Andrew, Frank, Brian – Chalamain Gap
Matt, Loch – A'Chralaig & Mullach Fraoch Coire (I)
Maria, Mike, Helen, Pete, Dave M (and Mike's uncle Rob) – Carn Ghlusasaid  & East ridge of Sgurr nan Conbhairean (II)
Dave C, John, Guy, Will – Milky Way, Coire an Lochain (III)
Ben, JP, Claire, James, Steve – Goat Track Gully, Coire an t-Sneachda (II)
Andrew, Frank – Ben Gulabin, Spittal of Glensheen ('a nice Corbett')
James, Steve, Helen, Pete – Munros near Dalwhinnie
Monday
John, Claire, Guy, Will - spent some time honing their technique at the Ice Factor
Mike stares into the distance while Pete gets to grips with the technical ground ahead….
Mike, Maria and I decided that kicking off the new year with a jaunt up North was a good idea and based on an optimistic MWIS forecast we packed climbing gear, warm clothes and headtorches; and pottered up to Crianlarich YH – arriving in time for a quick look at the book and a glass of red juice before turning in.
Our objective for Saturday was Aonach Mor – one of the gullies on its North East facing crag overlooking Coire an Lochain. Recent UKC reports suggested that despite the lack of snow, and recent thaw conditions, that this venue (up at 1100 metres!) was in condition. We selected a route called Right twin: one of three routes (Left Twin, Right Twin and … Forgotten Twin that were first climbed in Jan 1989 all on the same day, by the same pair of climbers – S M Richardson and R D Everett) This particular route allegedly goes at grade II and was worthy of three stars.
Getting up to here did require a bit of organisation, and VERY early start (for me anyway) of 05.30 to drive up to the bottom of Aonach Mor. Once there we did have the luxury of the cable car to lift us up the first 600 metres and deposit us upon the icy remnants of the upper ski slopes. A gentle slog up over the 1200 metre summit plateau of Aonach Mor and we were there – sort of. Huddled behind a hut at the top of a ski lift, with several other hopeful climbing parties, up in the mist.
On the way up, we had been greeted with fleeting magnificent glimpses of the North Face of the Ben. Looking magnificent in its winter raiment.
Harnesses and crampons on, gear sorted and off we strode following the directions to the "easy gully" that we would need to descend, to get over our mountain and down to the start of the climb. What greeted us through the mist appeared to be a bottomless chasm, artfully decorated with a huge cornice. There was the remnant of a snow bollard there, and spurred on by the sight of another fearless team hacking out the bollard some more and abseiling off, we decided to follow suit.
Tying our two ropes together, Maria abseiled off first. I suggested to Mike, that being by far the weightiest member of our party that I would like to go second. "if that bollard starts to give way, please ram a couple of axes in there!" Of course it didn't. The snow was compacted, hard and icy, and once over the lip of the cornice – it was a simple slither down to the centre of the gully, and a straightforward down-climb to the bottom of the crags.
It was nice to be out of the breeze that had been chilling us on the summit plateau, and plastering us with rime-ice. And now it was just a question of finding our route back up!
The base of the Coire an Lochain Central Buttress has intimidating slopes running out to a small circular lochan some 300 metres below, and traversing around on bullet hard snow slopes required a certain amount of concentration. Identifying which route was our chosen route required some concentration too! But after a little bit of looking around, we hacked out a couple of steps and set up an interesting two-tiered belay and off went Mike up the first pitch.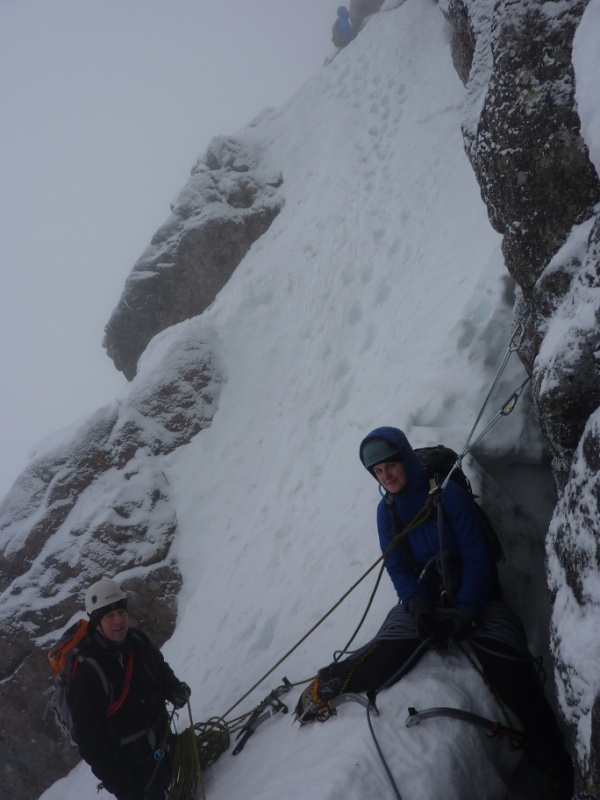 The going looked fairly straightforward, with a couple of icy steps (!) and Mike soon had a solid belay and was ready to bring us up. I followed without too much fuss (not that I will admit to anyway). Reaching Mike I noticed that he had somehow managed to give himself a cut on his forehead. He wasn't aware of how he'd done it though, and I had to point out to him that he was leaking blood… "tis but a scratch" he exclaimed
Maria was soon in sight – I had grabbed the camera, and from the safety of my perch was able to catch a shot of our Club Secretary's forearm, replete with axe, as she surmounted the steepest of the ice steps.
…and emerged grinning!
My turn to lead, and the gully narrowed to a claustrophobic slice down through the crag, with good hard snow and a wealth of gear placements. But it then started to turn icy, and steeper, and the walls either side got blanker and blanker. OK, where to put an ice screw?? First one didn't fill me with joy, as it bit deep and then just started to turn. I clipped into it anyway and carried on. It carried on getting steeper, and all I could think of was "wonder if that screw would take a fall?" I quickly put in another, as I reached a big bulging mass of water ice. This one seemed to gain a much better purchase and I did feel quite a sense of relief. A little further up and as I teetered up some rather crumbly ice steps, I spotted an aged looking peg in the left wall of the gully. Whilst rusty, it did give off an aura of solidness so I clipped into that aswell. I was getting concerned that the way up still looked pretty steep, so another four metres up, I spied a useful looking crack that would take a Hex. It was above the smallest of rather crumbly ice steps (just room for me to stand at an awkward angle, but bomber enough with an added sling to make good belay. So I tied on and brought Mike up. I suggested that given the tiny stance I was on, that he carry on. Off he went up the next pitch as if it was stroll in the park, and set up a more substantial belay another 20 metres above.
Maria then followed up my pitch, and tied into my rather cramped belay. It took a certain amount of delicate shuffling to swap places on such a small platform. Then up and over the next icy bulge…
…and tie myself in on a slightly more commodious stance above Mike.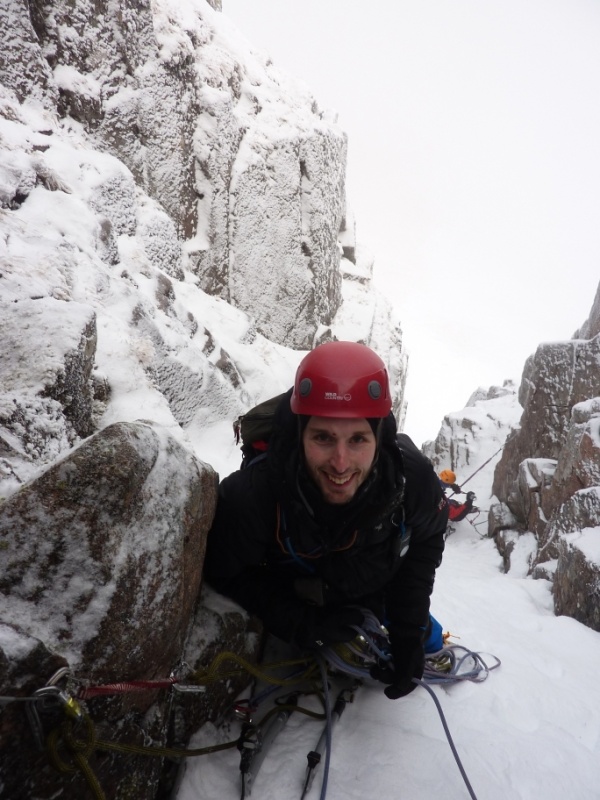 With a fabulous view:
Time was inevitably moving on; and whilst we had been climbing, another party had been moving up behind us. They took it quite well when Mike had released a salvo of ice chunks the size of small domestic appliances down the gully, and they informed us that they were getting a bit anxious about the time. Seems they had left their rucksacks (and headtorches) on the summit plateau (by the shed) and were worried about getting stuck (they had also retrieved a piece of gear for us that had got thoroughly stuck)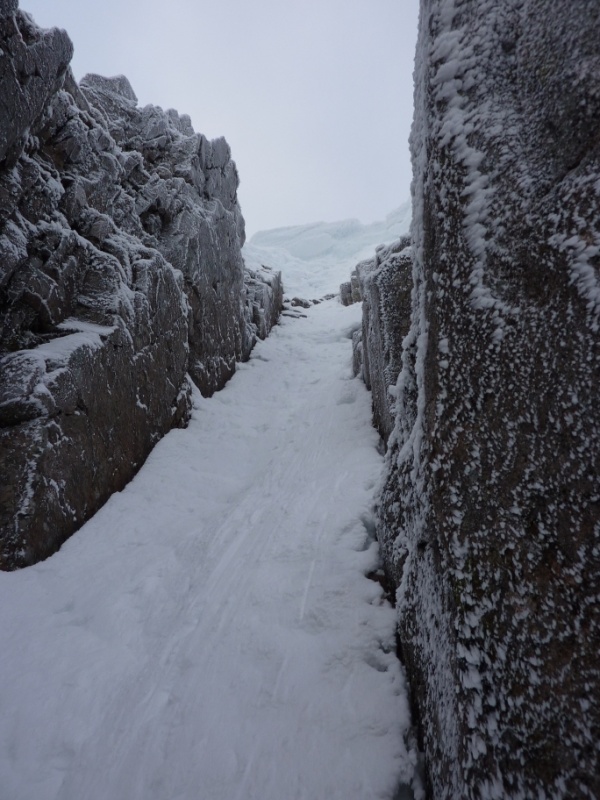 … Maria volunteered to do the last pitch. Which from where we were perched, looked simple enough. And set off up the remains of the gully.
Now the guidebook says "exit left at the top". As Maria discovered, on this occasion, that advice was a little misleading! And after surmounting an evil and crumbling snow slope, came out onto a nice sheltered platform directly below an outrageously overhanging cornice, made of iron-hard compacted snow. She could however, spy from her vantage point, an alternative exit trending right from the top of the gully, with a small step and a possible escape route. I was sitting in the middle of two ropes, and so to avoid tangling us up too much I tied Maria's rope off, and belayed Mike as he took his end of the rope and set off up the alternative route. Meanwhile the other party (thankfully only two) had arrived and were now belayed to the same spot as me. One of them (rather inconveniently called Matt) set off and followed Mike's route up the gully and right. Now by this time, there were three ropes and five climbers in different positions at the top of the route. Some fairly careful rope management was needed if we weren't going to end up knitting an Arran sweater.
I managed to Follow Mike's route removing a couple of pieces of gear and executing a delicate untangling move, and a pirouette to keep the ropes in the right place. Up to the right and an undignified sprawl over the top of the cornice, and I was up. There was now just the small matter of getting Maria up from her cosy but rather isolated perch. Mike set up an axe belay a way back from the cornice and Maria gently traversed a few feet under the overhanging snow, and with a prussic loop around the rope for an extra tug over the lip of the overhang she was up!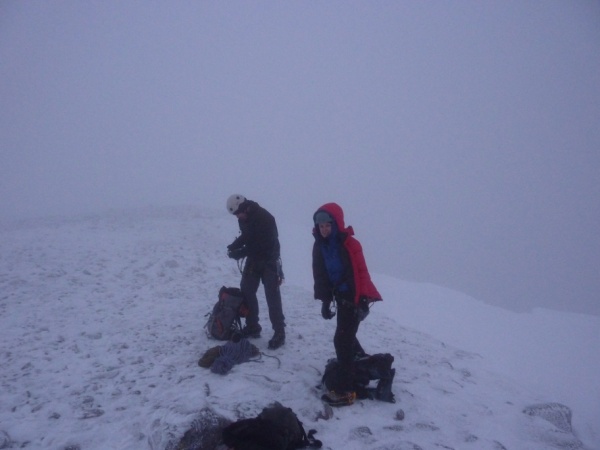 The light was rapidly fading now. Our torchless companions scooted off to retrieve their rucksacks (I would suggest leaving your gear at the top of Aonach Mor is not the greatest of ideas!). Any ideas of wandering about in the mist to locate the actual summit of the mountain – even if it was only a few hundred metres away were quickly dismissed, as we considered where we were, and how much daylight we had left: a few minutes. So we packed up quickly and using the last of the light set off down what remained of the ski runs (icy and slick) to see if we could catch a gondola down from the cable car station 600 metres below. The lights were still on but as we arrived (torches gleaming in the dark) we were informed that they were doing maintenance, and the last gondola was long gone…
So down the mountain bike track, in the dark. In places it was laced with verglas. So we took it in turns to fall on backsides as we teetered down the hill. (in the course of this descent Maria's climbing helmet got broken (thankfully her head wasn't in it at the time) and my new stainless steel flask took a mortal blow resulting in a spectacular dent. But finally we were down, and all that remained was to drive to the Kings House in Glencoe for a much deserved dinner, and then a quick jaunt back to Crianlarich.
Somewhat tired from our exertions, we opted to seek out a nice easy hillwalk for Sunday, but as the weather turned out rubbish, our attempt to climb a Corbett (the diminutive Meall nan Subh) ended with us turning back three quarters of the way up, and opting for a leisurely drive back home.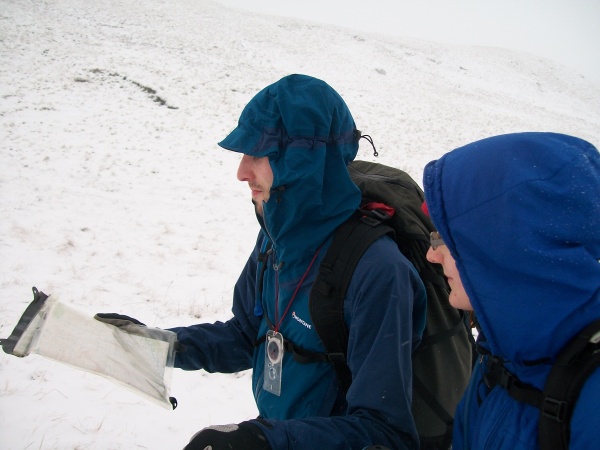 All in all a cracking weekend in the Highlands. No Munroes ticked off my list, who cares? A great start to 2013!
GRAMPIAN GLORIES
October 6th and 7th, 2012
"I'm a little Teapot, short and stout……."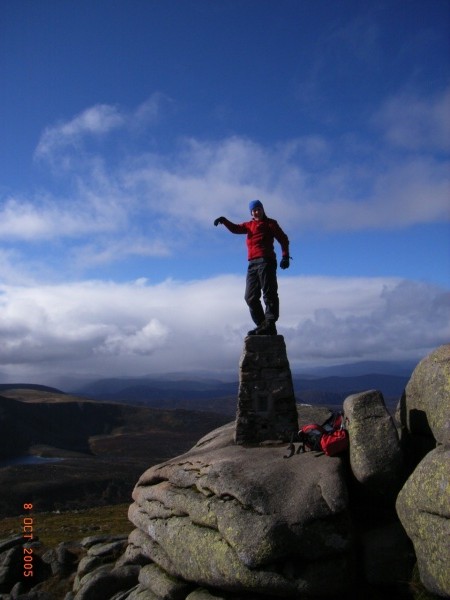 A clear though windy day in early autumn, and a steady pull from Loch Muick up to the summit of Lochnagar at 1155 metres. The last time I was here, had been via the Stuic ridge, seven years before in 2005.
I mentioned Tracey's little act on the summit cairn, so Matt tried it too. (Frank didn't).
Lord Byron was not forgotten:-
"England thy beauties are tame and domestic
To one who has roamed over mountains afar
Oh ! for the crags that are wild and majestic
The steep frowning glories of dark Lochnagar"
This was all too much, so off we bounced over another 4 of them thar Munro thingies, to make a big circuit (nearly 20 miles) of Loch Muick, finally ending at Broad Cairn .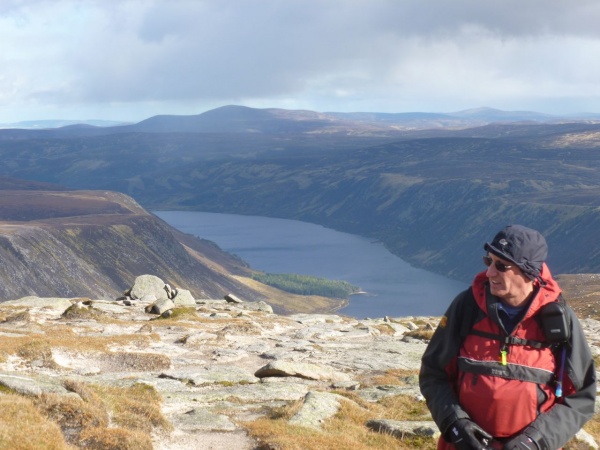 After a long day (and a fairly long evening's refreshment) on Saturday, Matt had a lesser objective for Sunday; the single Munro of An Socach, by its easiest route up the glen from the A93.
It was a peerless morning. The hillsides were thronged with hundreds of Red Deer, all along the 5km of the glen. Being the rutting season, the roaring of stags echoed back and forth down the valley as they competed for this season's privileges.
Under blue cloudless skies, we made our way to the 944 metre summit, which is a 2km long and almost level ridge.
The views were crystal clear, and with the full Cairngorm panorama spread out to the north, we saw the first snows glittering white on the highest parts of Brieriach and Ben Macdui. To the southeast, Mount Keen, and to the southwest, all the way to Schiehallion.
Although I've walked all these hills before, today it was exquisite, and called to mind Queen Victoria:-
"we came upon such a lovely view,
Beinn a' Ghlo straight before us
…….. but no description can at all do it justice"…………
and no camera could either, unfortunately.
ANDREW
SANDWOOD BAY AND CAPE
WRATH…… SEPTEMBER 2012
The noise.
Like being next to a busy motorway it was thunderous, deep, incessant, and tinged with menace.
In the aftermath of an Atlantic storm, the surf of Sandwood Bay heaved and banged and rolled.
Near to the most northwesterly point of the UK mainland, this remote beach is owned by the John Muir Trust. "Sandwood Bay is among the finest coastal scenery in Europe, with magnificent sands and dune systems, and a landmark sea stack, Am Buachaille, and further miles of wild cliff scenery"
The seaside then, but not as we know it. No habitation, no structures. With the wind whipping in from the west, it was a wild mixture of low clouds, salt spray, sand, and rock. Elemental and inhuman.
Water and wood were difficult, but not impossible. We also got plenty of big stones and put one on top of each tent peg.
Our second day dawned sunny and clear. A joyous walk north for me and my friend Steve Whitehead, into the uninhabited square miles of moorland which becomes the Cape Wrath Firing Range. Heather, grass, streams; and cliffs dropping on our left hand to the still-foaming seas. Deer herds at close quarters. Birds.
Finally the lighthouse. Here is the right-angle of land, the most remote of Britain's four corners, named (in Old Norse) for the turning-point where Viking ships from Dublin and the Isle of Man would turn east for the homeward leg of their journeys. The most narrow of roads threads its tiny and grass-grown way to the lighthouse, some 12 miles west it comes from a ferry across the Kyle of Durness at Keoldale. Tourists arrive by a minibus from the ferry to see this ultimate point.
Looking east now, we could see another sandy bay between sea stacks, about 4km distant, which holds the single tiny white house of Kearvaig bothy. So it was that in the sunny late afternoon we settled into the comfy bothy, walked the beach, and clambered out to see the stacks.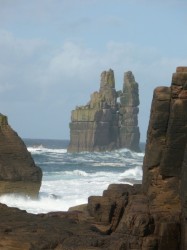 After the usual 4 courses and uisge beatha (the fabled Glenplatypus of course) we slept well, but not unaware of the growing noise of rain on the roof. 
We left soon in the morning, under grey skies and steady rain.
We'd jettisoned the idea of walking along one of Britain's highest sea cliffs (Cleit Dubh) in the strong wind and reducing visibility. As the bothy track emerged onto the open moor it got worse and worse. The wind was constant at around 50mph, always pushing, whistling round your head, and driving strong rain in near-horizontal grey sheets across the empty moorland. Hoods well down, wind on our backs, we were glad to have the tiny ribbon of lighthouse road to guide us, and tramped as quickly as we could, to get to shelter.
Eventually the track dropped down to sea level. At the ferry point, the only house was locked and empty. No shelter. No ferry.
The Kyle of Durness is a sea inlet about 600 metres across at the ferry, and 7 km long. The white horses raged across the water, the howling wind pulling long plumes of white spray off them. Obviously the ferry wasn't coming (he didn't even answer the phone !) 
So we had to turn south, to make our way around the south end of the Kyle and reach the road.
Easier said than done !!. 800 metres south, an un-named stream, had swollen from its normally-tiny width to a boiling torrent hurling itself down a steep little gorge. Any attempt to cross would result in buckling at the knees and rapidly, a broken head. Heads down, uphill we went directly into the liquid blizzard. After a while, there was a confluence where we were just able to get across the separate strands.
Now came another half hour of contouring south-west, anxiously looking for the next stream which lies a mile away. Finally I saw a stone wall running up the hillside……. and OVER THE TOP of the wall, there appeared the surging, heaving, frightening white water of the Allt Coire Fresgill. This was even more impossible than the previous one !. We tried uphill into the storm for half a mile, but there was no sign of any likely place to cross. The options were now closing in:- I was quite prepared to break a window in the locked house at the ferry IF we could get back ;- however the waters were still rising as the rain poured madly down, and maybe we could not get back across the first stream anyway. The prospect of being trapped between the waters for maybe 2 or 3 days hardly bore contemplation ! The last hope was that Fresgill has (geologically) hurtled so much debris down the hillside, that a small delta has formed at the sea edge. Hardly the Nile, but the torrent levels out and splits into 5 channels. Under necessity, I got across these with the waters just above knee height. Steve followed. Praise be.
Now we ought to be out……… assuming that the footbridge over the Grudie River marked on the map was actually there. Otherwise, we were doubly trapped. Another kilometre along the strand brought us round the corner to the Grudie. This was the daddy of the lot !!. About as wide as a main road, and a huge roaring mass of white water. Was the bridge down ? or surrounded by flood water ?
Deo Gratia, it was there, and we crossed it.
The final "pitch" of this escapade, was yet another stream entering the Kyle. This one was not so steep, and ran smooth and dark. Which meant it was deep. Lying on the bank, I pushed my pole downwards to see if it would touch bottom. It didn't. Another search began.
Upstream was a wire fence — fortunately sturdy — which crosses the river. I took to this to cross about 3 metres of water which was running 2 metres deep. It swayed and leant !!
And so we escaped. We finally reached the road about 5 miles south of Durness, and having got from where we'd been, we were content to simply ignore the still-pouring rain until a car appeared from the murk to give us a lift !!
ANDREW
There was a young man from Cape Wrath
Who played "submarines" in the bath
He got into trouble
For blowing a bubble
So it's wise to stay out of his path. 
FLYING

THE

FLAG

ON

FAR-

FLUNG

  FOINAVEN
June 2nd to 5th 2012 
Foinaven, Foinaven…… some hill that one !
It's very big, very rocky, very remote.  I had seen the long grey bulk of Foinaven from Ben Hope, and it stood as a compelling objective in the furthest possible northwest reaches of the UK mainland. 
Foinaven just misses Munro status by the height of your knees:- conveniently for many, perhaps, because from York it is further away than Paris and if it were a Munro it would be a fairly difficult one, and one of the most prized. We are further north here than Stornoway, and setting aside any quibble from the nearby 801-metre Cranstackie,  it's the 914-metre Foinaven which guards this island's northwest corner — next stop Iceland !  
After 520 miles of driving and a night in a tent north of Ullapool, Matthew, Paul & myself kicked off from lonely Gualin House on the single track road north of the mountain.  There's almost 4km of VERY boggy moorland before you can strike the north-west ridge, so we had ample cause to be thankful that there had been a long spell of unusual dry weather hereabouts.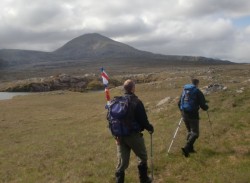 A steady chug and some weaving through rock bands brought us to the fore-summit of Ceann Garbh, at which point the  ground changed to a barren rocky terrain of shattered pinnacles and plunging screes.
After the graceful curve up to Ganu Mor, we flew the Union Flag to mark the start of the Jubilee weekend.
South of the main summit,  the mountain becomes a narrow switchback ridge for another  2.5 kilometres, sometimes only a few feet wide, with steep screes and some cliffs either side, up and down over two or three intermediate summits.
We flew the flag again as the weather was good for it !
The narrow ridge finishes with a 100-metre clamber up a narrow nose, which turns in to a scrambling section near the top. 
Around this point, we decided to commit to a traverse of the whole lot, and instead of circling down and back we headed south 4km to Bealach Horn,  and the long, long walk out past Lone Farm to the single-track A838. The entire traverse was about 22km and took just over 7.5 hours.  Fortunately we didn't have to walk back a rather greater distance to the car, and many thanks to the young couple who kindly indulged our hitch-hiking !!
After a cool and breezy night on the campsite at Durness, an easy shortish day on Sunday was Ben Hope, (927 metres) – the northernmost "Munro".  Paul had quite taken to toting the Flag by this time, so we'd decided on a new strategy of taking it up all the weekend's mountains. 
By doing a bit extra huffing and puffing, we got to Ben Hope's summit in 1 hour 57 minutes, giving ample time to take in the superb views (despite the very chilly wind)
Then it was dropping back down and driving a couple of miles to Dun Dornaigil Broch, the substantial remains of an Iron Age stone tower.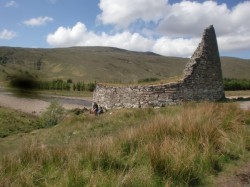 Back in Durness, we were welcomed at the Lazy Crofter bunkhouse. Excellent showers !!. Good bit of red wine too, as I remember.
Next up was Ben Loyal, another mountain Paul and I had seen from Tongue last year, and whose craggy castellated skyline just called for an ascent.  A somewhat wearying march eventually gave access to the interesting summit tors — sensationally  vertical at one point.  Hereabouts was the only  brief rainshower and mist of our 4 days on the hills. 
Time to head south, and for the fourth day we broke our journey in the West Highlands, to take in the Munros of Gleouraich (Mountain of Uproar) and Spidean Mialach (Peak of Lice) which neither Paul nor Matthew had been up before.  We camped wild on the shores of Loch Quoich, and whilst taking the customary dram, watched a large round golden moon spring into the velvet sky, clearly mirrored in the still waters. 
A lovely evening preceded a lovely early start.  Under a cloudless sky we romped up "perhaps the finest stalkers path in the country" [Storer] which made the ascent to the west ridge of  Gleouraich feel almost effortless in the cool of the morning. 
At the top, our Union Flag finally ended its Odyssey (at least with us) as we left it to fly there and committed its future to the hands of others.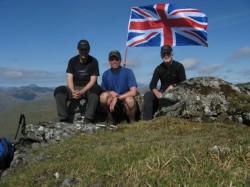 90 minutes or so later, we could just make out the flag from the summit of  Spidean Mialach. But by now, time was wearing on past mid-day, and to the south the clouds were gathering. Ben Nevis, some 30 or 40 miles away, was already cloud-capped. 
Time for a pork pie, then, and a smart descent. That left us time to enjoy a pint in the sunshine at the Invergarry Hotel,  well pleased with 4 fine days and 5 good hills.
But the prince of them all, no doubt about it, had been great grey Foinaven.
ANDREW
Cuillin Ridge Traverse, June 2012
After a sprained ankle scuppered Maria's attempt at the Cuillin Ridge in May, and my attempt with Dave & Brian ended with a bail-out at Sgurr a' Mhaidaidh, there was only one way for us to spend a sunny Jubilee Bank Holiday weekend…
Rather than making an 'alpine start' and trying to do the full traverse in a day, we elected to take two days over it, with a bivvy on the ridge. Day one started with a hearty cooked breakfast at the B&B, after which we headed to Glen Brittle to make a start.
Having experienced the unrelenting scree slopes of Gars-bheinn before, we chose to go up via Coire a' Ghrunnda, leave rucksacks and scramble along the ridge to Gars-bheinn and back.
Looking along the ridge from Gars-bheinn, our target of Sgurr nan Gillean seemed a long way off, but I guess we had two days to get there…
Returning to our rucksacks above Coire a' Ghrunnda, we found the top pocket of Maria's bag open, and her toothbrush, map and other kit lying on the ground nearby – surely there weren't thieves roaming the Cuillin…? Nothing was missing though, and from chatting to some people we met on the ridge who had had their jelly babies stolen, it seems that ravens were probably responsible, looking for food to steal! Pesky birds…
We skirted the outlying Sgurr Dubh Mor, leaving it for another trip (probably via the excellent-sounding Dubhs ridge – a 900m Moderate on perfect Gabbro slabs rising from the edge of Loch Coruisk).
Next up was the T-D Gap. After a short, very exposed section of Moderate climbing, we abseiled into the gap and set up a belay for climbing the off-width chimney on the other side. With Maria's strapped up ankle still not at 100% strength, I was nominated to lead. With a big rucksack on my back, I wouldn't have wanted this ridiculously polished pitch to be any harder – it used to be graded V Diff but these days is considered to be around Hard Severe, which seems a more reasonable assessment.
After the T-D Gap, we scrambled up to the top of the Great Stone Chute, where we dumped our sacks for the quick scramble up Sgurr Alasdair and back.
A short steep scramble led us to the summit of Sgurr Thearlaich, from which some very exposed slabs and ledges lead down to the Bealach Mhic Choinnich. The guidebook talks about 'scary Diff slabs', and says an abseil is probably the wisest choice, but Maria just scrambled on down unroped, so I thought I'd better follow her!
One day I'd like to take a wander along Collie's Ledge, but the direct route to Sgurr Mhic Choinnich, up King's Chimney, beckoned. A very enjoyable pitch of Diff, up a crack / chimney, then skirting right on slabs under an overhang, this led to some easier scrambling to the summit.
While packing the rope away, Maria dropped her belay device – luckily it came to a halt within an easy scramble's distance and didn't continue all the way down to Loch Coruisk! On descent from Sgurr Mhic Choinnich there's a (very rare on the Cuillin) short section of walking which gave us a bit of a rest before the ascent up towards the Inaccessible Pinnacle.
An Stac seems to get mixed reviews (maybe it's a wonderful Moderate climb, but most say it's a hideous choss-fest), so we chose to skirt round it on scree-covered slabs leading up to the base of the In Pinn. Arriving here at about 6:30pm, the usual crowds must have all gone back down, as there was no-one else in sight. We dumped our sacks at the bottom of the 'steep side' (west ridge) and wandered back to the start of the knife-edged east ridge. Foolishly I left my jacket in my rucksack and, with most of the climb in the shade and exposed to the biting wind, I was shivering by the time we reached the summit. Happily the summit was in the sun, and a reassuringly solid chain around the summit block provided a reliable abseil anchor.
We then had a short wander down from Sgurr Dearg to the Bealach Coire na Banachdich, and selected a spot to bivvy just off to the west of the ridge. With such dry weather we were a bit concerned about finding water, so after a quick cup of tea I scrambled down towards Coire na Banachdich in search of a stream. We needn't have worried – within 10 minutes I had found a spring about 100m below our bivvy. I filled up numerous bottles and camelbaks before heading back up to the bivvy for some well-needed hot food (real gourmet stuff – rehydrated veg curry followed by a Haribo pudding).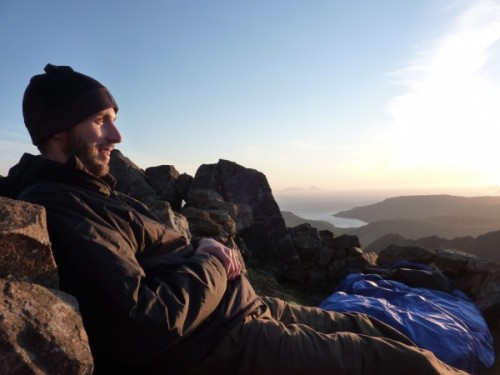 Sunset from the bivvy was an incredible sight, and our down sleeping bags proved warm enough to ensure a good night's sleep despite the sub-zero temperatures. We even overslept, missing the alarms we set with the aim of making an early start.
The next day dawned cloudy and breezy, but still dry and with some sunshine around too. We stashed our bivvy kit among some rocks, ready to collect the next day, and set off with slightly lighter rucksacks onto the ridge up to Sgurr na Banachdich. Our limbs were feeling a bit stiff, so some fairly straightforward grade 2 scrambling was a good way to warm up ready for more challenging peaks ahead.
Some more scrambling over Sgurr Thormaid and past the Three Teeth led to one of the best bits of the whole traverse – the incredibly exposed southwest ridge of Sgurr a' Greadaidh. Although fairly straightforward (grade 3 scrambling) the huge drops to either side of the knife-edged ridge make for an exciting experience!
Exposed, scree covered slabs on the descent from Sgurr a' Ghreadaidh demanded full concentration, and then we stopped for second breakfast at An Dorus before scrambling up to Sgurr a' Mhaidaidh. The next hour or so has some of the most concentrated hard scrambling on the whole ridge, with an exposed slabby descent from Sgurr a' Mhaidaidh followed by the three tops of Mhaidaidh which include sections of Mod and Diff climbing. Carrying lighter packs allowed us to climb unroped, saving time for the tricky navigation which we knew was ahead.
The grassy Bealach na Glaic Moire provided a nice spot for a brief rest and first lunch, before we headed on up to Bidean Druim nan Ramh, where more exposed Moderate climbing and tricky route finding kept things interesting. We soloed past the first set of abseil slings on descent from Bidean Druim nan Ramh, but the rope came out for the first time that day soon afterwards, as we didn't really like the look of the V Diff downclimb before the north top.
An Caisteal provided further excitement, with a couple of airy strides over strange crevasse-like gaps in the ridge, and another abseil down to the next bealach.
Bruach na Frithe gave us a bit of a break from the intense concentration of the previous few peaks, as there was nothing more than grade 1 scrambling on the ascent. Realising we had plenty of time to complete the traverse, and with the weather still looking good, we got the stove out and made a brew on the summit, while looking across to the final two peaks of the day – Am Bhasteir and Sgurr nan Gillean.
After taking a look at Naismith's Route (35m, Severe) on the Bhasteir Tooth, neither of us were really feeling the vibe, so we skirted round and went up the easy scrambling route to Am Bhasteir. That just left Sgurr nan Gillean, and we soloed up the west ridge before standing triumphantly on the summit. It was immensely satisfying to sit there and look along the ridge, all the way back to Gars-bheinn, where we had stood at lunchtime the previous day – it seemed so long ago!
While on the summit we got chatting to a guy who said he'd give us a lift back to our car in Glenbrittle if we bought him a pint in the Sligachan, so we thought we'd better try to keep up with him as he raced off down the east ridge. Having only done a short day's scramble over Sgurr nan Gillean, he was considerably fresher than us, so our walk back to the Sligachan was a bit(!) quicker than it might otherwise have been! However, it was worth it to get back to our car so quickly and we were soon back in the Sligachan, enjoying venison burgers and chips washed down with tasty local ale.
It was a fantastic weekend, and a great way to do the traverse. Having no time pressure meant we had the opportunity to enjoy every peak, and watching the sun go down from our ridgetop bivvy was an experience not to be missed.
SKYE AND STUFF,    MAY 2012
SKYE  MAY  2012
Maybe there were 22 of us in Sligachan bunkhouse. Maybe not.
It depended on who had come and gone, and who was out very early or very late attempting to cross that there ridge, on the various 3 nights. 
Some of us had begun the day before in Glen Shiel, either with Munro-maximisation along the South Glenshiel Ridge,  or following the north ridge of Aonach Air Chirith to take in a very pleasant scramble.
There are things on Skye besides the Main Ridge, of course, and these included the Red Cuillin (with its fair share of screes as well as views) 
Then there was a scramble in Glen Talisker at Preshal Mor, which was (almost) too steep to take pictures on.
Mike grew an Afro from the volcanic rock.
As always, plenty of wow factor and lots of variety. Wot a nice weekend !
The Snows of Spring….. March and April in the Highlands 2012
After a comfy night at the often-useful GrandTully (bunkhouse with pub attached) the mid-March weather looked decent enough for a trip up the great Craig Megaidth – a long-held objective for Paul who wanted good views from this major mountain. 
With Frank and Matt Diggle, Paul and I set off via Coire Ardair to see the huge cliffs. 
 The ascent ramp to the big notch called The Window was still hard old snow, and crampons were useful despite the easy angle. 
Although some freezing mist robbed us of summit views, a grand day followed.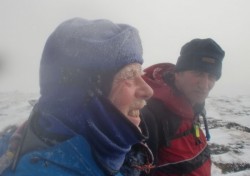 Back across the Window gap, we romped along the ridge over the two more Munros of Stob Poite Coire Ardair and Carn Liath.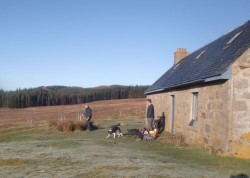 It would have been rude afterwards, not to have called to sleep at General Wade's Meall Garbh bothy, close nearby.  Here we found two dogs, a large quantity of alcohol, the most enormous fire, and three greatly-guttural WeeGees.  Frank was able to demonstrate his skill next morning, at throwing a ball one way and tricking the dog to run the opposite way.
Munros above Newtonmore followed. Paul and myself made a fine circuit of  Carn Dhearg  whilst Frank and Matt pursued nearby interests.
The same team re-assembled 4 weeks later in mid-April, objective Ullapool.
From Inverlael,  we clambered up  Eidiht Clach nan Geala and over Maol nan Caprician.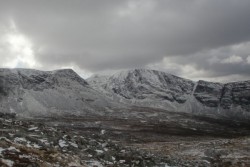 At this point Frank and I were thinking of how to cook venison steaks in Ullapool Youth Hostel, so we left to get the kettle on, whilst Matt & Paul continued over Cona Meall and Bein Dhearg to make a classic long day.
Sunday dawned bright but was soon hit by strings of mist and showers. The Munro team drove off to tick Ben Wyvis. Feeling only cool about a third or fourth ascent, the Over-Sixties Sunday Morning Club went up  Beinn Enaiglair. Only just below Munro height at 889 metres, this interesting and steep Corbett stands at the corner of the Ullapool hills and the route back east. It commands superb views into Torridon, the Fannaichs, and all 360 degrees round.