… in DOGstycam GULLEY
Just as the gulley top got tantalisingly close (about 20 metres away) I ran out of rope.
The so-called 'rock" had led me on for some time looking for runners, through snares and delusions in the form of blind cracks and loose blocks, over too-soft snow, and turf not 100% frozen;- so that the last bit of gear was a long, long, way behind me, somewhere in the vicinity of Loch.
Happily it was moderate ground (solo-ed by many); so I called to Loch to untie the belay and follow me onward.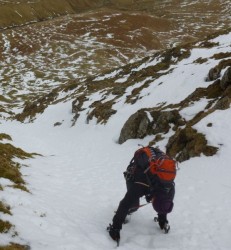 Catstycam Gulley is about 420 metres up the gulley bed.
We had solo-ed the first half, but then put the rope on as the valley got more distant.
Loch's response to my call "Are you moving ?" was "Stray Dog" — which is not a recognised Climbing Call.
It transpired that Loch had been approached by a large brown labrador, slipping wildly and with a worried look, followed by a junior member of Fred Karno's Army in a similar state.
Fred Junior, suggested that
(a) the labrador could be tied to Loch, and that
(b) Fred himself should move ahead, so that he could haul himself up the rope hand over hand if he got stuck. Loch said later that he found this to be "socially delicate".
Fifty metres ahead, my ankles were getting tired and I could see a promising spike not far away.
I set forth my philosophy that a Second's primary duty lies towards his Leader, and not  to any passing mongrel. (Or the Labrador for that matter). Eventually, we all ended up on the top of Catsycam.
I didn't take a photo of the dog.
ANDREW
Andy and I have managed to get in a couple of pretty special days despite the criminal weather that we have endured this month.
A couple of Fridays ago an excellent outing to Middlefell Buttress in Langdale (with the obligatory pint in the Old Dungeon Ghyll after).
Then on the 22nd followed a trip to Wainstones, some excellent routes, an ascent of the Steeple, and the famous Sphinx Nose Traverse. Great fun
And it even looks like the Sphinx.
DAYS OUT FROM YORK
Just as a change (mostly) from the long weekends away, here's my log of ten days out in 2012 so far.
There have been 3 excellent days in the Lakes, some wind in the Yorkshire Dales, and an ice pitch in the North York Moors.
 5th to 7th January 2012 SCOTLAND NW HIGHLANDS
With Frank & Matt Diggle I had 3 days in Glen Shiel. Sometimes the weather was quite poor. Mostly it was worse than that.
On the way home, the Corbett of Meall Tairneachan (790m) near Kinloch Rannoch, provided a short walk in fine and windy weather. Knee depth snow over 650 metres 
13 January 2012 NORTH YORK MOORS   Circuit of Spaunton Moor. Cold and clear, light wind
 14 January 2012 LAKE DISTRICT
With Steve Green, Orrin the Dog, James L, Matt L, Helen, and Jen.
We made our way from Mungrisedale along the valley to Scales Tarn.
The Yoof section opted to cross Sharp Edge. Orrin and his handlers watched from across the Tarn as they inched their way along,  avoiding the verglas. Reunited at Blencathra summit, we enjoyed great views en route to Blease Fell & then returned across the moorland north of Blencathra, as Helen was finding the odd sheepfold and ring contour for navigation practice. Cold sunny and clear
Orrin was reformed and did not display any of the cannine sexual extravagance which marked him at Franks 283rd Munro.
21 January 2012 YORKSHIRE DALES
With Frank, James P and Ruth. A day of very strong winds, mostly overcast, occasional showers & sunny intervals.
We puffed our way up Simons Seat and snuggled in the rocky outcrops to escape the wind. Dropping down north, we found Trollers Gill very full of water – just passable. A return along the riverside path completed a nice day out..
29 January 2012 LAKE DISTRICT  With Maria, Mike, and Helen.
Glenridding, up Swirral edge, down Striding Edge. Clear and calm day, cloud cover mainly above summits.
Full winter conditions, snow above 300m
It was necessary to face in and downclimb first part of the snowslope off Helvellyn summit.
10 February 2012 NORTH YORK MOORS
With Richard & Sarah. Freezing rain had left the roads treacherous, and the weather was mostly pants. So we headed east to find the only bright spot going, and stuck to the main Whitby road. . From the Hole of Horcum to Levisham via the small gulley of Dundale Griff.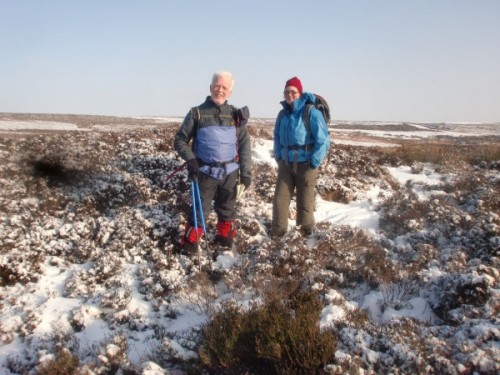 We found it necessary to investigate the pub at levisham, then Seavey Pond and the "his and hers" tumuli graves which gaze out across their ancient territory.
We had a bright sunny day with 6 inch snow cover
12 February 2012 NORTH YORK MOORS
With Richard G & Mike F. we headed in thick cold morning mist to the "Crag X" icefall. Improving roads were offset by deteriorating ice, but the pitch was climbable on a top rope.
A short circuit around the moorland in cloudy cold conditions justified a pleasant pint in the Lion Inn.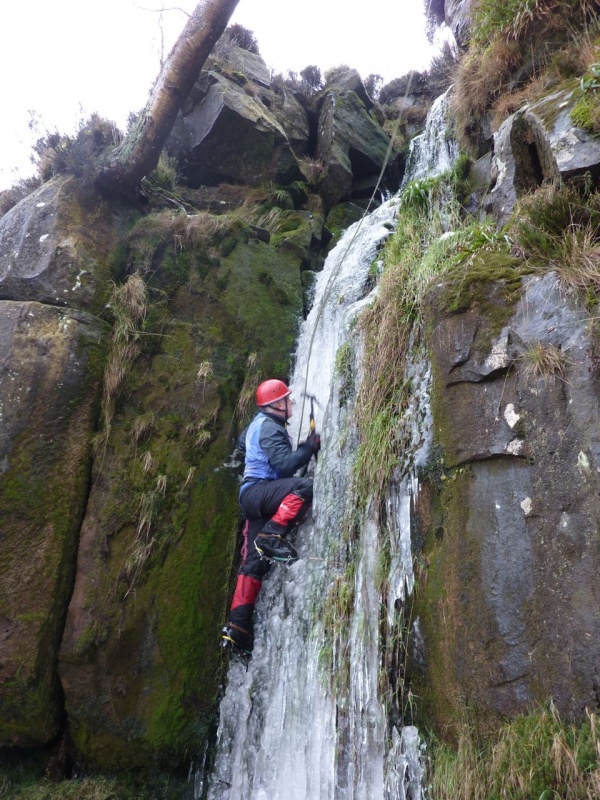 19 February 2010 LAKE DISTRICT
A YMC party. of Jon, Guy, John Mac, Mike, Maria, Paul Stannet et moi climbed Pinnacle Ridge on St Sunday Crag.
After a "snowfall" forecast for the previous day, we carried winter gear, but the ridge was dry rock, in its usual condition as a summer hard scramble/mod — except colder. A day of brilliant sunshine and excellent views.
From St Sunday summit it was down to Grisdale Tarn and back to Patterdale.
A LAKELAND THREE-STAR
Corvus (again) July 2011

"I wish there was a really good jug to grab here"
And lo, one appears.
Corvus almost feels deliberately made like that. So although we'd both been up several times before, there's always space for old classics. (IE Corvus, or me and Dave?)
ANDREW
Yorkshire 3 Peaks
Winter is starting to look promising – in early December Maria and I enjoyed great conditions on Pinnacle Ridge on St Sunday Crag, and the weather looks like staying cold for some time. On the last weekend before xmas we had our sights set on Stepped Ridge (on Brown Cove Crags) as our second route of the season. But with Maria not feeling well on Sunday morning, I needed to come up with an alternative, as soloing grade III routes is not really my thing…
The Yorkshire 3 peaks came to mind, so I headed off into the freezing morning and drove to Horton-in-Ribblesdale. Driving through Gargrave the temperature readout on the dashboard showed -17 ⁰C, and I began to wonder whether fell running shoes really were a better choice than nice warm boots… Still, I set out towards Pen-y-Ghent and the sight of snowy hills in the crisp morning light soon made me forget any lingering desire to still be in the warm bed at home.
By the time I reached the summit of Pen-y-Ghent 45 minutes or so later I had only met one other person, which made a change from the only other time I'd been up there (on a sunny May bank holiday weekend). The way down gave me a chance to test out my Kahtoola micro-spikes, which successfully stopped me making an ultra-quick descent sliding down on my backside!


It seemed a long way from Pen-y-Ghent to Whernside, but I had a pork pie to fuel me and when I finally got to the top the view was a good reward. I broke into a nice jog on the way down the ridge from the summit, but turning left and heading back into the valley was definitely not running territory – with iced up rocks on the steep hillside it was a case of picking my way gingerly down and making sure I stayed on my feet.


The Hill Inn looked tempting (especially with Black Sheep on tap) but I persevered with the ascent of Inglebrough for some more beautiful views before jogging down into Ribblesdale in the last of the daylight.


All in all a good day out on the hill, and it should help my fitness for the real winter hills in Scotland in the coming weeks. The curry and beer when I got home wasn't bad either!
And a good time was had by all !!!
Grey mist. Blue streaks; and clearing as we reach the high ground.
The summit in view. A sunlit landscape at our feet.
The effort of running. Tired in the afternoon. Tea. Drinks, friends, conversation, food, laughter, games, reminiscences.
So many of the good things that make up our time in the hills, were woven together on this November weekend. It was the conclusion of a year of activities following the Club's turning 60 years old in November 2008. Wayne and Tenk sent pairs of us to checkpoints all over upper Littondale and Wharfedale, and Kirsty and Dave organised some superb catering.
A lot of effort by a lot of people. Resulting in a lot of Fun.
A highly appropriate birthday bash. Roll on the next one !!
During the 'Summer' I decided to do the Pennine Way. You will notice that the weather failed to realise that it was Summer, thus I failed to gain the tan I was hoping for! However, I had a fantastic time and was joined by many people along the way! I started out by getting the train to Edale. From there I walked to Thornton-le-Dale over three days (I think!).
There was an awful lot of rain and a rather well-hidden hole which I fell down causing my leg to develop an interesting shade of purple. I met a friend from work in Thornton-le-Dale and had a lovely sunny walk along a canal into Malham where I was treated to a very welcome pub meal. My friend, Ollie, met me in Malham for my 'rest' day which involved a 40k mountain bike ride dressed in a bizarre combination of walking clothes and borrowed gear! Pete met me that evening and we had more beautiful weather for out trip from Malham over Pen-y-ghent. We finished up at Horton-in-Ribblesdale where we met Tenk. Rather randomly, Tenk and I then headed to the Lakes for the Climbing Shop's party. Tenk dropped me back at Horton the next morning so I could continue my journey…
The next day I walked from Horton-in-Ribblesdale to Hawes where I met my parents… Four days of B&Bs and full English breakfasts! An excellent improvement on my very cosy tent and cereal bars! We walked together to Middleton in Teesdale, during which time I discovered that my dad does not like walking on 'uneven ground' and that the bunkhouse accomodation at the Tan Hill Inn was perhaps not my parents' idea of luxury!
My dad left my mum and I at Middleton in Teesdale and we had a day and a half walking to Dufton, spectacular walking – my Mum did some impressive scrambling and we also spotted salmon jumping upstream at Low Falls.
At Dufton, Tenk, Vidal and Jen picked me up and took me to the Lakes for a random weekend of climbing, eating and pottering! I returned to Dufton and had an excellent evening navigating in the dark up to Greg's Hut on top of Cross Fell. The next morning, I wandered to Alston, which was a much shorter day than anticipated. I met my friend, Ellie, in Alston, where we stayed at a most unusual campsite which seemed to be situated in the middle of a scrapyard.
Ellie and I had a pleasant couple of days walking to Bellingham. To save weight, Ellie had decided to bivvy, which was fine apart from when the evil midges came out at night and Ellie was mummified in her bivvy bag! Our walk included part of Hadrian's Wall which caused me to wonder at the logic of Roman straight lines!
From Bellingham I continued on to Byrness in lovely sunny weather, but the next morning was horrible! My last day was a 26mile slog over the Cheviots from which, I'm led to believe, in better weather, you can see spectacular views!
All in all a fantastic trip and thanks to the many folk who joined me along the way!
Helen x
Here's our doings for the year of 2009
Tarn Crag Gulley
Tarn Crag Gulley 09
A winter climbing day in the Lake District
Club Winter Weekend 2009
Club Winter weekend 2009 A couple of dozen climbing in Coire an t'Sneachda and winter training on Cairngorm
Rjukan Norway February 2009
Rjukan Norway 09
Ice climbing on accessible Norse ice
Corrour: A track re-trodden
Corrour in the snow

Scotland in the snow, 28/29 March 2009
Andrews 284th Munro
Andrew's Compleation
Compleation with 20 friends on Ben Vane and Curved Ridge 18/19 April 2009
The Rum Adventure
The Rum Cuillin
A journey to the distant and magical island of Rum, the Rum Cuillin Ridge, and the bothies of Dibidil and Guirdil
The Pennine Way
The Pennine Way
Lone girl Pennine walk damp holiday well done Helen !!
Mountainbiking Around Feizor

Feizor Loop Bike Route
Biking in the Yorkshire Dales. A straightforward route as an introduction to mountainbiking.
Ledge Route, Ben Nevis.
Ledge Route and other meanderings
Five days in the Scottish Highlands including the big scramble on the Ben.
Ullapool and Torridon
Ullapool and Torridon
Frank and his diary get around 14 summits at the end of August.
Mont Blanc
Mont Blanc
Robin in foreign parts rambles up er, a somewhat largish white mountain. Phew !!
Beinn a' Ghlo weekend
Munros Misty and Mellow
Andrew and team September Munro weekend including the mighty highway of Atholl.

The Forcan Ridge of The Saddle
only a few centimetres wide here, Adam !!
October in Glen Shiel and another of Scotland's great classic scrambles.
Mamores
Kinlochleven and Mamores
Frank and Dolly defy rainy weather to gain 6 Munros this weekend.
York MC 60th Anniversary weekend
YMC Diamond Meet
Trail Quest, Dinner, games and jollity as we reach bus pass age.
First route of winter at Aviemore
Hore Zdar…..a Christmas Cracker
Andrew and Paul, with Adam, BrianT, Carlos & Helen climb and bothy as the white stuff gets started.
Mountainbiking in the snow
Santa and reindeers
Santa Simon and his reindeer helpers ride out
Skye at Christmas
Christmas on Blabheinn
Simon and Steph, Frank and Dolly spend a snowy Christmas Day on Blabheinn.
This is an index page for the Reports written in 2006. Click on the links and enjoy the read……
Winter Climbing Coire An t'Sneachda
The Genie and the Beast
Aladdins Couloir and Goat Track Gulley in conditions only just winter.
Club Winter Weekend 2006
Corpach 2006
The weekend saw teams on the Ben,
Aonach Mor, Aonach Eagach, Stob Coire nan
Lochan, Ring of Steall
& the Ballachulish Horse Shoe.
Boomerang Gulley, Glencoe, winter climbing
In the Hero's footsteps
Andrew and Paul feel honoured on a route which was a W. H. Murray first ascent
Threading The Needle, Great Gable
Threading The Needle
A dampish April scramble through one of the most iconic locations in the Lake District.
Lurg Mhor wilderness expedition
The Cheesecake and the Policeman
Our May expedition to Bearnais bothy and the remote Munros of Bidein a'Choire Sheasgaich and Lurg Mhor.
Pembroke Climbing
Pembroke 06
A visit to climb at Pembroke in the sun.
Pyrenees Bike and Climb
Bon Escalades YMC team heads for some sunny action
Skye Main Ridge Traverse
Skye Take Two
Jim shares "one of the greatest adventures in the world' as he and Tenk crack the Cuillin Ridge at the second attempt.
Fifteen in a Day
15 in a Day
Tenk and Howard get cracking from Lochnagar and zoom around Munro summits……with a few more on Sunday too !
Tower Ridge, Ben Nevis
An Eye-Full Tower
The west ridge of Ben Fhada proves a Saturday warm-up for the longest rock climb in Britain, the famous Tower Ridge on Ben Nevis, with its Eastern Traverse and awesome Tower Gap.
Alpine Dreams
Alpine Dreams
Rich Johnson's Alpine exploits in July
Alpine Guide
Alpine Guide
Rich Johnson's article on how to do it.
The Far North of Scotland
The Far North
Further away than Paris (but a lot less crowded) our team check out the stunning landscapes of furthest north….. Ben Hope, Conival and Ben More Assynt.
Glen Etive and beyond
Glen Etive & Beyond
October Munros, a party at Inbhirfhaolain and more mountains at Fersit.
Winter Munros
Making the White Decisions
A wild and woolly time on Beinn Heasgarnich on Armistice Day, followed by a far corner of the Cairngorms at Carn an Righ by bike.
Aviemore in a Flash
Aviemore in a Flash
A bitterly cold climb in Crotched Gulley, feeling minus 27 degrees in a howling wind, which was actually pretty serious except that the weekend was such a laugh !!
Nethermost Gulley, Lake District.
Early Season Conditions
More winter climbing, the sole route in the Lake District.
Old Man of Stoer
Old Man of Stoer
Sensational sea cliff climbing on a famous Scottish stack.
Blencathra and Skiddaw
Training Day
A full day getting ready for more.
The Round of Loch Mullardoch
The Round of Loch Mullardoch.
Here's the big one. "a long and serious backpacking expedition over some of the largest and loneliest mountains in the Scottish Highlands" (Richard Gilbert); Three days through truly magnificent mountain scenery of high, narrow ridges and tall shapely summits looking out across empty glens, completely uninhabited……
Pembroke Climbing
Bosherston Pembroke
Six of York's finest spend 3 days sea cliff climbing at Pembroke.
Climbing in the Lake District
Gray Crag-High Stile
Climbing Harrow Buttress, Slabs Ordinary, and Oxford and Cambridge Direct
Climbing at Filey
Magic goes to Filey
A dirty day on the coast with fish and chips to finish
Climbing at Slipstones
Super Slipstones
A sunny day at a super crag
Mountainbiking in Glentress
Glentress September 2005
Routes in the forest………. and Simon DOESN'T get injured !
Urban X
Urban X
A bicycle and building-climbing day in the mountains of, errr …. Manchester
The Five Sisters of Kintail
Five Sisters Ridge
The long high ridge which begins Glen Shiel, memories of the Spanish invaders, and the legend of the sisters.
The Stuic Ridge scramble of Lochnagar
Scrambling the Stuic
Cairngorm classic scramble on an iconic mountain
Birchen Edge night climbing
Trafalgar
Silly doings in the dark….. probably Not Expected by England.
Snowy Corbetts in November
First White
In the first snows of November, we find two excellent Corbett days in the wake of a storm.