The Big Winter Weekend 2009
Tenk, Brian and Balj had decided to begin the weekend on Thursday by
going to a bothy. As they wouldn't get there till late, someone
needed to warm their slippers, put the tea on, and get a roaring fire
going.......so Rachael, Frank and Andrew did everything possible for
their comfort and welcome, and a convivial evening ensued till the
wee hours.
Friday was warm, drizzly and damp in the Cairngorms. Frank and Andrew
checked out the Corbett of Carn Ealasaid (pronounced easilylaid ???)
in the morning, and wandered later into Coire an t'Sneachda to survey
the damage of the week's thaw.......a bare and rocky coire floor,
black buttresses, but some gulley routes managing to hang on. Tenk
Brian & Balj meanwhile strolled over Cairngorm and the plateau.
Saturday dawned clearer than forecast, with temperatures beginning to
drop.
Andrew, Frank and Rob went up the rocky and in places icy ridge of
Fiacaill Coire an t'Sneachda, across the plateau, and up to Cairngorm
summit, then down to watch the play of the winter skills group in
Ciste Mhearaidh just near the Ptarmigan.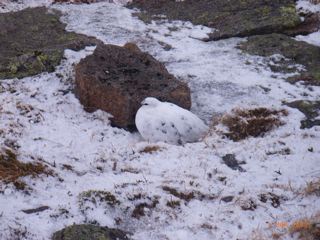 Sunday was definitely colder, with forecast snow showers later.
Andrew and Frank went into Sneachda and climbed one of the few
remaining gullies, Aladdin's Couloir. The couloir was unusually
quiet, but we had a good time making pitches neck and neck with a
professional instructor and his clients. Then back across to Fiacaill
Coire Cas and the Winter Skills group again.
Photo's from the winter Skills group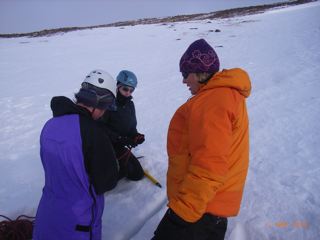 Having reviewed Thursdays forecast negatively Simon and Wayne took there bikes to Wolf Trax down Laggan.
This was there first mistake!
There second was not been able to stay on them!
Sunday saw the duo having an enforced rest day due to damaged legs, hands and faces!
Feeling the Wolf Trax love!
Thanks to all for a fantastic weekend.
Andy