"A Mountaineer of a type not found in Scotland today"
was the description by no less a mountaineer than the great W H Murray, describing the historical Rob Roy MacGregor.
Because Rob of the red hair (Ruadh) could travel for days through the highland mountains when there were no maps, and almost no roads or bridges.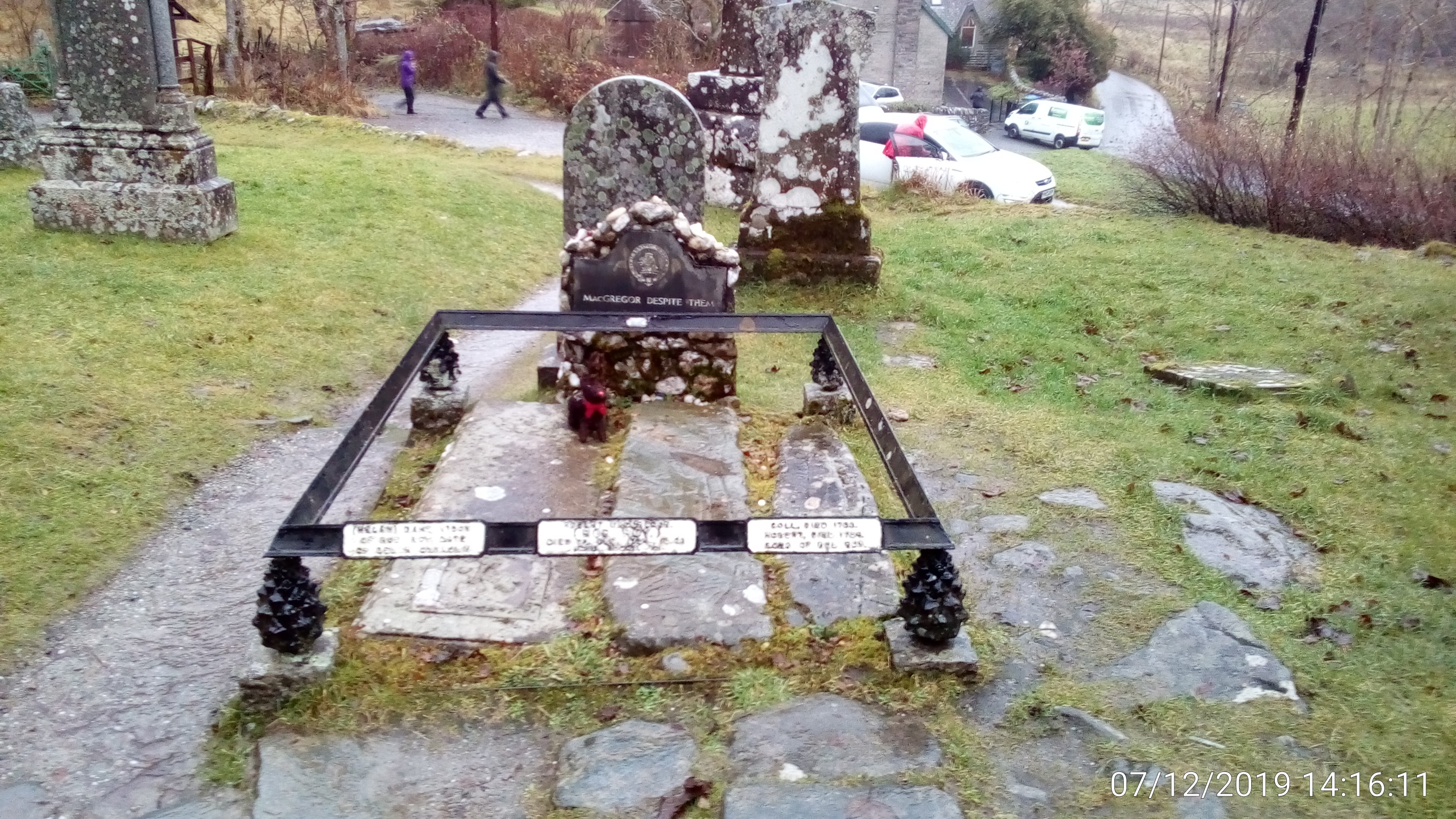 Above Rob Roy's grave of 1735 at Balquhidder, Paul and I made our way up the Corbett of Meall an t'Seallaidh. Appropriately enough, there was no path, we couldn't see much, and the map was not very helpful on some intricate spurs.
With perseverance we gained the summit; and with a bit more help from Percy, we were pleased to locate the correct wood on the way down.
Meanwhile the Munroists selected the loftiest peak of the district, Ben More (Crianlarich) and they got More. More rain, More mist, More cold, More wind. But they too persevered, and took in the next Munro of Stob Binnein as well. Good show chaps.
We therefore set the entire world to rights, in the bar and dining room of the Best Western, whilst outside, the teeming rain more than hinted that all is not well.
Glen Dochart was flooded on Sunday.
A wind-chill of minus 20 in brutal conditions was promised on the mountains. So with skill and cunning, we selected a hill. Though not large, our hill had a sort of junior rufty-tufty character:- tussocky, pathless and at times (very) steep. And lo ! The approach track has been labelled "Rob Roy Way" !!
Beinn Dearg (Callander) sits on the very edge of the Highland Line. It commands a panorama south across the boggy valley of the Forth, 4 miles wide and 20 long, which for centuries helped to separate the main part of Scotland from the tribal Highlands.
A great vantage point to survey the flat lands where cattle might be "lifted".... or where protection money had already been paid. Most likely, I thought, Rob Ruadh wos 'ere.
Betcha.
ANDREW