A DIEM CARPE- D ...... (in the secluded glen)
Tick tock. Tick, tock.
Mr Green's Munro clock.
So as time counts down towards Steve's "Compleation" date on 5th October, there remain a handful of mountain days to be accomplished. During the August Monsoon period, our thoughts turned to the four Munros in Glen Strathfarrar – west of Inverness – as a day which we might seize. (Latin "Carpe Diem" = "seize the day"). However the day itself turned out to be as elusive and slippery as an old carp.
The first Munro – Sgurr na Ruaidhe – is a hill of easy contours and pleasant short grass. But it took several weeks to get to the top of it.
Weeks of rainfall, juggling social commitments, looking after the puppy dog, weather forecasts which changed abruptly between breakfast and supper, and avoiding the dates on which Strathfarrar is closed to public cars. For the whole 16-mile glen (perhaps uniquely) sits privately behind a locked gate with a limited quota of day tickets and no overnight stays (unless you walk in). It has a quietness and tranquillity denied to places such as Glen Etive – no campers, tents, burnt-out BBQs !!.
Finally a weather forecast arrived less bad than usual, and we saw a glimmer of hope. The other stars were pushed into alignment, and Angela demonstrated the aptness of her name, becoming the guardian angel to look after the puppy and save the day. So with faces somewhat set, with every expectation of working our compasses along misty ridges in the pouring rain, off we swam up the A9. Waterproofs and group shelter at the ready.
Hostel or Hostile ? The morning brought shreds of blue. Off we set along beautiful wooded Strathfarrar, the summits (unexpectedly) visible ahead.
Sgurr na Ruaidhe (993m) and Carn nan Gobhar (992) are rounded hills set at an angle to each other. Easy going in clear weather, but in thick mist the need for careful navigation would slow us down.
Knowing the hills from two previous crossings, I felt a growing confidence that after the second Munro, the well-defined ridge west of there would be straightforward to navigate if the clag came down. Assuming, of course, that we didn't get blown off, or washed away !
The day formed a pattern. An hour or so of moderate wind, with some sunny spells, would be followed by ferocious gusts building up, and 20 minutes of heavy driving rain. Thick grey sheets of rain veiled the mountains westwards, but our hills remained visible, and so it was heads down, and onwards, onwards.
Carn Gobhar has an unpleasant boulder field, but thankfully not too extensive.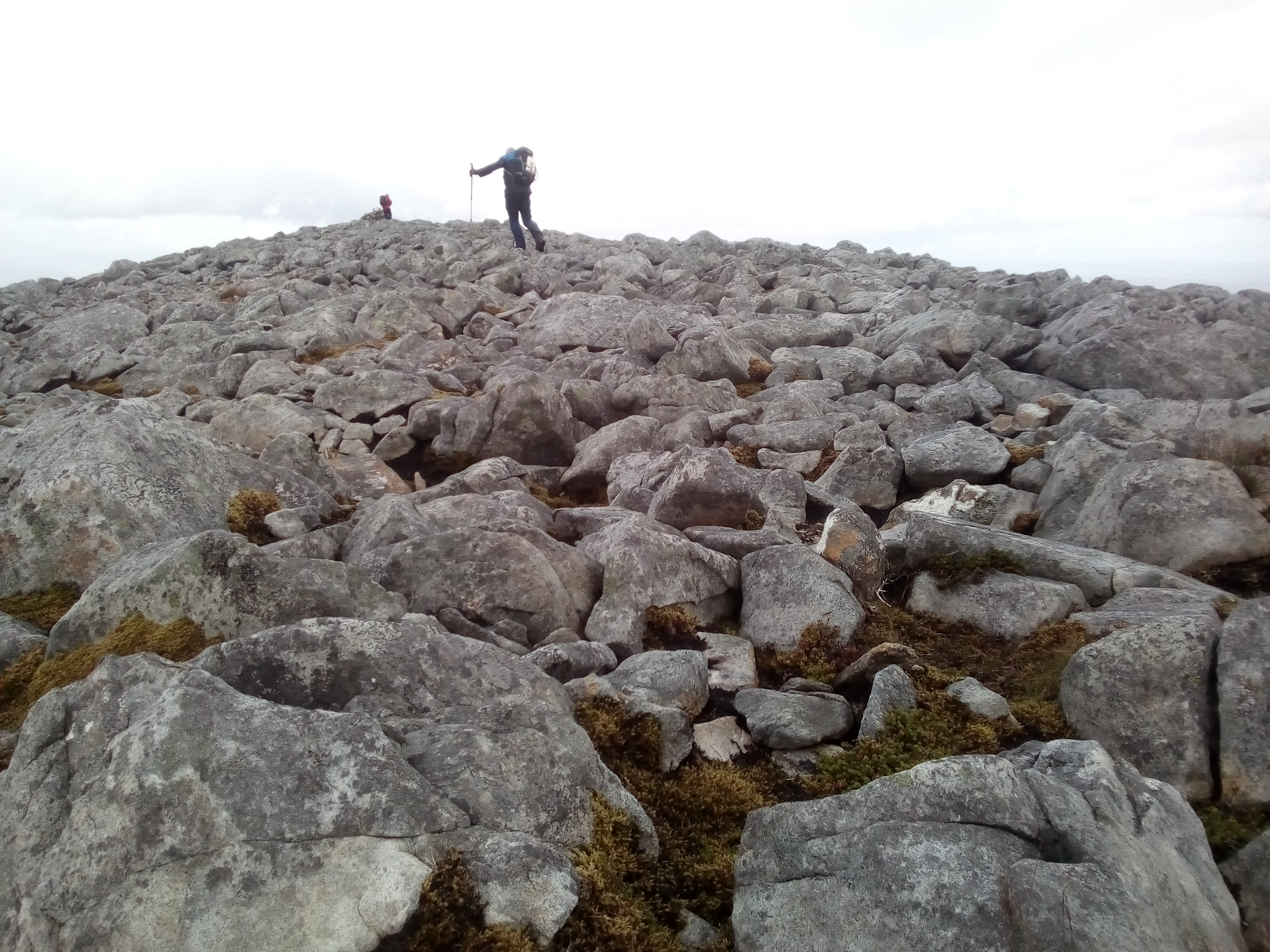 And then we were on the western ridge, steep cliffs to our right, but accessible slopes left down to the valley. Onwards.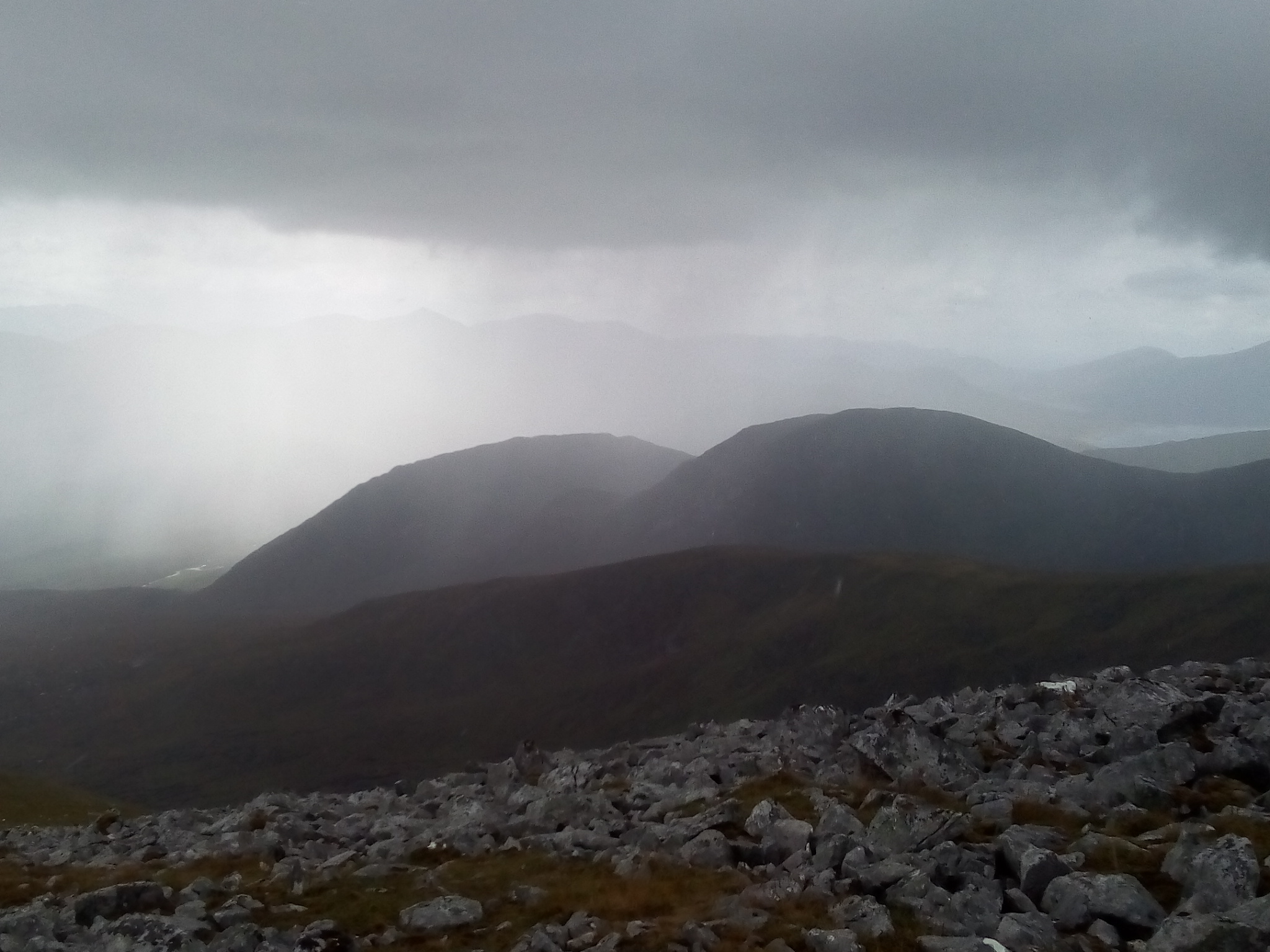 Sgurr a Choire Ghlais. Onwards. Creag Ghoem a' Bhealaich. Onwards.
Sgurr Fhuar-thuill. The fourth Munro. Mission accomplished.
And still in the clear, to find the tiny cairn which markes the stalkers' path down the coire and back to the valley road.
Afternoon tea was served at some attractive boulders around 700 metres. But westwards, the grey sheets were merging into downpour, and by the time we reached the road, 6km from the Murrayvan, heavy rain was upon us again.
Did I mention that before starting, we had driven up and deposited bikes lurking in the heather at just this spot ? Lucky, that. We were glad to mount our fiery steeds, and zoom off down the road, the weather closing in and the rain beating heavily at our backs.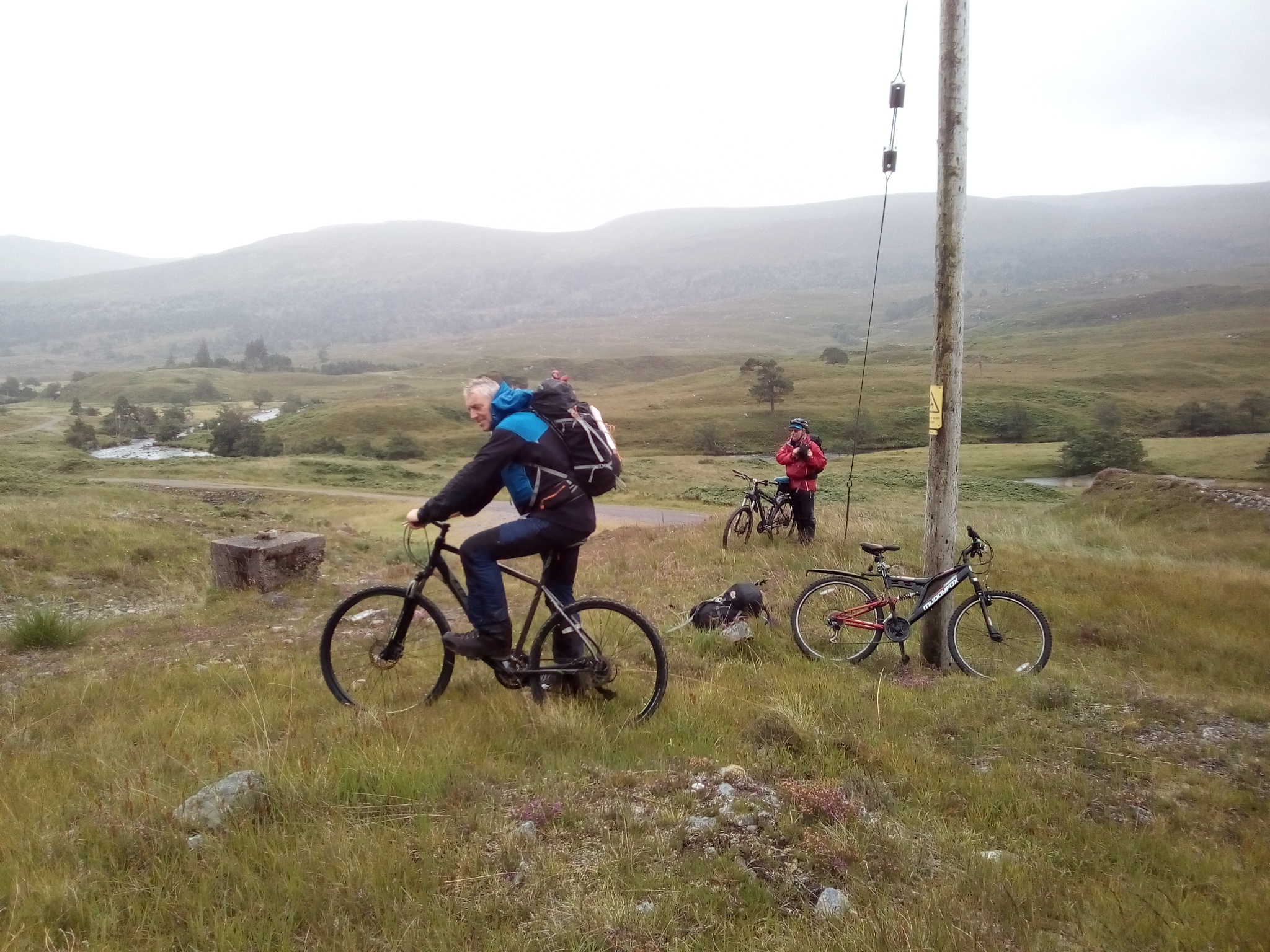 The day had been definitely carped, and just in time.
Even worse weather was forecast for Sunday. So to break the long journey home, we met up with Keith near Edinburgh for a few hours in the Pentland Hills.
A series of attractive an accessible summits grouped around a central valley, definitely recommended for a shorter day. But even at their modest heights below 600m, the Pentlands gave us a mini-repeat at times, with battering wind and bursts of torrential rain.
We walked out down the valley past the reservoirs. Full of carp, I bet.
ANDREW